With its long coast, Marmaris is truly an amazing gem of the Turkish Riviera where you will spend an amazing time… In there, find various public but also hidden bays, intertwined with nature, and very clean beaches.
In Turkey, Marmaris has the richest nature and landscapes that appeal to everyone's taste. Here are some beaches and bays that should not be missed in Marmaris.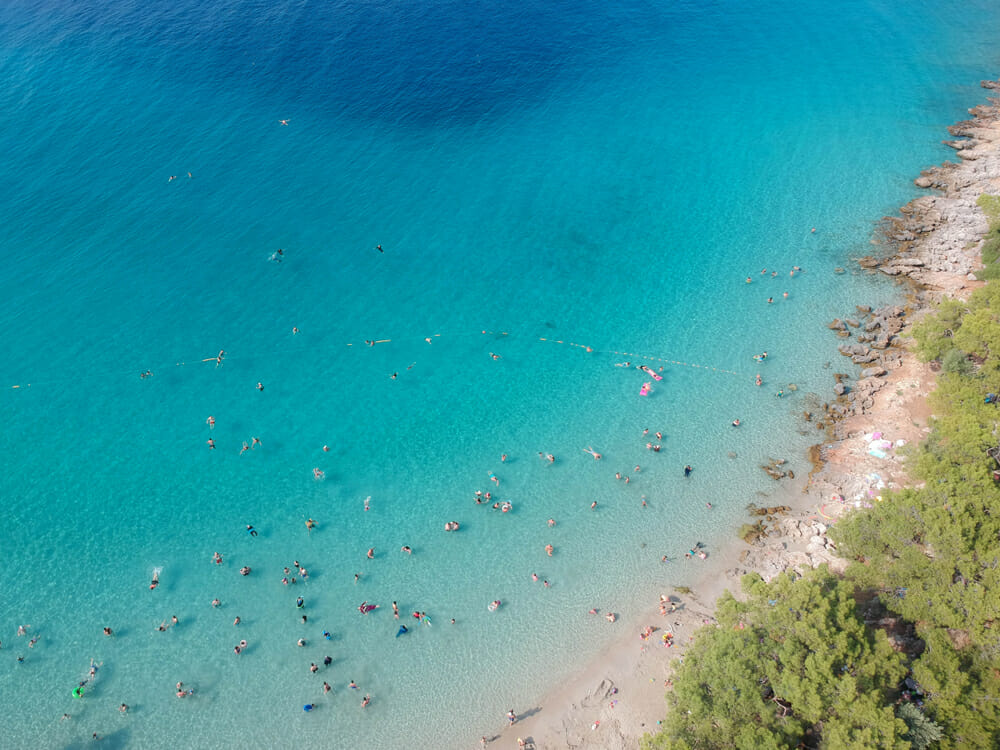 Many locals and visitors love Incekum Beach, where you can enjoy the Maldives environment with its sandy beach and sea. It is one of the must-see beaches in Marmaris, with golden sands and a sea that has every shade of blue. With its shallow sea, it is also ideal for families with children.
Incekum Beach is roughly 25 kilometers from Marmaris and can be reached by minibus from Muğla Center and Marmaris, or you can go to various bays, including Incekum Beach, with daily boat tours to Akyaka.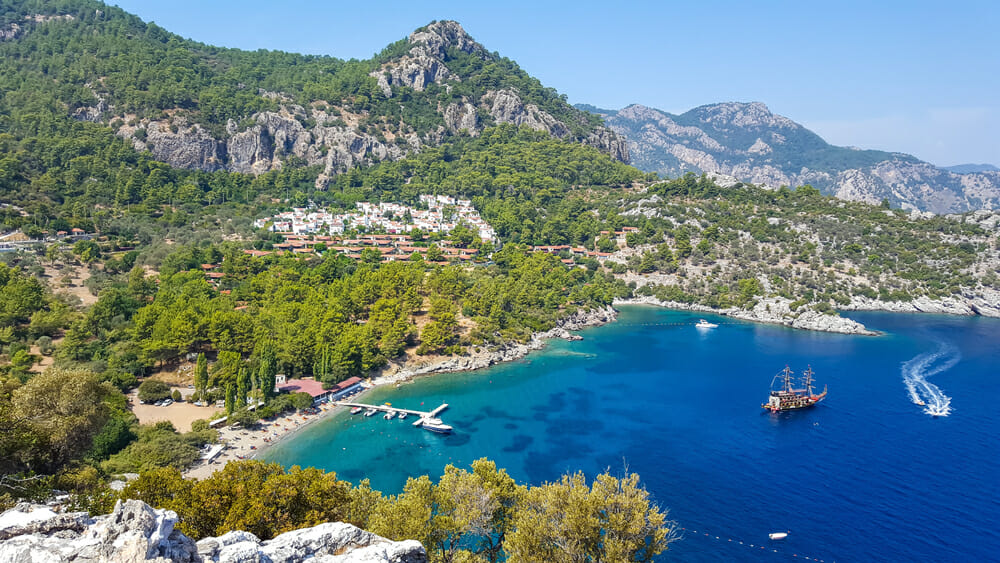 Amos Bay, undoubtedly the most beautiful of Marmaris's and its neighbouring bays, offers postcard-worthy views to its visitors. It is one of the bays you should definitely experience when you go to Marmaris. Amos Bay, located between Turunç and Kumlubük, is one of the cleanest aquarium bays in Marmaris.
The bay is only accessible by private vehicle or boat because there is no public transportation. The beach is free; however, the sunbed costs a rather low fee per person. If you visit Amos Bay, which is composed of stony and pebbled beaches, don't forget to bring your snorkel and goggles.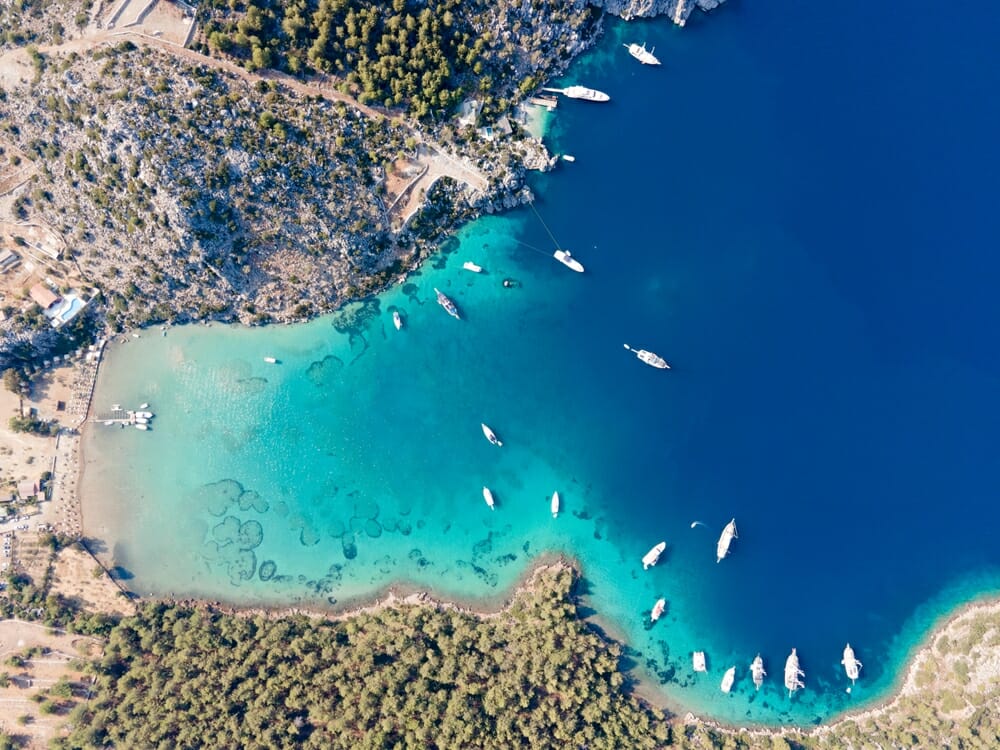 Cennet Bay, with its unspoiled and peaceful atmosphere, is one of Marmaris/Selimiye's most unique bays. Cennet Bay is often chosen by boats and yachts. Moreover, it is a wonderful spot for individuals who want peace, especially early in the morning.
This bay's sparkling water, like the aquarium's, is perfect for those who enjoy swimming in warm water. By the way, since there are no sunshades, sun loungers, or services here, we recommend that you bring the necessary things with you.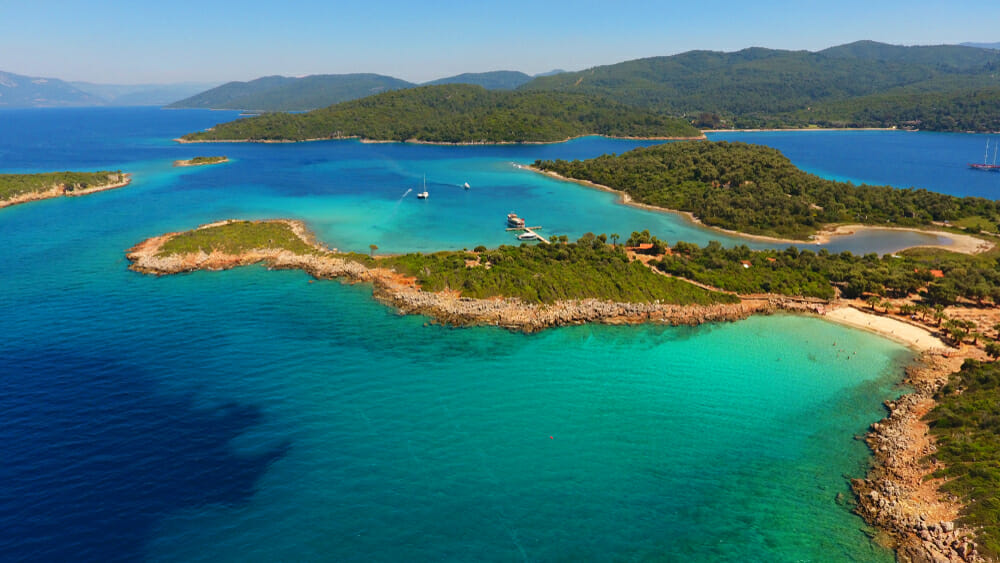 Sedir Island is a dreamy island 12 kms  away from Marmaris center. It has a long coastline, a sandy beach and surviving archaeological remains. The island is very popular and commonly called the "Maldives of Turkey". It can be reached by car or bus from Marmaris and Akyaka. You have to reach the village called Camli and jump on a boat (every 30 mins).
The public beach in the heart of Marmaris is unquestionably one of the most popular beaches in the region. The sandy beach stretches to Uzunyali beach and is lined with several cafes and bistros.
Since the beach is very shallow and usually has hardly any waves, it is very suitable for families with children. Marmaris Beach has clean, golden sand as well as small pebbles, but they are hardly a nuisance. The sea is warm. Access to the beach is free, only for the use of sunbeds and umbrellas there is a small fee.
İçmeler beach is located about 8 kilometers from the center of Marmaris. It is very easy to get there thanks to the minibuses that run around the clock during the season. The beautiful sandy beach is lined with numerous hotels, and it is easy to see why. The water is so clear that you can easily admire the wonderful underwater world while swimming and diving.
The water is pleasantly lukewarm, but sinks quickly, so children should be a little more careful here. There are also various activities at İçmeler beach, including parasailing and canoeing. The surroundings with beautiful nature are also among the beach's assets. Entrance is free of charge, umbrellas are available for rent.
Turunç Beach delights visitors with a breathtaking view of the surrounding mountains. The 300-meter-long beach on a rocky bay consists of turquoise, clear water and a small public (free) section with sand and other (paid) sections where hotels are lined up.
Turunç Beach is awarded with the blue flag. There are some rocky areas in the sea, so you should bring bathing shoes. Turunç Beach is located about 21 kilometers from the center and is suitable for visitors who prefer a quiet beach holiday surrounded by nature.
Kız Kumu Beach is located in the beautiful village of Orhaniye, about 26 kilometers southwest of Marmaris. It owes its name Kiz Kumu Beach, which means Girl Sand Beach, to a local legend about a young woman whose sculpture was even placed in the middle of the beach.
Located in a shallow bay surrounded by mountains and pine forests, the magnificent Kiz Kumu Beach offers a quiet, peaceful environment. The reddish-brown beach stretches for about 600 meters and is quite pebbly in places. The sea, on the other hand, is always very calm and shallow.