Traveling to the south of Turkey soon ? Welcome to the magical wonderland that is the South of Turkey! Get ready to experience a diverse array of attractions that will leave you in awe!
Soak up the sun on the stunning Antalya shores or discover the ancient ruins of Ephesus that are just waiting to be explored. Don't forget to take a detour to the mind-blowing rock formations of Cappadocia!
Trust us, the South of Turkey promises an unforgettable adventure filled with natural beauty, cultural heritage, and timeless charm that will leave you grinning from ear to ear!
Find here below the 10 breathtaking places to see in the south of Turkey.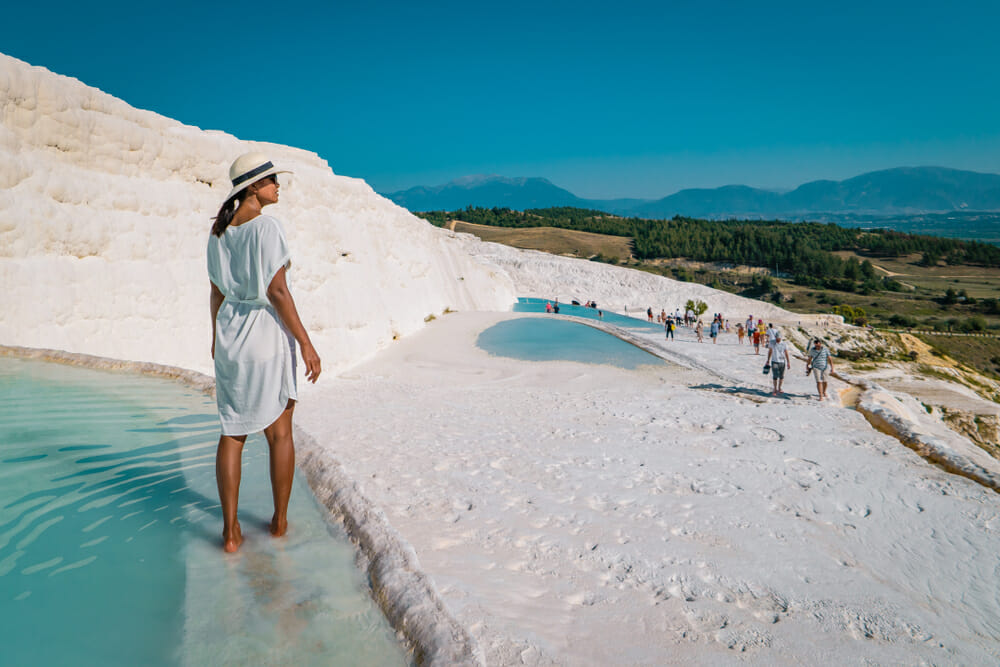 Pamukkale, a region that never ceases to impress visitors with its unparalleled natural beauty, is undeniably one of the most popular tourist hotspots in Turkey. Nestled in the beautiful city of Denizli, Pamukkale is home to some of the most remarkable white travertine terraces in the world, making it a breathtakingly immersive experience for travelers.
The region boasts several other must-see attractions, such as the healing Pamukkale hot springs and the Ancient City of Hierapolis, both of which attract scores of visitors every year. Pamukkale is truly a remarkable destination that leaves a lasting impression on anyone who visits. Not only is it stunning, but its affordability, combined with delicious local cuisine, make it an even more attractive place to visit, and is often considered as one of the friendliest destinations for tourists in Turkey. With so much to explore, it's no surprise that visitors return here time and time again.
All you need to know about Pamukkale:
2. Kekova Island (near Antalya)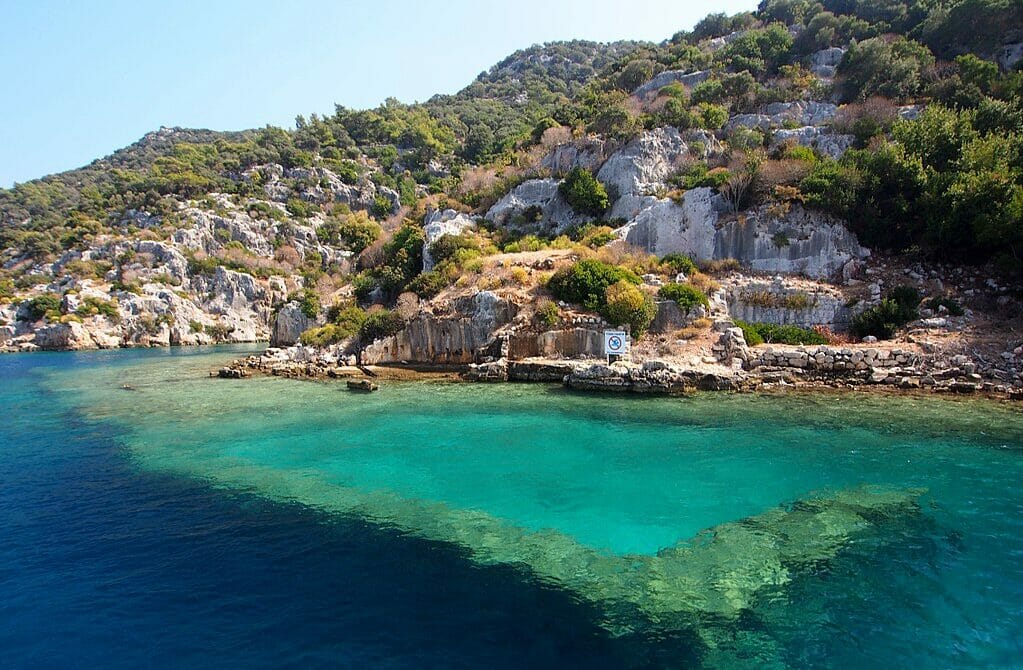 Kekova, an enchanting destination located in Turkey, boasts breathtaking natural beauty that can be described as nothing less than paradise on earth.
Its pristine beaches, crystal-clear waters, and verdant landscapes will leave you awe-struck. What's more, Kekova is an outstandingly diverse location, featuring a rich historical past that you can explore through its sunken city.
The ancient ruins submerged in the sea, known as the sunken city, offer a unique and unforgettable experience. It takes you back in time and reveals the city's history, where you can witness the streets, homes, and tombs of people who once lived there.
You can also enjoy a boat ride or take a refreshing swim to get up-close and personal with the sunken city.
Besides the sunken city, Kekova offers the opportunity to explore the island's enchanting beauty and indulge in various adventure activities like water sports. Don't miss the chance to experience the magic of Kekova.
3. Ölüdeniz (near Fethiye)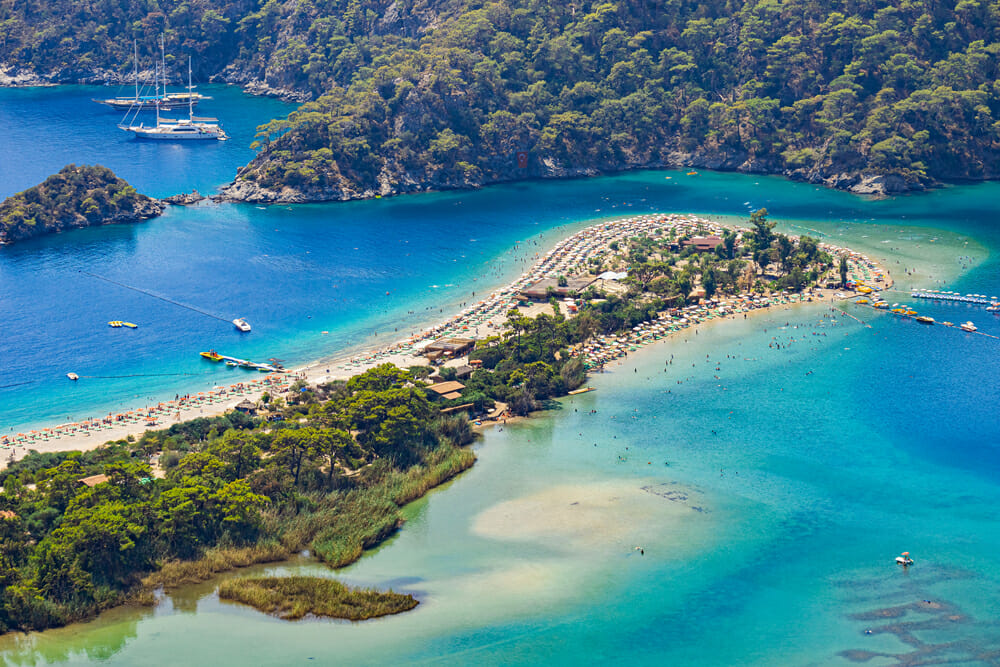 In Turkey's Mula province's Fethiye district, there is a vacation destination called Lüdeniz. Known for its distinctive beauty, Lüdeniz is a well-liked tourist resort. Oludeniz Beach is well-known for its white sands, blue water, and stunning views of the Babadag mountain. Butterfly Valley, close to Lüdeniz, is well-known for its stunning natural features. The natural life of this valley is protected, and it is frequently visited by vibrant butterflies. Fethiye, which is close to Lüdeniz, provides its guests with a pleasurable journey with its historical and touristic locations. You may travel to locations near Lüdeniz such Fethiye Castle, Paspatur Bazaar, Amyntas Tomb, and Saklkent Canyon.
4. Olympos (near Antalya)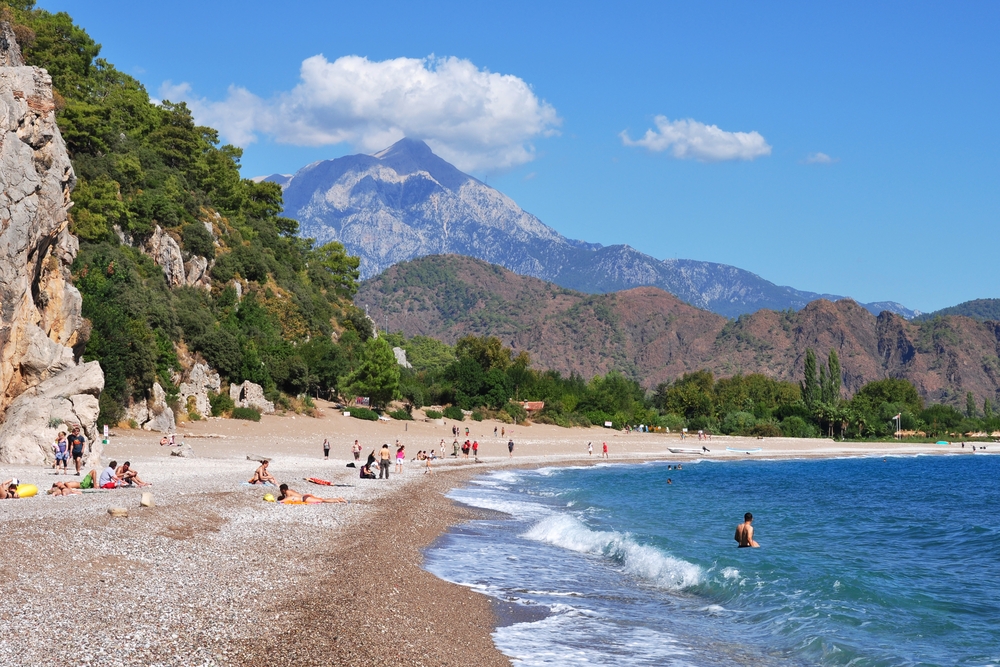 A vacation destination in Antalya's Kumluca neighbourhood is called Olympos. Olympos is one of the most uncommon locations on our Mediterranean coast and one of the uncommon locations in Turkey that gives the most authentically natural vacation experience. One of the old Lycian cities, Olympos is a cultural heritage site that still has remnants of the ancient Lycian city.
Olympos is a natural beauty that does not have a seaside facility and is not in danger of uncontrolled construction because it is located inside the national park's boundaries. Natural and historical wonders including Olympos Ancient City, Olympos Beach, Olympos (Tahtal) Mountain, Yanartaş, and Butterfly Valley are among the best locations to visit in Olympos.
Other activities available in Olympos include paragliding, diving, camping, trekking, and boat cruises. Olympos, also referred to as the country of light and sun and the remote land, is a paradise where the sea and the forest meet.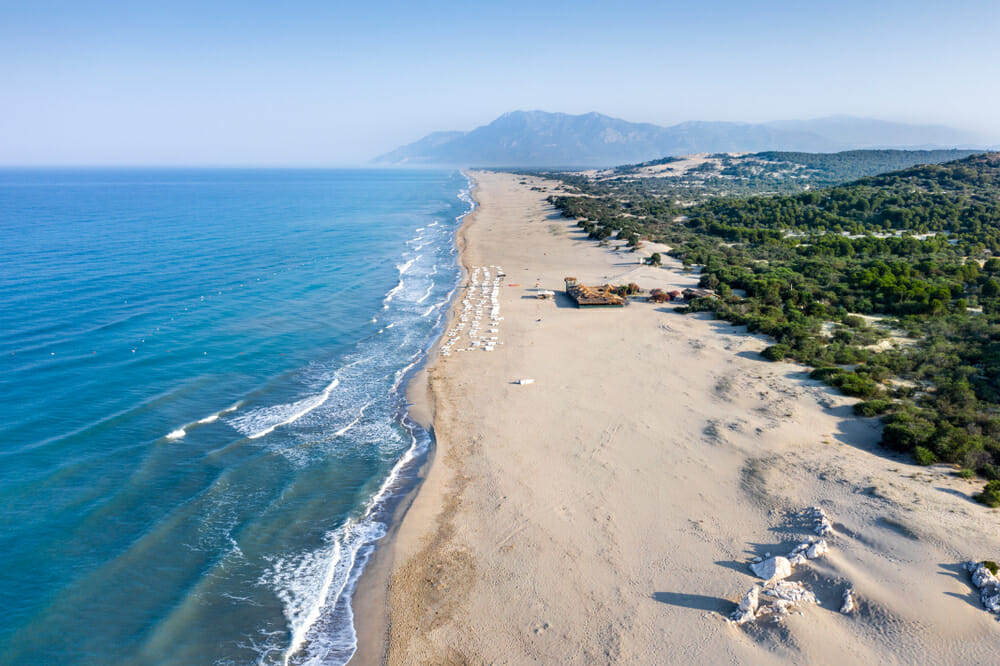 Between the Kaş and Fethiye districts, in the Gelemis village, is where Patara, a vacation destination, is located. The name Patara is derived from the Patara city, another ancient city of the region.
With a 12 kilometre coastline and a breadth of 1500 metres, Patara Beach is the first-longest beach in the world. With its fine sand and hills, it has also played host to hot desert scenes in Yeşilçam. The critically endangered sea turtles (Caretta Caretta) reproduce at Patara Beach. Because of this, the project created by the Natural Life Protection Foundation protects the beach.
Yanartaş, the Patara Sand Dunes, and the Patara Horse Farm are just a few of the beautiful natural and cultural attractions in Patara.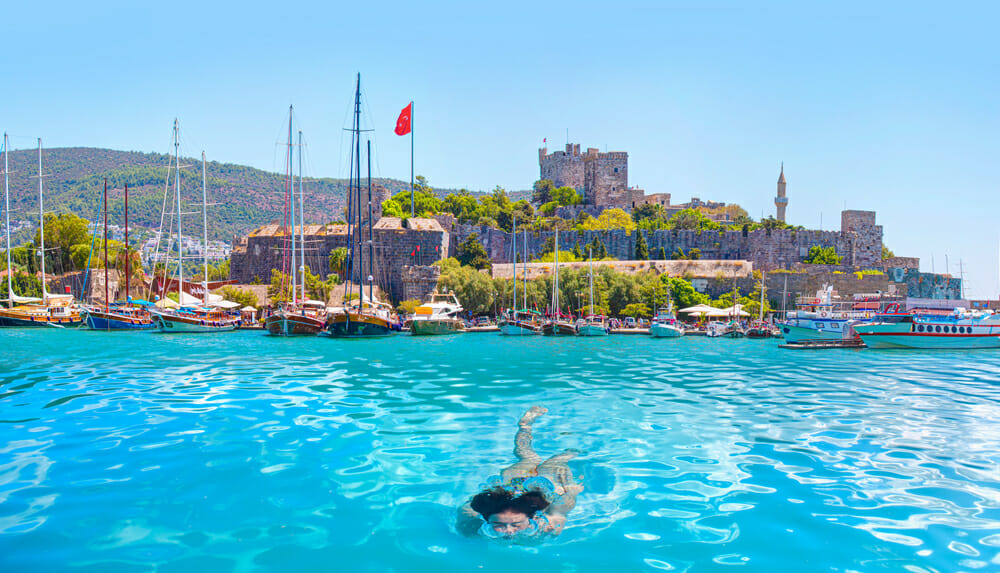 The Bodrum district of Turkey's Mula province is situated in the Bodrum Peninsula, a popular tourist destination. With its historical and natural splendours, distinctive beaches, vibrant nightlife, and rich cultural legacy, Bodrum is a popular tourist destination. Bodrum is renowned for its rich historical past dating back to antiquity.
History enthusiasts should visit places like Bodrum Castle, the Antique Theatre, the Antique Theatre, and the Mauseoleum. Additionally, Bodrum's Ancient Theatre is a well-liked location for organised events and concerts. Bodrum Underwater Archaeology Museum and Bodrum Castle: Bodrum Castle is one of the city's emblematic buildings. The Bodrum Underwater Archaeology Museum is also located there.
Archaeological remnants from Aegean Sea shipwrecks are on show in the museum. Bodrum is well-known for its vibrant nightlife. For visitors looking for a good night out, Bodrum Castle and the nearby bars, nightclubs, and live music venues are well-liked destinations.
7. Saklikent (near Fethiye)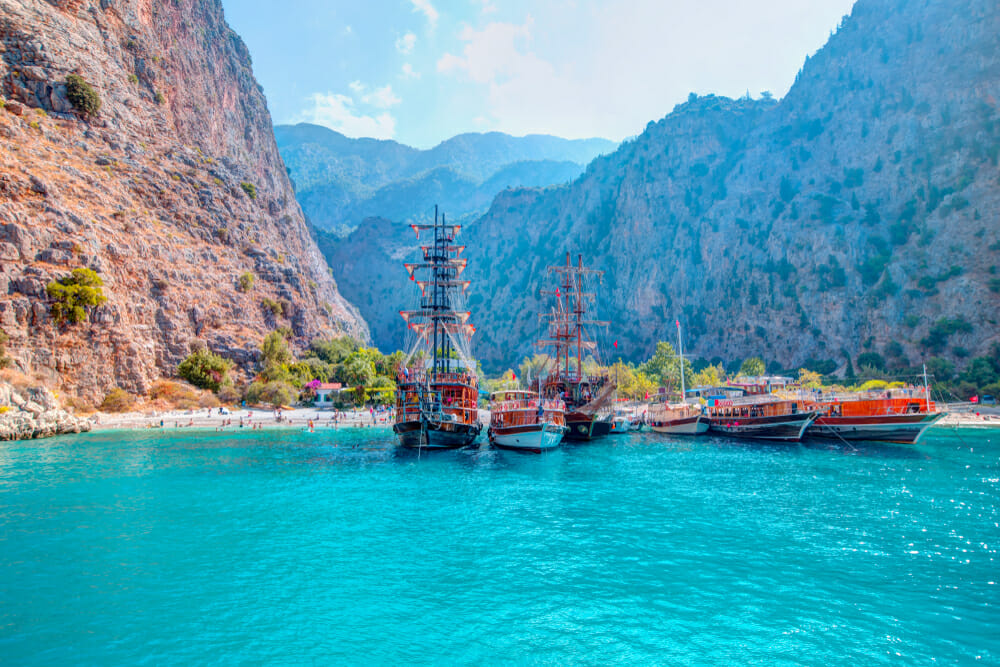 The Saklkent National Park contains the canyon Saklkent, which is situated halfway between the Fethiye and Kaş districts. A natural treasure, Saklkent Canyon features ice-cold water, fine sand, spring water, sand dunes, and caverns. Saklkent Canyon is another historic location. The canyon was inhabited 3,000 years ago, according to theory.
Summertime picnics take place in Saklkent Canyon. There are between 180 and 210 thousand tourists who visit the area every year on a Saklkent trip. Other activities that you can engage in at Saklkent Canyon include paragliding, diving, camping, hiking, and boat cruises. For vacationers seeking both action and calm, Saklkent Canyon is a great choice.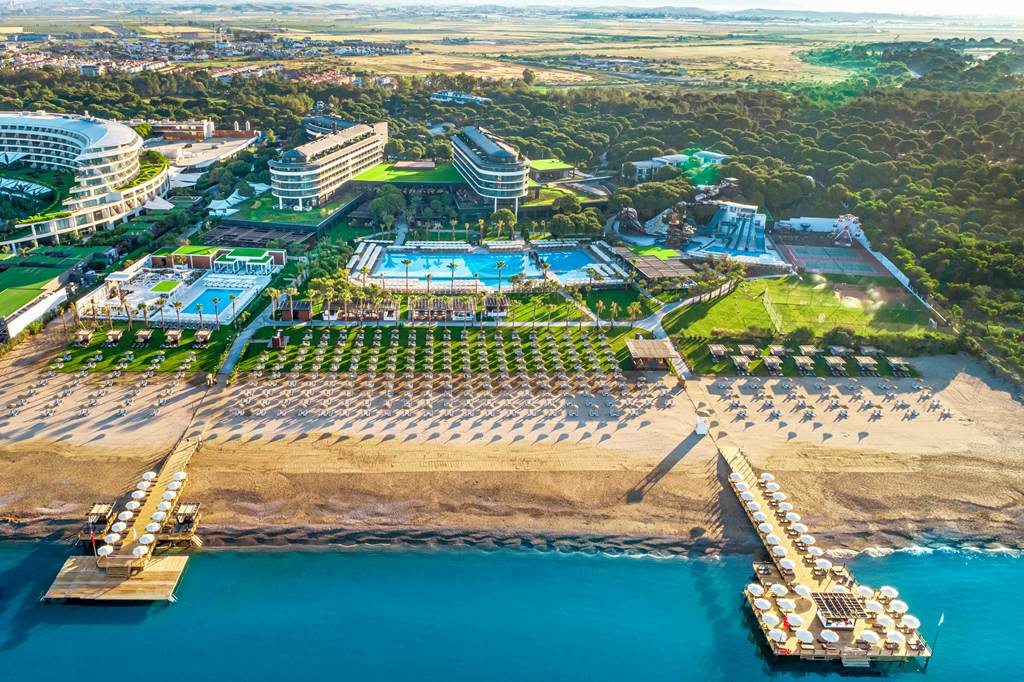 An major tourist destination in Turkey's southern Mediterranean region is Antalya. With its stunning beaches, opulent resorts, and a variety of activities, Antalya attracts a wide range of tourists. South-east of Antalya is the vacation destination of Belek. It is renowned for its opulent hotels, expansive beaches, and golf courses. Belek is a well-liked vacation spot for golf enthusiasts and is the site of numerous international golf competitions.
East of Antalya along the coast, Side is renowned for its mediaeval ruins and stunning beaches. East of Antalya is a city called Manavgat. Manavgat Waterfall is among the most visited locations in this area. Numerous tourist attractions may be found in Antalya City Centre, including a mediaeval castle, a marina, shopping areas, dining options, and museums.
West of Antalya is a place called Lara. Luxury resorts and stunning beaches may be found in this region. In the west of Antalya, Konyaalt is well known for its expansive sandy beach and cutting-edge amenities. Kemer, a vacation destination west of Antalya, is well-known for its scenic surroundings and tourism attractions. Visitors can have a variety of activities at locations like Kemer Marina, Phaselis Ancient City, and Tahtal Mountain Cable Car.
9. Turkish & Greek Islands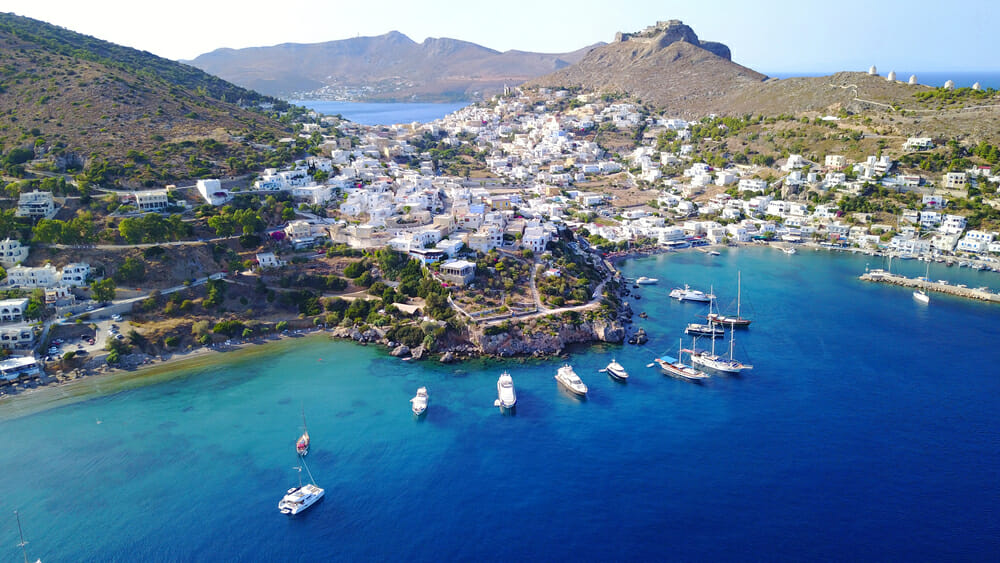 Greek and Turkish islands are beautiful travel destinations with a lot of history and natural beauty. They are famous for being very relaxed, affordable and fun for travelers.
Suluada has a peaceful and lovely atmosphere with clear water, while Kekova Island has a castle and an ancient city that is partly submerged. It is perfect for boat trips to nearby bays and islands. Sedir Island has a famous Cleopatra Beach. Orak Island has a lot of plants and animals and is connected to Greece by a bridge. Meanwhile, Kos Island has ancient structures like Asclepion, ancient theaters, and archaeological sites. There are also popular beaches to visit, including Paradise Beach, Tigaki, and Kardamena. Many other greek islands are available from Turkey: Symi, Chios, Rhodes, Samos, Lesbos…
10. Ancient Cities all around the south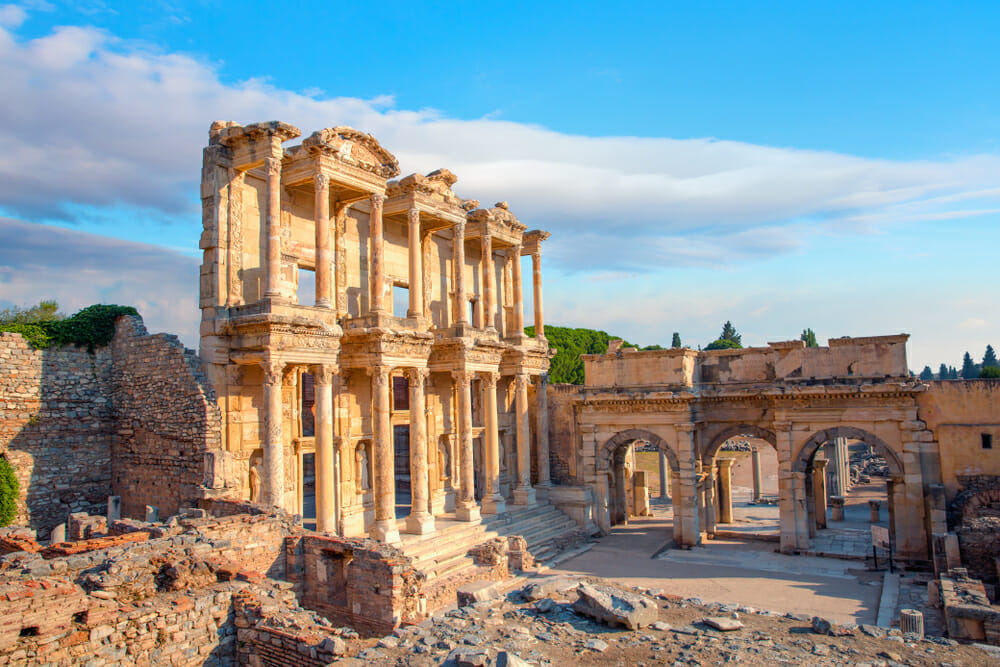 Turkey is a nation with a rich historical and archaeological legacy. As a result, numerous old cities make for attractive tourist attractions that are worth exploring. These historic towns contain the remains of former civilizations and provide travellers with experiences rich in history and culture.
In the south of Turkey, particularly around the Mediterranean and Aegean Seas, there are numerous historic cities. The most well-known ancient cities of these are Perge, Side, Aspendos, Xanthos, and Ephesus, Hierapolis…
With their rich historical past and natural beauty, these locations are worth experiencing for history and culture enthusiasts.