Going to a Greek island from the Turkish Riviera is a very common activity for travelers and locals. Indeed, there are around 10 Greek islands easily accessible from the Turkish coast, and the island population waits for the Turkish and international tourist every year with great joy.
In this article, we share with you all the Greek island available to travel to from Turkey. Some of them are not accessible since the pandemic. But the ones accessible have links to the ship companies. Enjoy Greece from Turkey!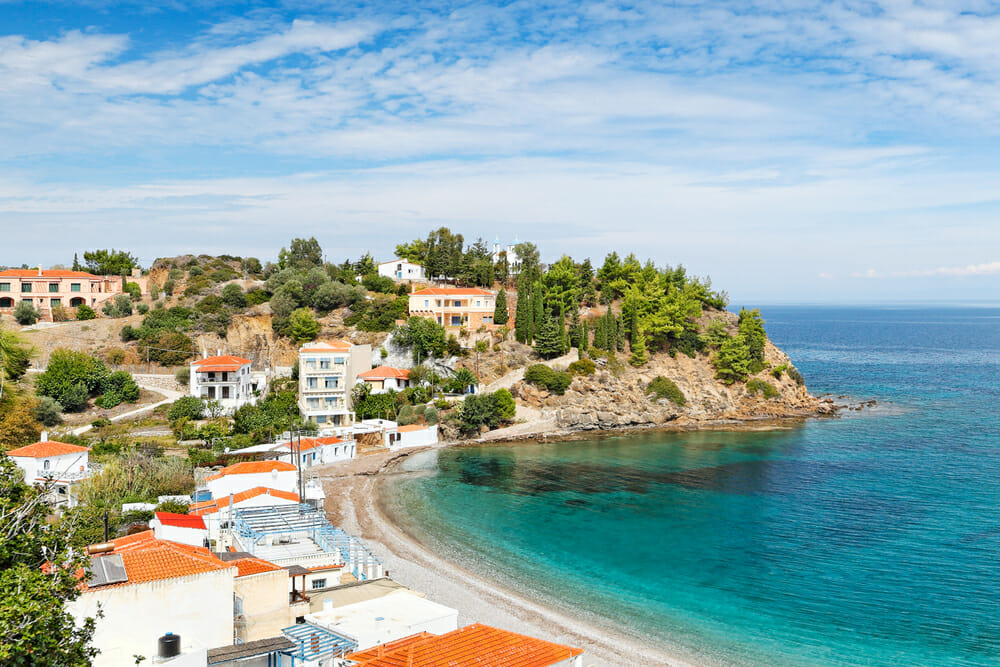 Chios is Greece's fifth-largest island, located northeast in the Aegean Sea. It is also super simple to travel from Turkey to Chios Island, which is only a few kilometers off Turkey's west coast. Chios, with its rich historical texture, is a popular tourist destination. Today, artifacts from many eras may be found on the island. The best time to go to the island is in the spring months, March, April, and May. During this time, the sea temperature is ideal, and there is no intense heat or drought on the island.
If you want to get to the island from Turkey, ferryboats from Ertürk Lines or Ege Birlik can arrive in Izmir's Çeşme district in 45 minutes. Also, if you go to Chios, a holiday paradise famous for its beaches, we recommend that you visit Agia Fotini, Megas Limnionas, and Karfas. In general, Chios beaches are excellent locations to unwind and relax.
Infos :
2. Rhodes, from Marmaris or Fethiye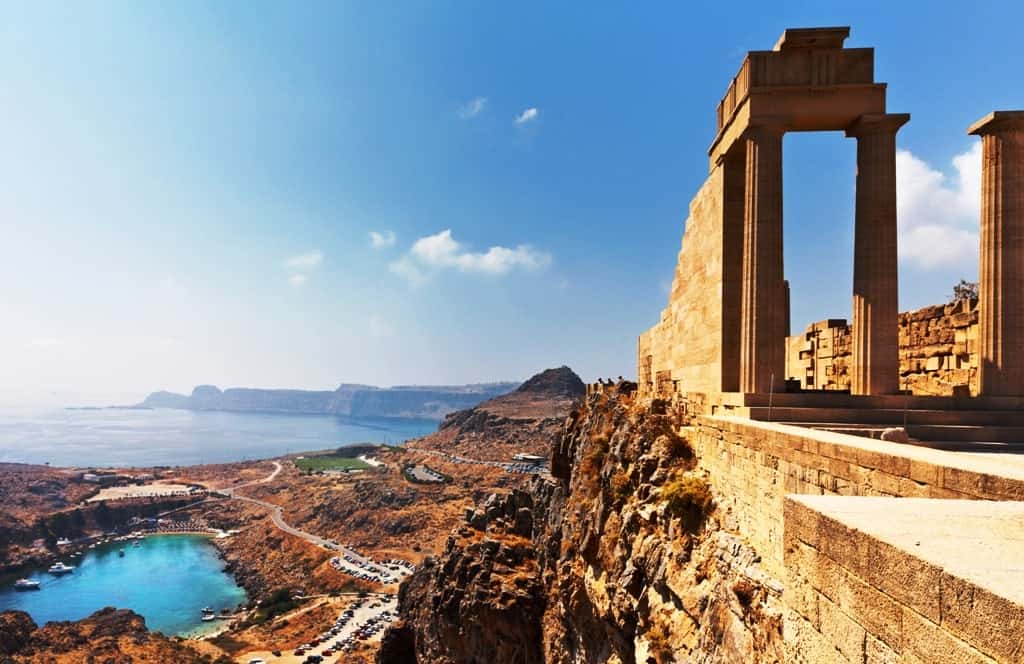 Rhodes is the biggest of the Aegean Sea's Dodecanese Islands. It is quite easy to reach from many touristic destinations in Turkey since it is just 18 kms from the Bozburun Peninsula, which is the closest point to the Turkish coastline. By sea, you may reach Rhodes from Marmaris, Fethiye, Bodrum, or Datça. The ferry cruise between Marmaris and Fethiye takes around an hour.
The warmest months in Rhodes begin in mid-June and last in mid-September. You may pick between spring and summer months based on your weather preference. Rhodes Island is known for its deep blue water and lovely beaches such as Anthony Quinn's Bay, Elli Beach, and Ladiko Beach. The Palace of the Grand Masters is one of the historical places that should visit on the island, which also hosts various places in terms of history.
Infos :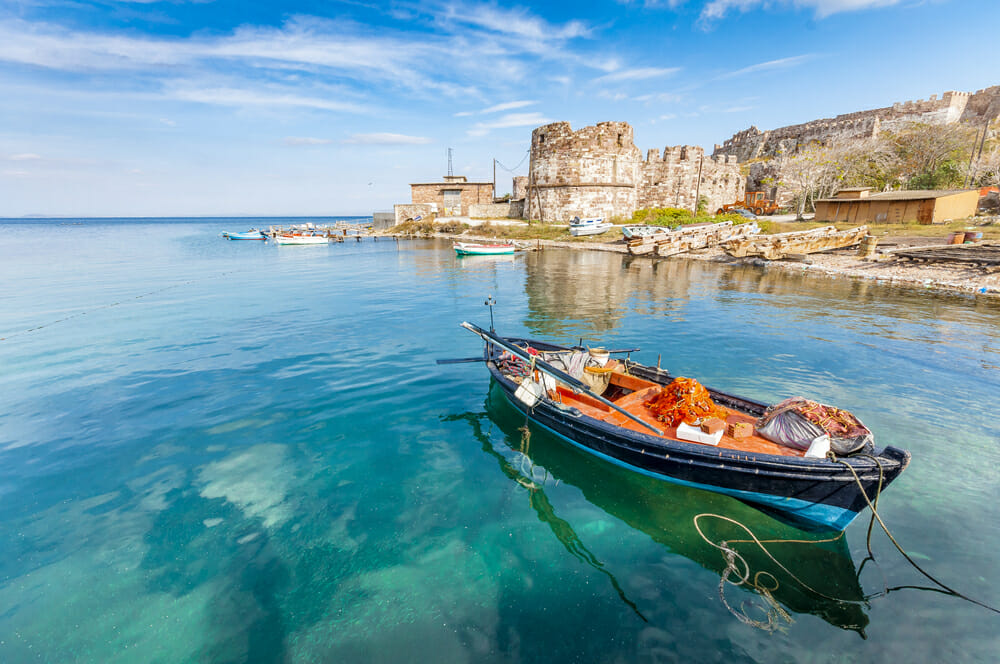 Lesbos is a Greek island that has hosted many civilizations since ancient Greece. Lesbos is a popular tourist destination known for its olive oil museum, soap workshops, and delicious cuisine. You have two options for getting from Turkey to Lesbos: take the road or fly. The ferry services departing from Ayvalık Port provide the quickest land travel. After a one-and-a-half-hour sea cruise, you can reach the island. However, since there is no direct flight from Turkey to the island, you must take a connecting flight from Athens, Greece. On the other hand, summers on the island are pretty hot.
In Lesbos, which stands out with various activities, festivals such as Ouzo Festival and the International Eressos Women's Festival held in July and August are among the factors that make the island enjoyable. Neon Kidonion Beach, Molivos City Beach, and Tsamakia Beach are among the best beaches on the island, known for their deep blue seas.
Infos :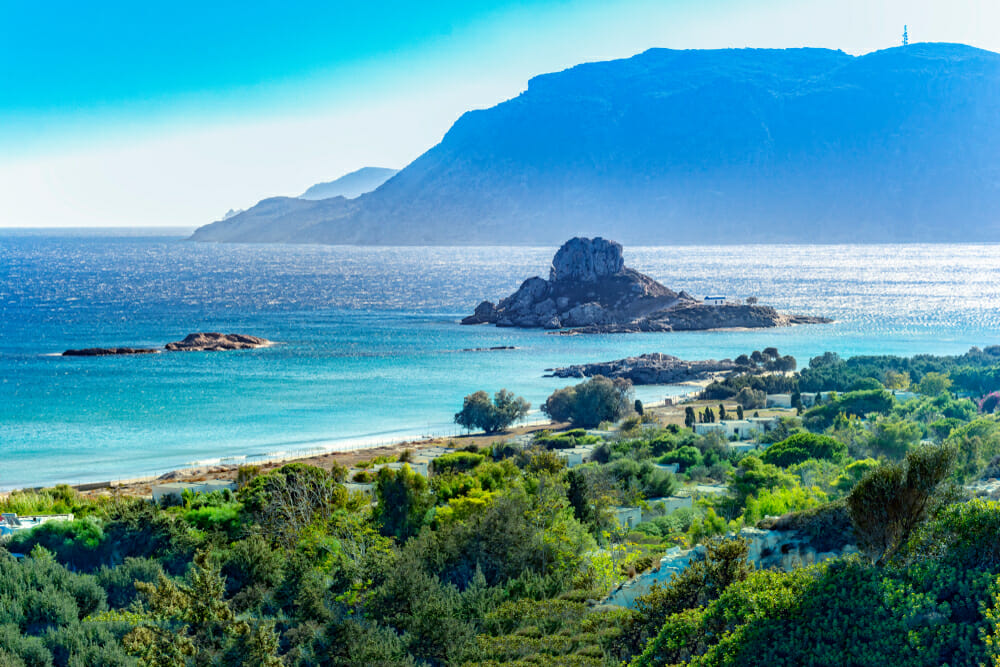 Kos Island, Istankoy in Turkish, is an Aegean Island located 8 miles from Anatolia, opposite the Bodrum Peninsula in Turkey. The ferry from Bodrum Harbor or Turgutreis Harbor is the quickest and cheapest way to get to the island. Swift catamaran type boats make two-way trips from both ports almost every day. The trip from Bodrum to the island can take as little as 20 to 45 minutes. You may also take a ferry to Kos Island with your private vehicle if you prefer.
The best time to go to Kos, which is one of the most visited tourist destinations among the Greek Islands, is during the summer months. You can enjoy a relaxing sea at various beaches like Psalidi Beach and Lambi Mylos Beach.
We suggest that you visit the ancient cities of Kos Town Castle and Asklepion in Kos, which attracts many tourists thanks to its historical sites.
Infos :
Timetable of Cruises to Kos Island
5. Samos, from Seferihisar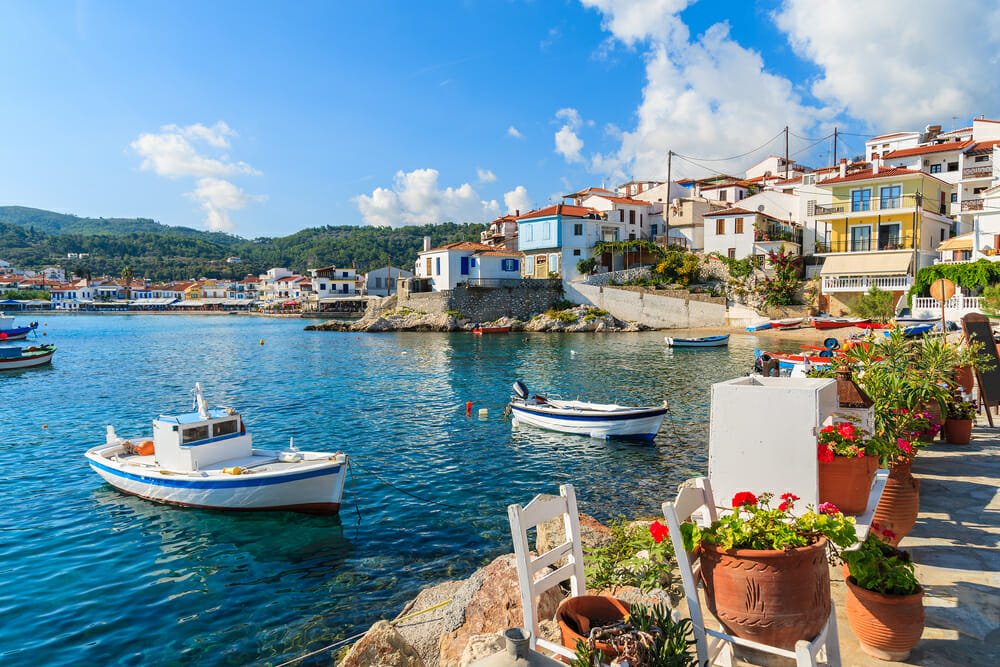 Samos, also known as Sesame in Turkish, is a Greek island in the Aegean Sea. Air transportation is one of the most convenient ways to get to the island from Turkey. You can get to Samos by flying from Istanbul or Sabiha Gökçen Airport to Athens or Thessaloniki. The whole trip time is around 4 hours. Besides, a 90-minute ferry journey from Aydın/Kusadasi will take you to the island if you prefer the roadway.
The ideal time to go to Samos is between June and September. If you wish to cool yourself in hot weather, you can visit the island's magnificent beaches and dine at one of the restaurants by the water in the evenings. The island of Samos, which impresses tourists with its natural beauty, pure air, and sea, is also well-known for its beaches, including Megalo Seitani, Potokaki, Psili Ammos, Mykali, and Heraion.
Samos also has many ancient landmarks, including Pythagorion, the Cave of the Virgin Mary, and the Cave of Pythagoras.
Infos :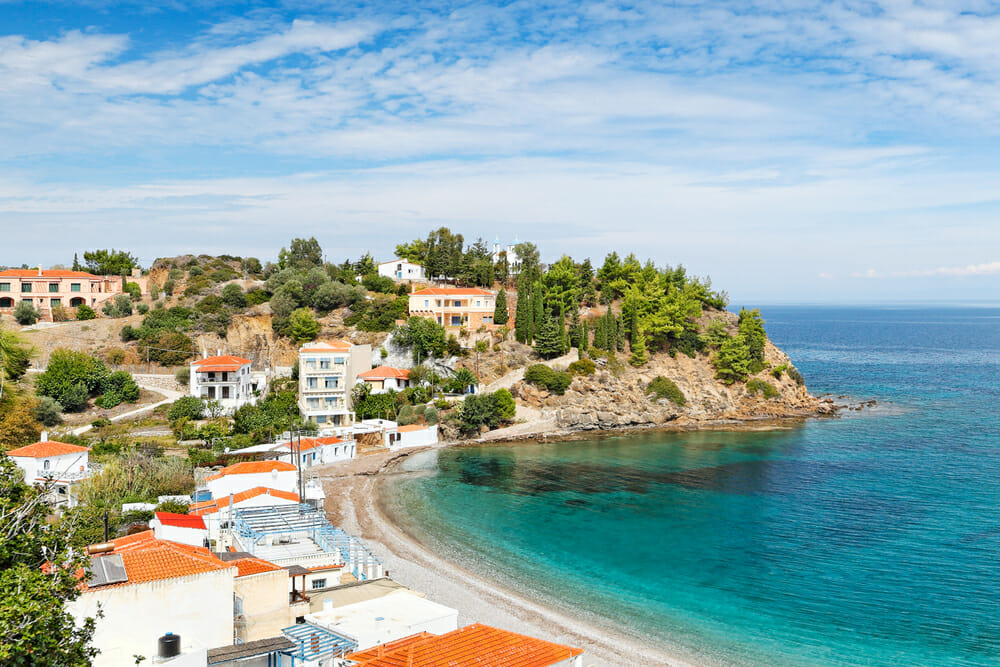 Patmos is a small island in the northernmost region of the Dodecanese with 3,000 inhabitants. It is a UNESCO World Heritage Site. To get to Patmos, you can first go to Kos Island with a 45-minute journey from Bodrum. From there, a 2.5-hour sea cruise to Patmos is possible.
We recommend that you explore the streets of this small yet iconic island. Authentic Greek souvenirs, Christian holy artefacts, and figurines of the island's unique windmill are accessible. Moreover, historical sites such as the Monastery of Saint John the Theologian and the Cave of the Apocalypse are among the must-sees.
If you want to explore the island entirely, a 2-to-3-day sightseeing tour would be ideal for you.
Infos :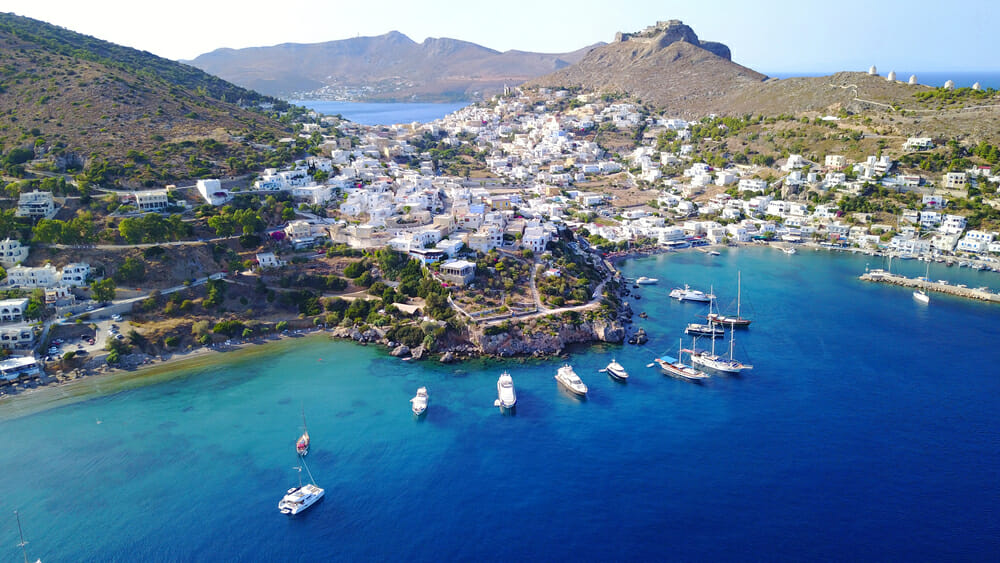 Leros, one of the smaller and lesser-known islands, is also among the must-see islands in Greece. It's a peaceful and charming island with colorful, traditional houses, little coves, and friendly people. As it is a small island, you may tour it in a single day, either by car or on foot. With villages like Lakki, the island's major port, Agia Marina with its deep blue sea, and Panteli, a popular destination for fishermen and boaters, Leros provides a welcoming environment for tourists.
Moreover, it is easy to go to the island from Turkey. You can reach through a one-and-a-half-hour boat voyage from Bodrum town or Turgutreis.
Additionally, July and August are the busiest and most active holiday seasons in Leros. With the festivals and activities held during these times, the island becomes considerably more colorful and livelier.
Infos :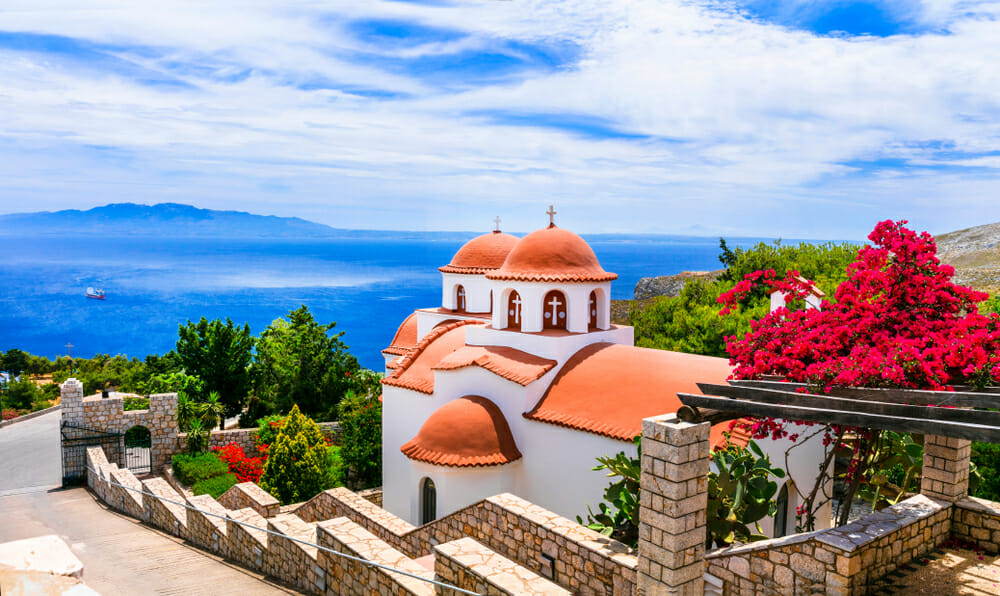 Kalymnos is a Greek island and municipality in the Aegean Sea's southeastern part. It is very close to Turkey and is a large island that is easy to reach from Bodrum. The fastest means of transportation are hydrofoils departing from Turgutreis. With these hydrofoils, you can get Kalymnos in 25 minutes.
There are wonderful beaches in Kalymnos such as Linaria, Massouri and Gefira. On the other hand, the island has a very suitable structure for mountaineering. Limestone cliffs and astonishing paths make the island a paradise for climbers. The rocks are 5 to 20 minutes away from the city centers by walking at most. The best climbing point is around the village of Massouri.
Furthermore, with its diving activities, Kalymnos is a highly intriguing island. If you enjoy doing adventurous activities, this island is just for you.
Infos :
9. Kastellorizo, from Kas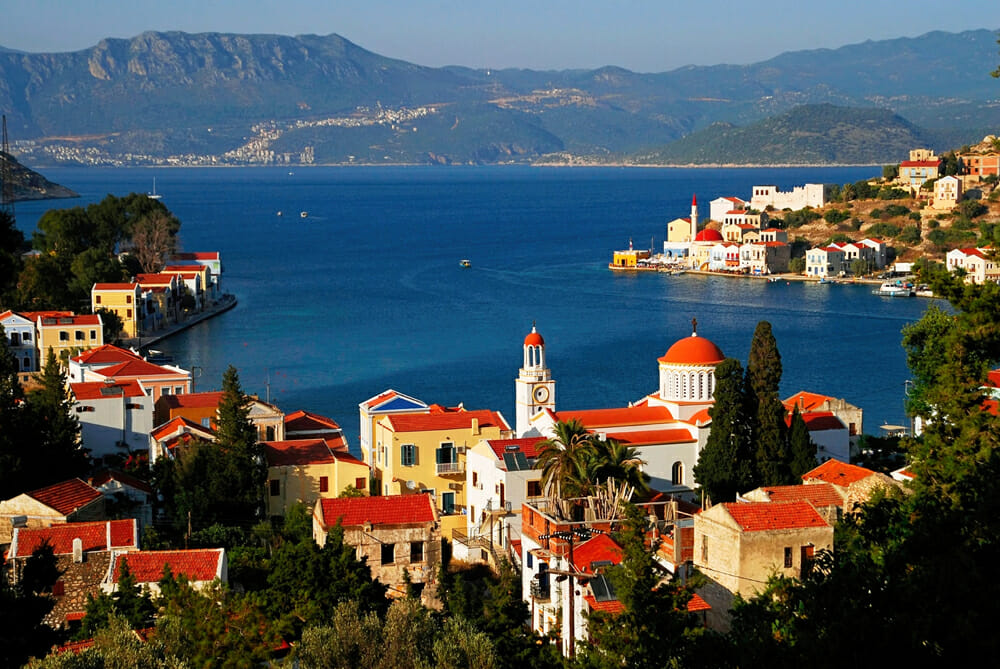 Kastellorizo, or Megisti in Greek, is Greece's smallest and furthest island. It is about 6 kilometers from Kaş, one of Turkey's tourism hotspots. In summer, between 10:00 and 16:00, Kaş-Meis boats leave from Antalya's Kaş district every day. The boat ride from Kaş to Meis takes roughly 20 minutes. On the island, which is regarded as the entrance to the Greek Islands, you may take a tour of the coastline, wander its streets, and enjoy the island's famous Frappe and Greek Dessert. In addition, you may travel around the settlements in one to two hours.
The Blue Cave, which makes one of the most famous activities of the island possible, is a natural wonder. Small motorboats sailing from the port in the island's south may take you to the cave in 15 minutes. The Blue Cave, with its distinct aura, is a place you should definitely experience when you go to Meis.
Infos :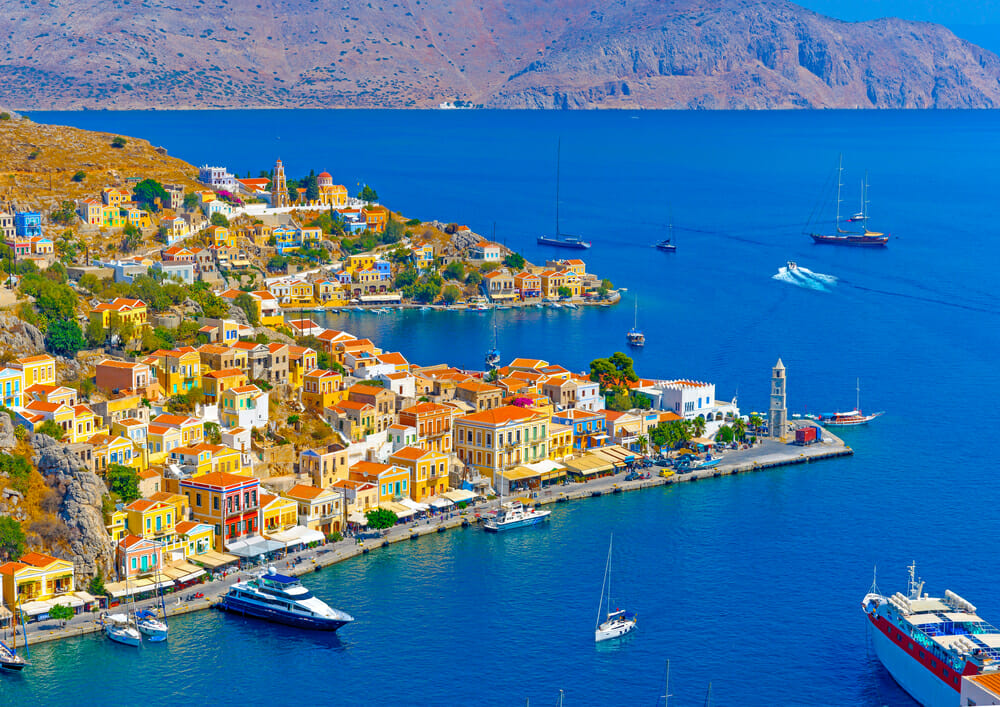 Symi Island is between the Aegean and Mediterranean seas. It is pretty simple to reach the island, which is 8 km away from Datça in Turkey. You can reach the island by ferry from Datça, Marmaris or by fast boat from Bodrum. The summer months are ideal for a vacation on the island of Symi that has a usually pleasant temperature.
Symi Island is a tranquil tourist location with various attractions to explore. You can swim in its crystal-clear water and visit beaches like Agios Nikolaos and Nanou Beach. If you're looking for historical inspiration, we suggest you go to the Archangel Michael Panormitis Monastery in the small village of Panormitis.
On the other hand, Gialos is the liveliest portion of the island. With its captivating view, this port area serves as the main transportation center, and it is a popular tourist destination.
Infos :
Which island(s) would you like to visit so far? Let us know in the comment section below.
You can also visit the best Turkish islands to visit.