In this article, you will find the best resort hotels that travelers enjoy staying in when they spend their holiday in this amazing land of the Turkish Riviera.
All of these hotels are among the nicest choices to pick for accommodation in Marmaris in Turkey. They all have great swimming pool, amazing landscape and various services that we will detail for you in the article.
Let's discover the most amazing resort hotels to book in Marmaris…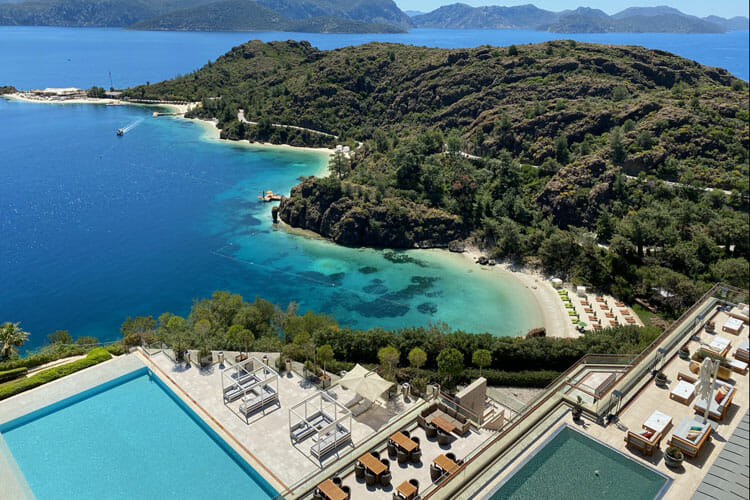 D Maris Bay is a 5-star hotel in Marmaris, where the Aegean and the Mediterranean meet. Located in Hisarönü, the facility is 35 km from Marmaris centre, 130 km from Muğla Dalaman Airport and 155 km from Bodrum-Milas Airport. It has everything needed to make your vacation unforgettable. It hosts an impressive concept with its unique sandy beaches, outdoor activities and extraordinary food and beverage options. The hotel serves with the concept of bed and breakfast. At the hotel, you can experience Izakaya cuisine based on the idea of sharing meals. Besides the breakfast buffet on the terrace, you can have pleasant breakfasts in the special cheese room in the mornings.
Families with children can have a pleasant time at this property, which offers exceptional facilities for children. It also provides privileges for honeymoon guests. You can enjoy the sea at the Blue Flag beach. You can relieve all your tiredness at the spa facility. Moreover, you can have pleasant moments with your pawed friends in this pet-friendly hotel.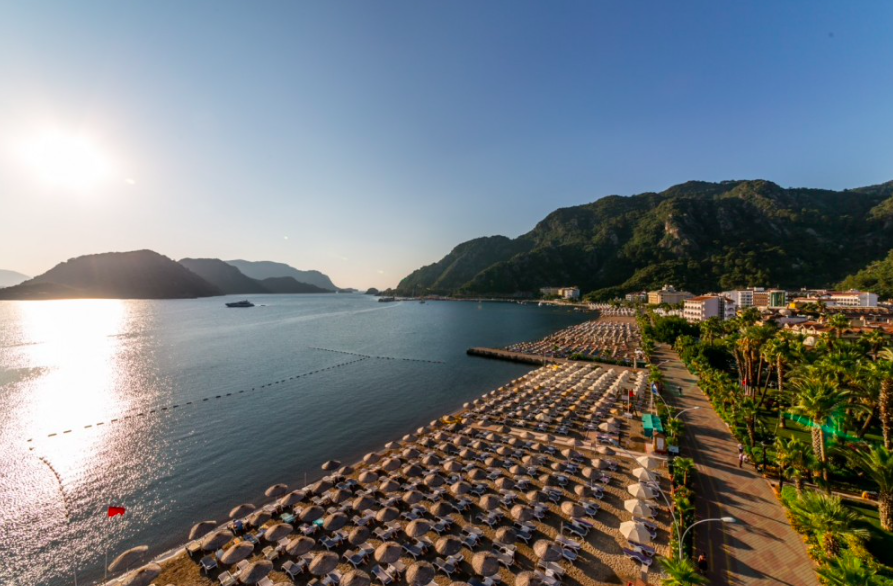 Hotel Aqua Marmaris invites its guests to the enchanting Icmeler Beach with colourful gardens and palm trees. The beachfront facility in Icmeler is 10 km from the city centre and 110 km from Muğla Dalaman Airport. The hotel also has a sandy beach. The 5-star Hotel Aqua Marmaris provides service with an all-inclusive concept. It offers delicious options to its guests with an open buffet restaurant with a terrace, two a la carte restaurants and a pool bar.
Facilities such as an outdoor pool, a children's pool, a heated indoor pool and a gym are among the services offered to the guests at the facility. For guests who want to rest and relax, There are also facilities such as a sauna, Turkish bath, steam bath, ice fountain. There are also facilities such as a mini club, playground and children's buffet for guests with children. Moreover, this hotel has a tennis court, and guests can also engage in sports activities. So, you can spend a quiet holiday here with your family.
3. Turunc Resort Beach Hotel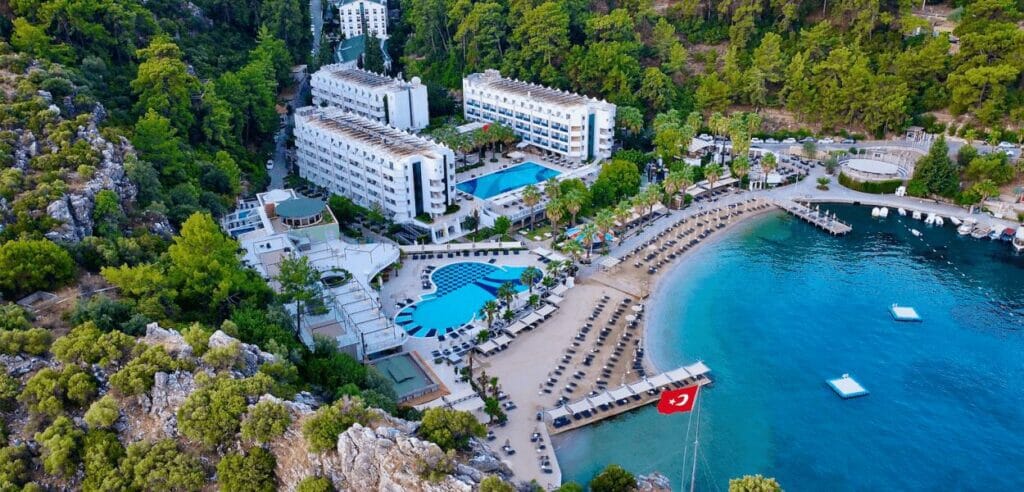 Turunc Resort Hotel awaits its guests for a beautiful summer holiday with its privileged service approach. It provides service in a magnificent private bay, at the seaside location. It is 20 km from Marmaris centre and 120 km from Dalaman Airport. The resort makes guests of all ages feel unique in its bay. It offers free buffet meals in the morning, lunch and evening. There are also a la carte restaurants specific to Italian and Anatolian cuisines at Turunç Resort Hotel.
For guests who want to freshen up, the SPA centre offers facilities such as a Turkish bath, sauna, steam baths, beauty centre and massage service. Its aquapark opens the doors of a unique holiday experience to its guests. It is a favourite of families with numerous opportunities such as mini clubs, children's pool, children's water slides, where children and young people can have fun together.
Book your room at Turunc Resort Hotel on Trivago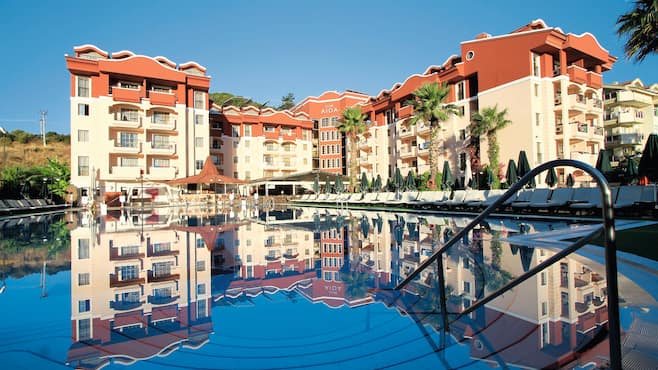 Located within walking distance of Marmaris city centre, Club Aida Apart promises its guests a pleasant holiday. The hotel's restaurant draws attention with its bar/living room, where guests serve drinks. The hotel's poolside bar serves drinks to guests. A la carte breakfast is served to the guests every day. Rooms also have a kitchenette.
It is a hotel that considers the comfort of families with children. Therefore, it has a children's pool, mini club and playground. Further, guests can use the 3-treatment-room spa at the hotel. Services include massages and manicures, and pedicures. The resort features a sauna, hot tub, steam bath, and hammam for guests.
5. Grand Yazici Club Turban Thermal Hotel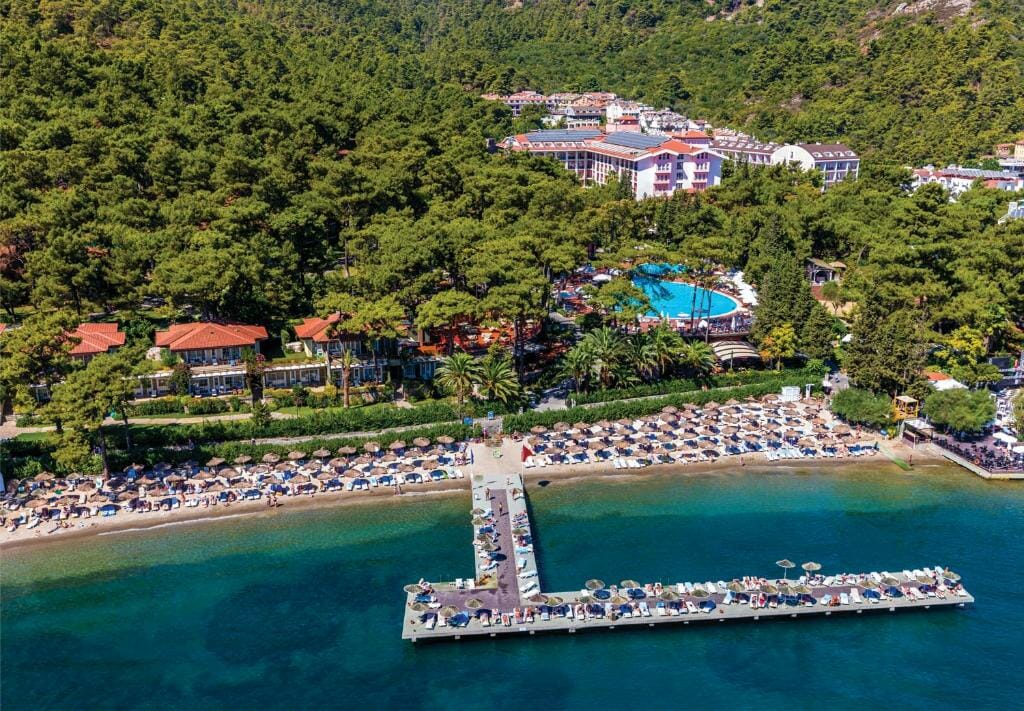 Grand Yazıcı Club Turban Thermal Hotel offers guests a dream holiday in Marmaris. The facility in Siteler has located 2 km from Icmeler, 6 km from the city centre and 90 km from Dalaman Airport. Providing service with the concept of Full Board, Bed and Breakfast and Half Board, the property has its private beach and pier.
Spa centre, sauna, Turkish bath, steam room and massage treatments provide relaxation, rejuvenation and relief from stress. The fitness centre provides service for those who want to do sports and maintain their form. It combines the pleasure of the holiday with healing with the thermal pool inside. There are also activities for guests with children. It doubles your fun with its aquapark and animation team. Moreover, it offers unique opportunities to its honeymoon guests.
In the same complexe, find also the Grand Yazici Club Marmaris Palace, which is a more luxurious and expensive version of the regular one, but they are basically both at the same place. The residents of the Palace one (which has 5 stars) will be able to rent a villa with high quality equipments,  private land or an amazing sea view. Couple suites and family suites are also available. This side of the hotel definitely offers more privacy, and makes you feel as if you were alone on an island. Feel free to check our pictures and prices below.
6. Hotel Cettia Beach Resort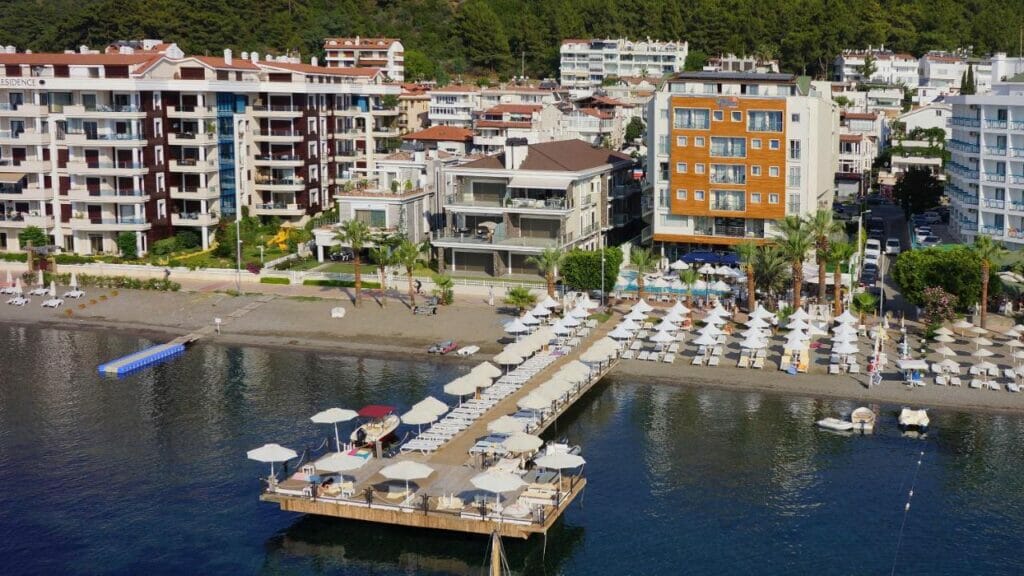 Grand Cettia Hotel is located a few minutes' walk from the sea. The facility is located approximately one kilometre from the sea. The facility's large outdoor pool with water slides offers an alternative to the beach for those who want to enjoy swimming and sunbathing. Guests can also benefit from the public beach.
Breakfast, lunch and dinner buffet meals are free. Guests can add flavour to their holidays in the bars where refreshing and delicious drinks served on hot summer days. Child guests can also spend time in their private outdoor pool. It also promises a lovely holiday to the little ones with facilities such as a mini club, children's playground, mini disco and children's animation. The hotel's SPA center offers a hammam, sauna, jacuzzi and cold shock shower rooms and massage facilities for those who want to renew their body on holiday.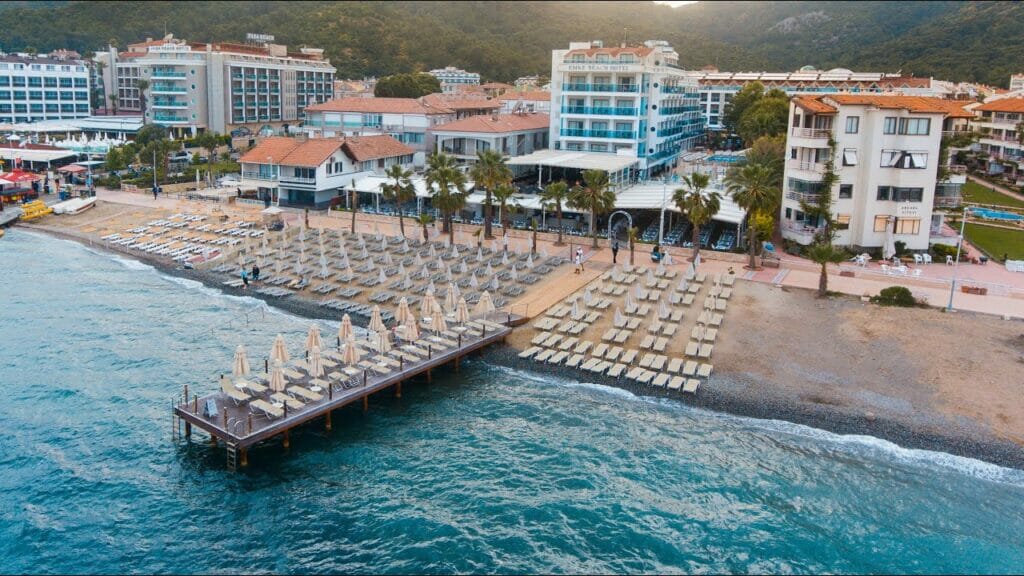 Providing service in Marmaris, Emre Beach Hotel is a 4-star hotel. It is waiting for guests who want to have a peaceful holiday by the sea. The hotel is in Siteler, 3 km from Marmaris centre and 85 km from Dalaman Airport. It offers a pleasant holiday opportunity in its rooms, most of which have sea views. You can also enjoy the sea and the sun at the hotel's private pier. There is also the main restaurant at the seaside where you can find the opportunity to taste delicious flavours. Breakfast, lunch and dinner buffet meals are free.
Emre Beach Hotel offers Turkish bath and sauna services to those who want to relax on holiday. There is also a steam bath and massage at the spa centre. It provides an alternative to the beach with indoor, outdoor and children's pools. Moreover, the Hotel also offers paid diving courses to its guests.
8. Labranda Mares Marmaris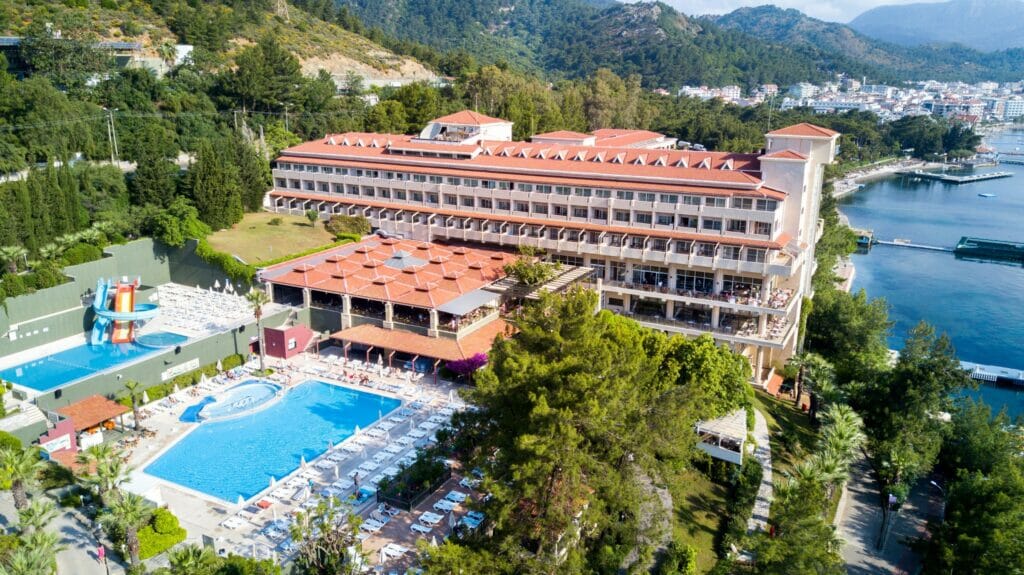 Providing service in Marmaris Bay, Labranda Mares Marmaris is a 5-star hotel. The facility, located at the seaside, is appreciated with its friendly staff. The facility offers services such as a mini club, playground, children's disco, children's cinema for children guests. As an alternative to the beach, it has an outdoor pool surrounded by sun loungers. Here, guests can enjoy sunbathing and have a good time.
It serves with the concept of all-inclusive. Italian delicacies, tavern delicacies, Far East cuisine and much more await guests. Guests who want to rest and refresh can go to the SPA area and benefit from the facilities such as sauna, Turkish bath, steam room, fitness centre and massage services. Guests who want to have fun can participate in activities and animations throughout the day at the facility. On the other hand, sports-loving guests can benefit from a wide range of options.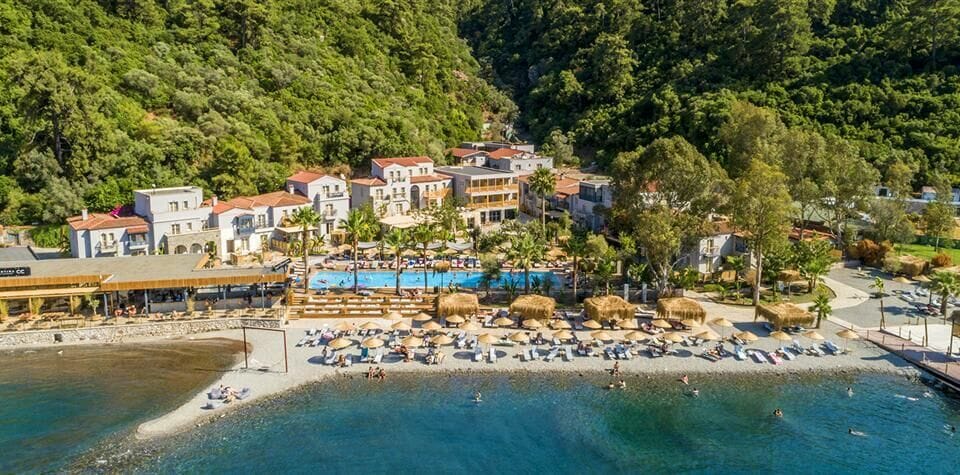 Cook's Club Adaköy is a 5-star hotel about 10 km from the centre of Marmaris. It consists of two and three storey buildings reflecting the diversity of the original Mediterranean architecture. The rooms of Cook's Club Adaköy are located in Marmaris Bay, where the sun rises the earliest and sets at the latest. It serves as a half board.
It offers a quiet and peaceful holiday with its beach overlooking the unique Marmaris bay, Cantina Restaurant and Captain Cook's bar, and the charming Bedir Islands. On certain days of the week, you will be able to enjoy entertainment with movie screenings and DJ performances on the beach. It is a specially prepared hotel for adult guests, only accepting guests over 16 years old. Moreover, it is among the hotels preferred by newly married couples planning a romantic honeymoon with surprises specially prepared for honeymooners.
10. Motto Premium Hotel & Spa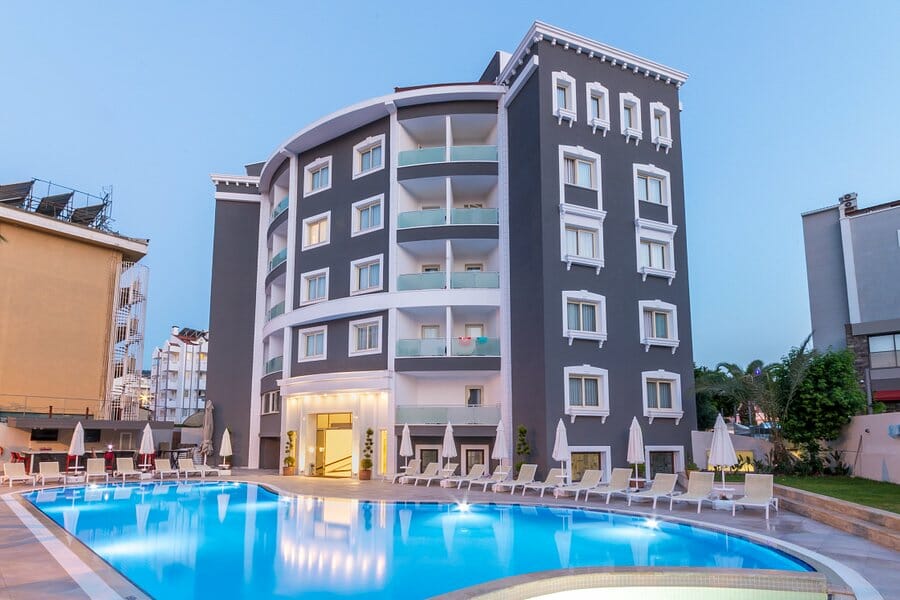 Motto Premium Hotel is a 4-star hotel in the city centre of Marmaris. It offers its guests a fun atmosphere with its beach and outdoor pool for a fun summer vacation. This hotel, which serves as half board, serves an open buffet breakfast. In addition to the beach pleasure, there is an outdoor pool, an indoor pool and a children's pool. The Spa Lounge allows its guests to relax. Further offers unique facilities to its sports enthusiast guests with its fitness centre.
Motto Premium Hotel ensures that families with children have a safe holiday with its activities, especially for child guests. You can also spend quiet moments in the library. There is also a game room and various entertainment activities. Finally, you can relax by cycling in the hotel's extensive garden.
11. Sea Star Marmaris Adult Only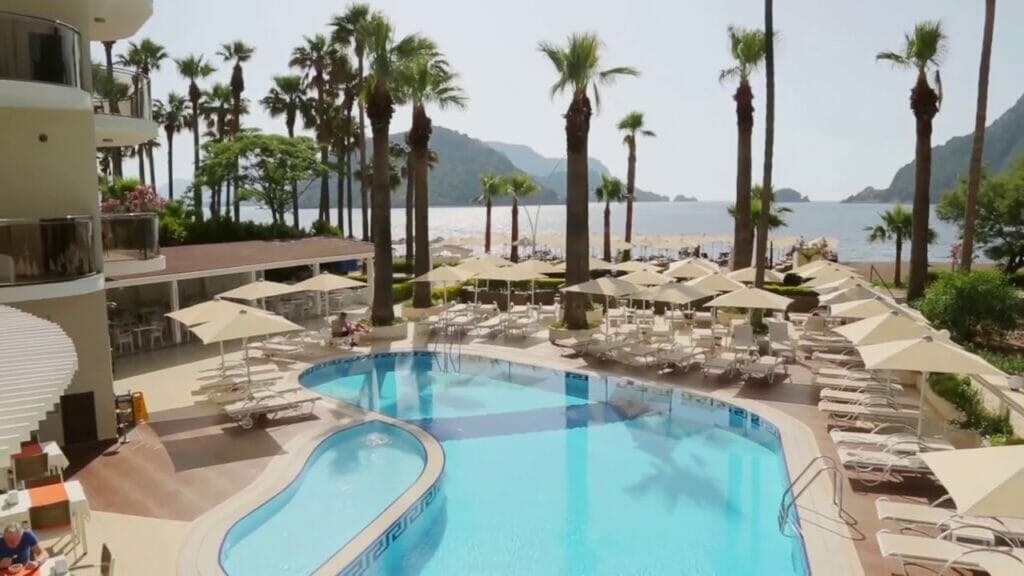 Sea Star Marmaris, which is in adult hotels category, is a 4-star hotel. It awaits its guests over the age of 16 for a peaceful holiday. It serves with an ultra all-inclusive concept. Its location by the sea, its proximity to beautiful bays and the vibrant nightlife of the region also attract the attention of holiday lovers.
At Sea Star Marmaris, located in Marmaris, Icmeler region, you will have a relaxing holiday that combines luxury and comfort by taking advantage of spa and massage services. This beachfront hotel also has an outdoor and heated indoor pool. It contributes to your relaxation with its Turkish bath, sauna and massage services. In the fitness room, you can perform your physical activities.
12. Elite World Marmaris Adult Only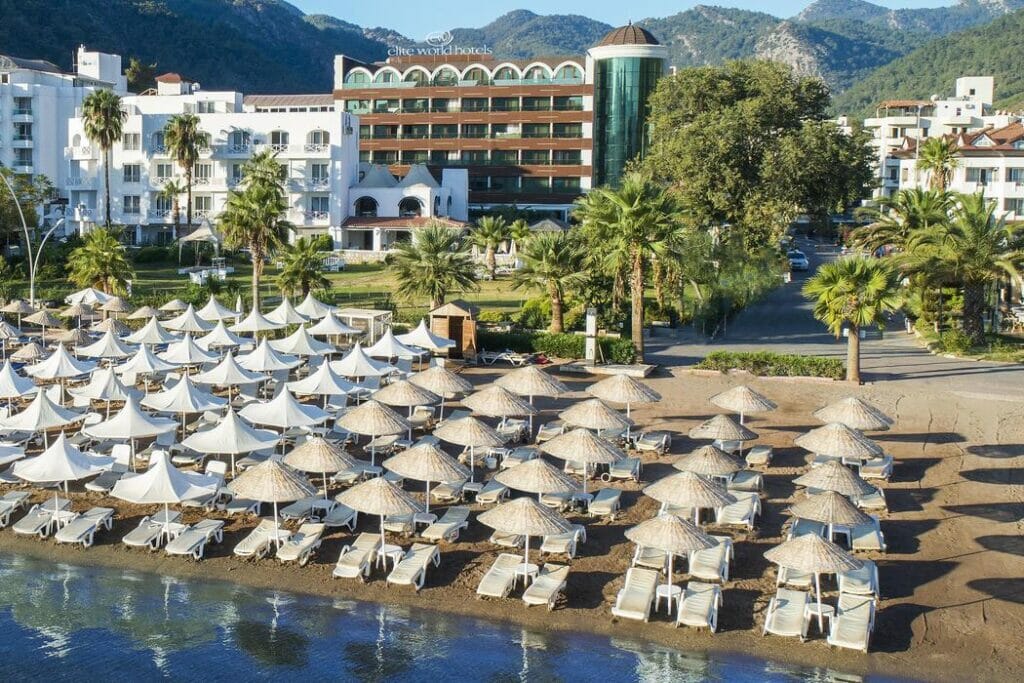 Elite World Marmaris Hotel is a 4-star hotel where all the details are considered for you to have a perfect summer holiday. It only accepts guests over the age of 14. It serves with the concept of all-inclusive. In its modern and comfortable rooms, choose the most suitable room for you to turn your stay experience into an unforgettable memory and enjoy the moment.
The hotel has its private beach 40 meters away. Umbrellas, mattresses, sun loungers and towels are free of charge on the beach. The hotel also has an outdoor swimming pool. Guests can double their holiday pleasure in the Turkish bath, massage parlour and steam room. You can also make use of the hotel's fitness room. You can engage in activities such as table tennis, billiards and foosball.
Now you are set to spend fun vacation in Marmaris in a confortable resort hotel. Do you have a favorite from this list above? Let us know in the comments below.
Related articles: