In addition to being famous for its islands and gorgeous bays, Gocek also has many beautiful beaches.
It attracts many local and foreign tourists with its pure nature and beaches. Inlice Beach, Günlüklü, Sarıgerme, Gocek Island and D-Resort Blue Point Beach are among the favorite beaches to be preferred in Gocek, as well as the beautiful beaches in hotels with many alternatives suitable for every budget.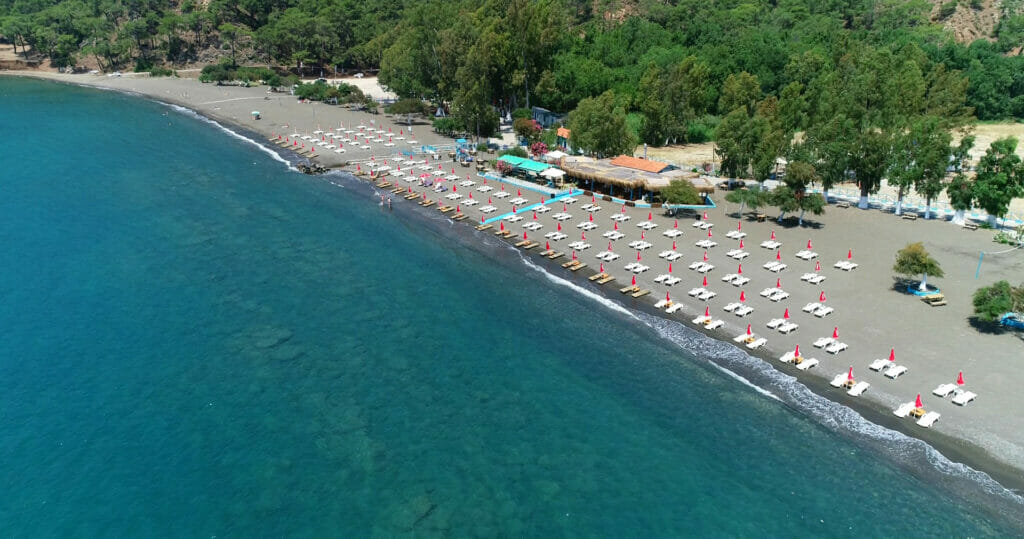 Inlice Beach is a famous beach in the center of town, near Gocek. You may have a relaxing vacation surrounded by beautiful trees and the deep blue water in front of you.
Inlice Beach offers businesses that rent sun loungers and towels, and it has a clean beach where you may swim comfortably. Considering the 11-kilometer distance between Gocek center and Inlice Beach, you can reach this lovely beach in 15 minutes by car or bus.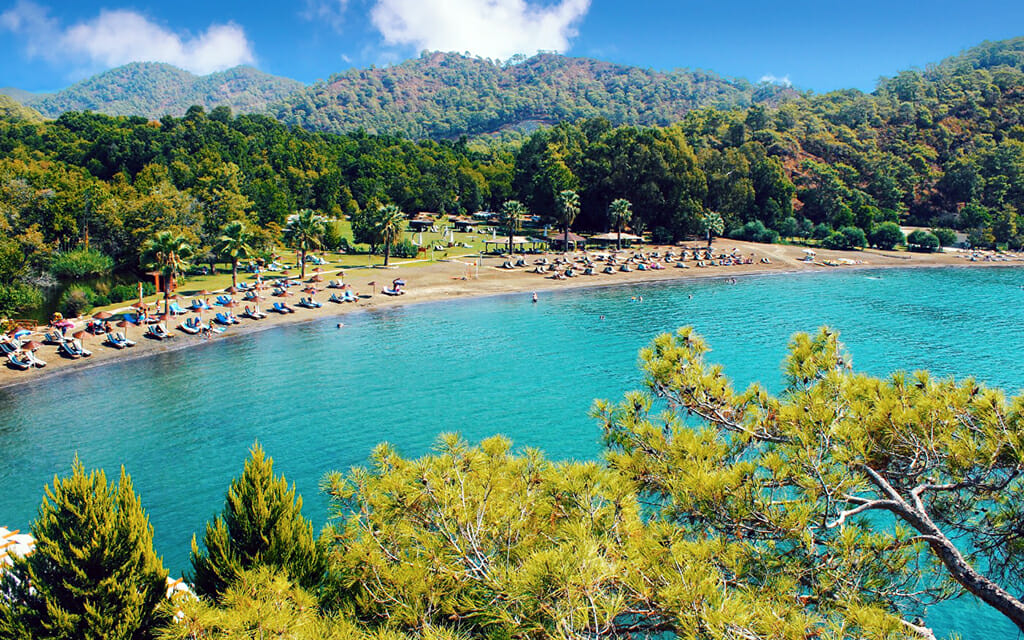 Located between Gocek and Fethiye, Günlüklü is 10 km from Gocek center, and it's possible to reach in 10 minutes or so. It is sandy and shallow and is located in the Küçük Kargı Nature Park. As a consequence, Günlüklü Beach is also very suitable for families with children.
Since there is also a chance to do water sports activities on the beach, you can both enjoy the sea and make your holiday more enjoyable.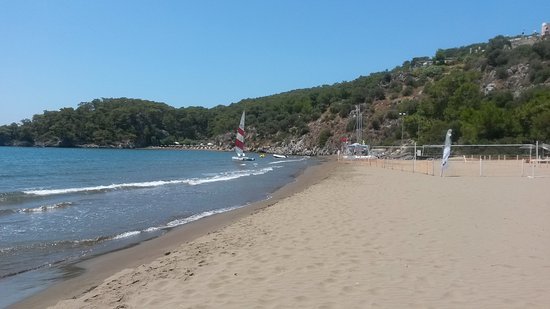 Sarıgerme Beach, called "one of Turkey's secret paradises," is another beach that must be seen in Gocek. This gorgeous beach with its 7-kilometer-long golden beach awaits within half an hour's drive from Gocek.
A restaurant, toilets, showers, sun loungers, umbrellas, and dressing rooms are also available on the beach. You may appreciate nature by strolling along the route to Sarıgerme Beach, where you will be completely immersed in it.
4. D-Resort Blue Point Beach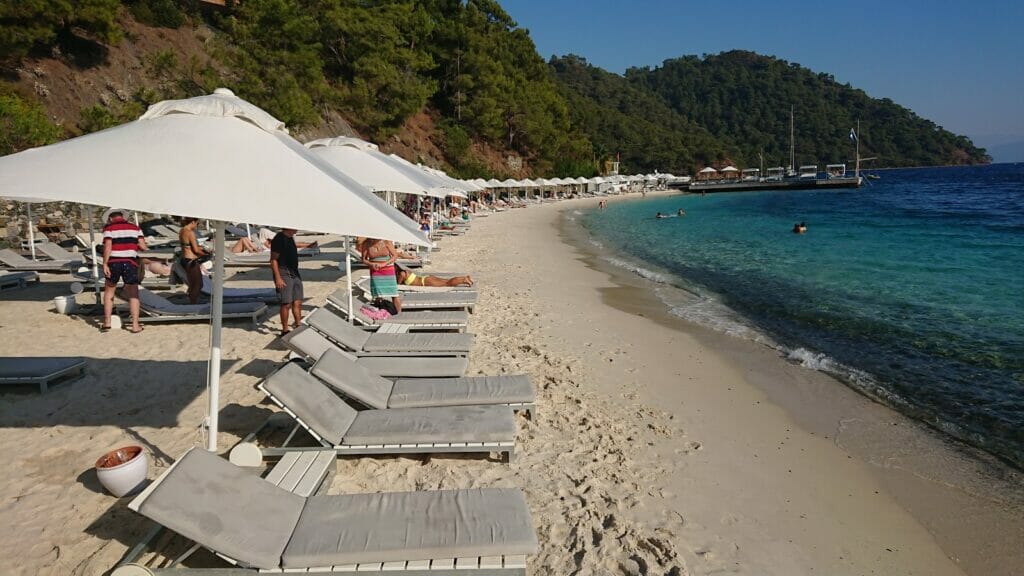 The beach of D-Resort that used to be a Swiss hotel, is also one of the greatest beaches to visit in Gocek. The beach welcomes visitors with its green nature, blue flag beach, and Breeze Restaurant, which provides top-notch service.
It may be reached either on foot or by car. You may pay 120 TL on weekdays and 150 TL on weekends to enter Blue Point Beach, or you can purchase a seasonal membership. Additionally, the D-Resort Blue Point Beach is recognized as Gocek's most beautiful beach.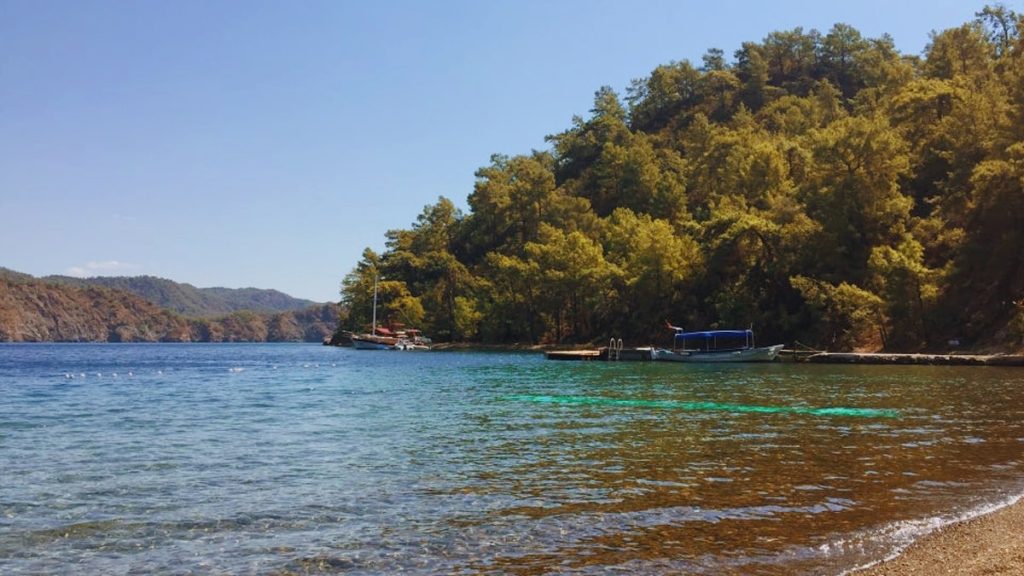 Last but not least, Göcek Island Beach should not be missing on our list of the best beaches in Göcek. The beach is famous for its crystal clear water, stunning views and untouched nature with plenty of pine trees. With a café/ bar, sun loungers, changing area, toilet and shower facilities, there is everything you need to spend a lazy day lounging around. There is an entrance fee.
Since the beach consists of sand and pebbles, it is a good idea to bring water shoes. Göcek Island Beach can be reached from the marina in about 15 minutes by water taxi, which runs every hour. The departure point of the water taxi is at the pontoon next to the marina office. The last boat leaves the island around 6 pm.