Belek, located in the Antalya province of Turkey, has become one of the top tourist destinations in the Mediterranean region, thanks to its spectacular coastline, world-class golf courses, and luxurious resort hotels. The area has transformed into a prime holiday spot, with visitors coming from all around the world to experience the region's natural beauty and historical sites.
The resort hotels in Belek offer a wide range of amenities, from private beaches to indulgent spas, gourmet dining, and extensive recreational facilities. The hotels are designed to provide guests with an exceptional level of comfort and luxury, and they often offer a plethora of activities to keep everyone entertained, from families with young children to couples looking for a romantic getaway.
Let's discover the top 10 resort hotels visitors prefer in the region !
1. Gloria Verde - Kid Concept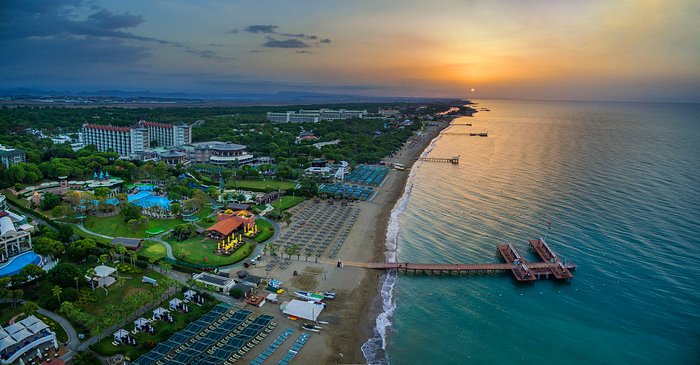 Why this hotel: Gloria Verde Resort, located in Belek, surrounded by magnificent pine trees and a magnificent natural landscape, awaits you for a holiday experience that makes its guests feel privileged. Hurry to get to your place before it runs out to experience this unique holiday experience!
The property has a long sandy beach that is oceanfront. The building has a sizable gym. The sports area offers unique group and kids activities in addition to special sports equipment. Find 5 different a-la-carte restaurants providing a variety of international cuisines with distinctive flavors in the facility, where breakfast, lunch, and dinner are offered as open buffets. 
In this facility, you can participate in various activities in the hotel, especially water sports, and socializing. You can also relax by taking advantage of the Turkish bath, spa, and massage services and enjoy a pleasant holiday.
This Hotel Is For: Family, Business Meetings, Couples, Travelers
Price Range: High Budget
Google map link: https://goo.gl/maps/7EmLjZAmH1zQMvDT9
Address: Belek Mah. Kongre Cad. No: 14A/A, 07500 Serik/Antalya
2. Gloria Golf Resort - Kids Concept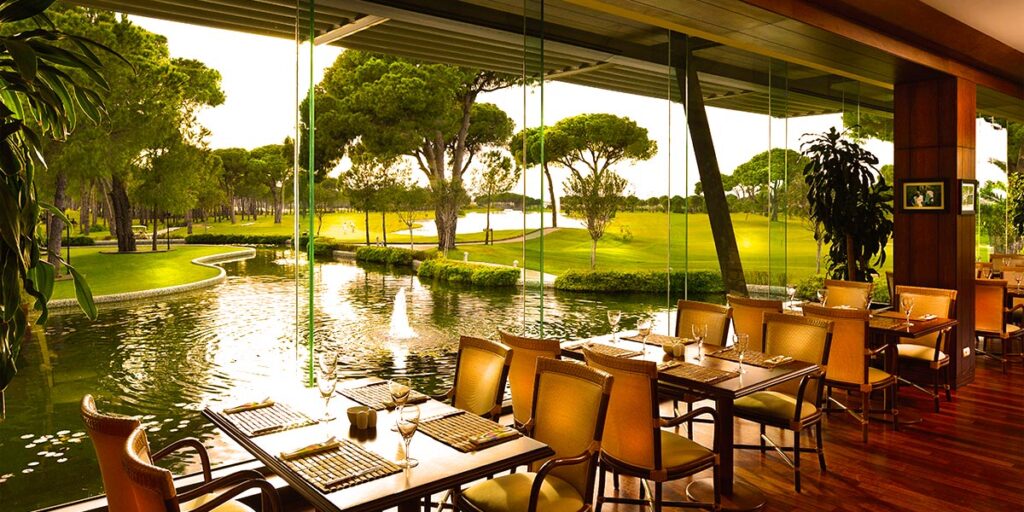 Why this hotel: The Gloria Golf Resort in Antalya surpasses expectations for a luxurious and high-quality vacation by having a unique grasp of excellent service. The hotel provides first-rate service with a beach that runs as far as the eye can see, a golf course, and a sizable SPA area.
Gloria Golf Resort connects its guests with the distinctive sea of Belek with its coastal location and sandy beach that stretches as far as the eye can see. With the varied activities it arranges, Gogi Kids Club aids young visitors and their families in enjoying a fulfilling vacation. The facility's SPA and wellness amenities also enable visitors to rejuvenate physically and emotionally. For those who want to exercise and keep their form, there is a fitness facility, a tennis court, and a basketball court. Remember to reserve your spot for this unique and enjoyable holiday experience.
3. Gloria Serenity Resort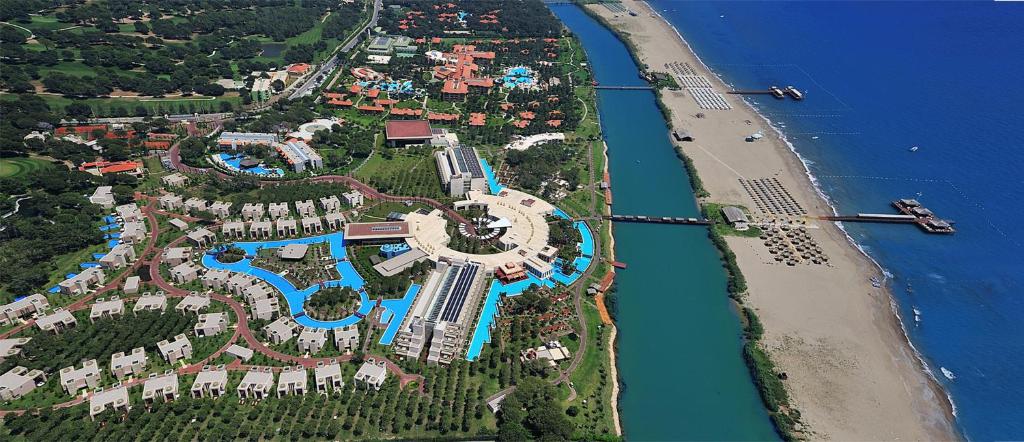 Why this hotel: Gloria Serenity Resort offers quality service for a luxurious and magnificent holiday experience in Belek, Antalya's favorite holiday destination. It embraces your guests with great enthusiasm for a privileged holiday experience!
With its large beach, pools, and warm Mediterranean waters nearby, it is ready to provide you with a relaxing vacation. You may also engage in water sports there.The hotel attracts attention with its bars serving delectable meals and energizing drinks all day. Also, the facility's SPA and wellness area offers services for massages, facials, body care, Turkish baths, saunas, and steam rooms.Also, the facility gives young visitors a lot of benefits. The Gogi Kids Club, situated inside the boundaries of the Golf Resort, welcomes the young guests of Gloria Serenity Resort.
4. Voyage Belek Golf & Spa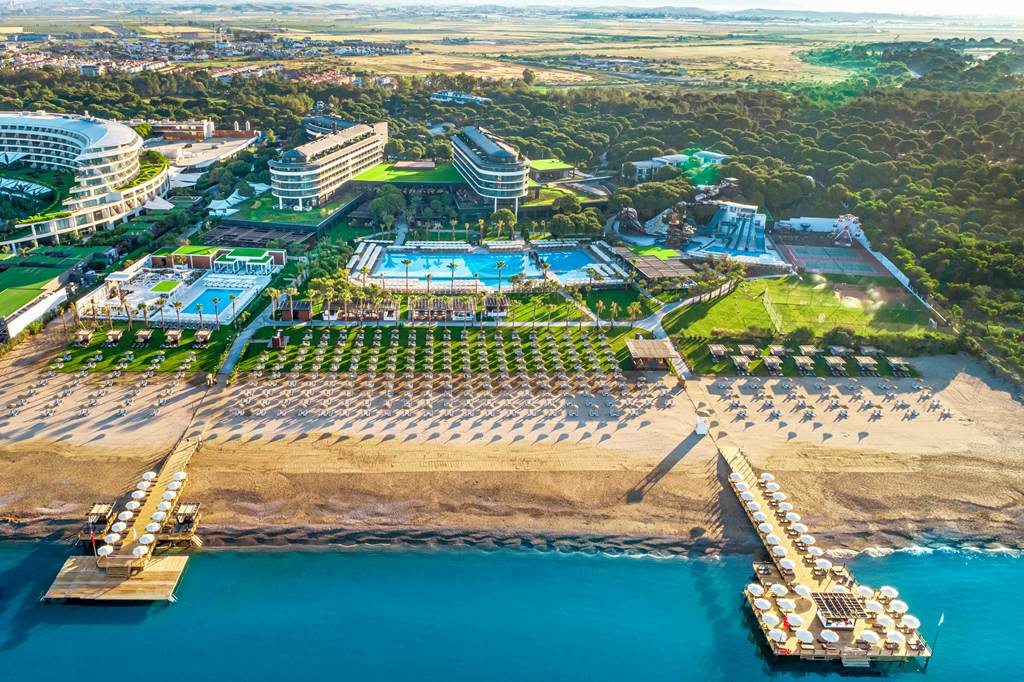 Why this hotel: Voyage Belek Golf & Spa will be more than a hotel for you with its seafront location in Belek, this property, which has received full marks from its guests, is waiting for you to add both comfort and color to your holiday. With a selection of drinks enriched with premium brands and special menus, it offers delicacies from the hands of distinguished chefs in a la carte restaurants. It opens the doors of a comfortable holiday with unique honeymoon suites and comfortable rooms that appeal to your taste.
Voyage Belek makes every holiday moment enjoyable with its beach, where you can enjoy the sea and the sun, the privileges of the magnificent golf complex Montgomerie Golf Club, colorful entertainment areas for children, and a spa facility. This hotel has everything you need; grab your suitcase and prepare yourself for a beautiful holiday experience!
This Hotel Is For: Family, Business Meetings, Couples,
Price Range: : High Budget
Google map link: https://goo.gl/maps/HdcKPAFuSDPSsdhH7
Address: Belek, Günübirlik Caddesi No: 2, Serik, Antalya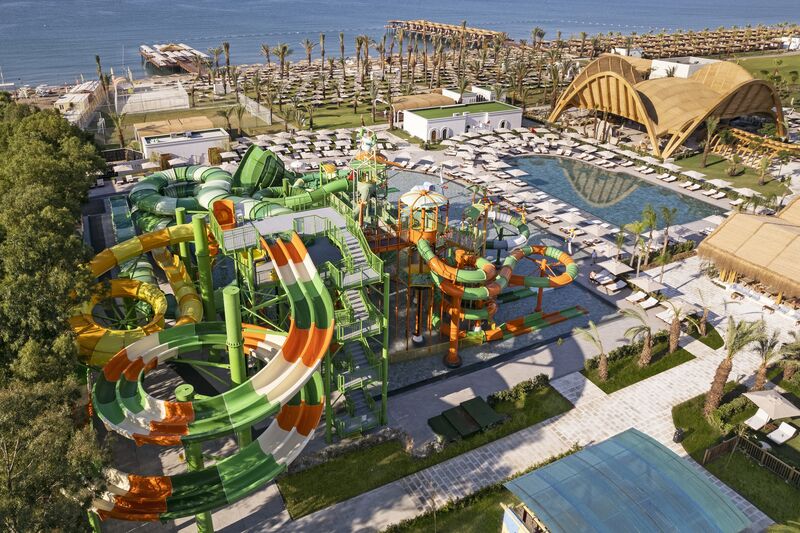 Why this hotel: Located in the heart of Cullinan Belek Antalya, this facility almost creates the feeling of a hotel specially prepared for you. It offers a private beach by the sea, diving, snorkeling, and windsurfing at its accommodation. The facility, which has the only golf course in Antalya with the sea on one side and the river on the other, opens its doors to golf lovers. You can relieve your tiredness with massage, manicure & pedicure facilities in the spa center, where you can pamper yourself. 
You can taste local and world cuisine with the menus prepared by the most famous chefs. Your children can have fun while you continue your holiday in the Upapa children's club, specially designed for children. In addition, as long as you stay at the hotel, you can participate in special night and day shows and enjoy the entertainment.
6. Gural Premier Hotel in Belek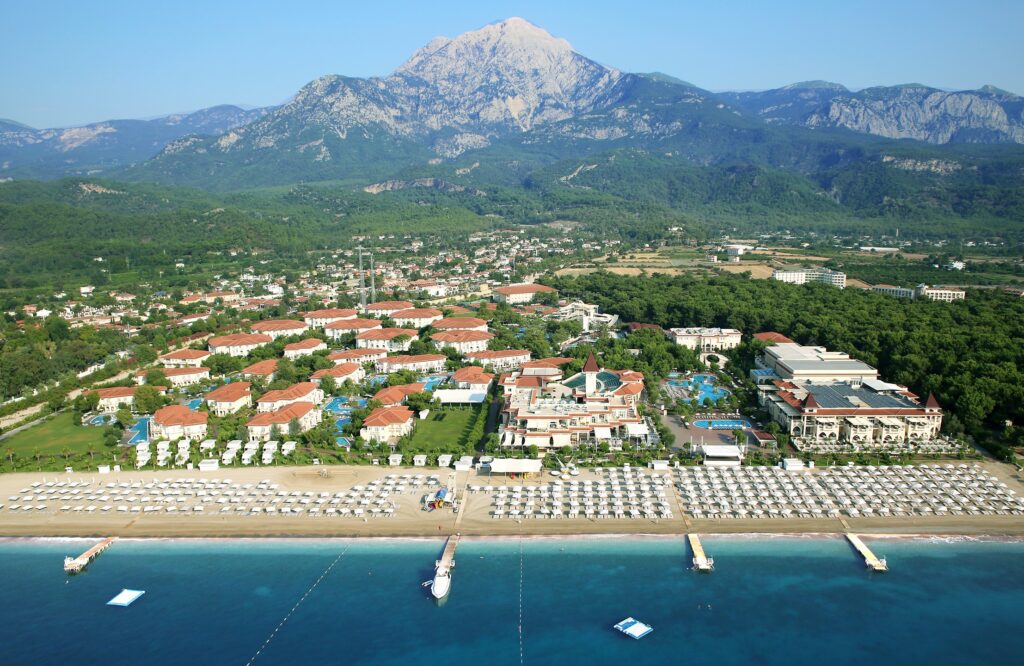 Why this hotel: Güral Premier Belek is ready to wow you with its design because it was built on the principles of ancient Turkish architecture! The facility's restored two- and three-story Deluxe-style villas are located apart from one another on the grounds. It provides a newly refurbished restaurant with an outdoor terrace. These open-air interiors are roomy and air-conditioned, with Turkish and international cuisine, a snack restaurant, several pubs, and a sizable Aquapark.
There is a sizable professional children's club called Happy Kidsland, a weekly kids' festival, a huge stage where famous plays and musicals are performed, a party area that livens up the nights with live music, animated games, and a disco, a shopping mall, a health center with a sauna and Turkish bath, and a party area. You may find a spa, a beauty salon, and more there. Rich sports, children, newborns, and honeymoon themes are among the primary factors that put Güral Premier one step ahead of other competition hotels in Belek.
This Hotel Is For: Families, Groups, Couples
Price Range: : High Budget
Google map link: https://goo.gl/maps/2Y5awG25YerM9gja6 
Address: Belek, iskele Mevki, Serik, Antalya
Check Prices Here
7. Titanic Deluxe Golf Belek
Why this hotel: The most exceptional location for excellent and unique vacations is Titanic Deluxe Golf Belek, a Deluxe All Inclusive in Belek, the jewel of Antalya, with its lush environment, turquoise blue sea, and breathtaking scenery just next to the well-known Beşgöz river with its blue crabs.
With a 36-hole golf course, architecture that blends with nature, elegant decorations, rooms with exceptional views that are each more stylish than the next, and a modern and welcoming atmosphere, Titanic Deluxe Golf Belek is a hotel that can almost outshine its rivals. Everything was designed with the utmost attention to detail for the guests' comfort.
It's a place that will allow you to enjoy your vacation to the utmost with its distinctive cuisine, daytime and nighttime entertainment, water sports, and outdoor activities. This hotel, among other hotels in Belek, has a sizable Aquapark and wellness facilities in its bar, and is waiting for you to discover it. During this holiday, reserve a room in this daring hotel!
This Hotel Is For: Family, Business Meetings, Couples, Groups
Price Range: High Budget    
Google map link: https://goo.gl/maps/XoCxntJQ6PT2Wq2W8
Address: Kadriye Mah. Uckum Tepesi Mevkii Besgoz Cad. No: 72/1, Antalya
8. Kaya Palazzo Golf Resort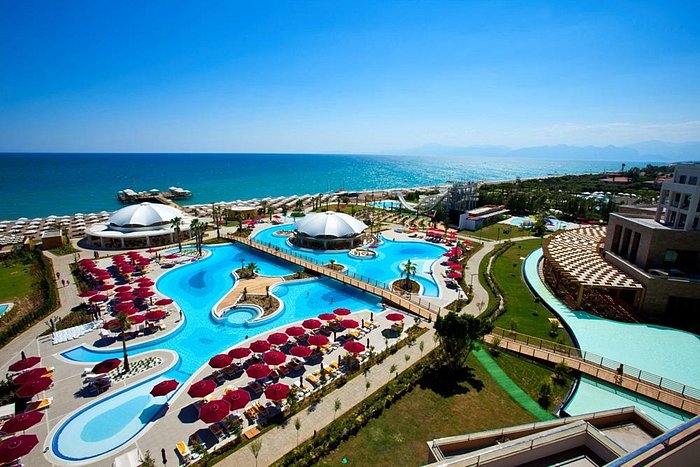 Why this hotel: From the moment you walk into Kaya Palazzo Belek, you can sense the hotel's distinctive architecture. The hotel's guests also experience comfort, space, elegance, and magnificence. Like all other luxury family hotels created by the renowned architectural firm WATG, Kaya Palazzo Belek is the product of faultless design and attention.
With a sizable spa and beauty salon, accommodations with sea views, a kids' club with endless activities, entertaining night shows, unique rooms with doors opening to the pool, a la carte restaurants serving the most exquisite flavors of international cuisine, and other individualized services, it welcomes its visitors. You might find far more than you wish to see at a hotel.
That will be plenty for you and your loved ones to return for a hotel experience you won't forget for the rest of your life.
This Hotel Is For: Family, Business Meetings, Couples, Groups
Price Range: High Budget
Google map link: https://goo.gl/maps/Ag9KgvUuaxN7z6XA6
Address: Kadriye Üçkum Tepesi Mevki, Serik, Antalya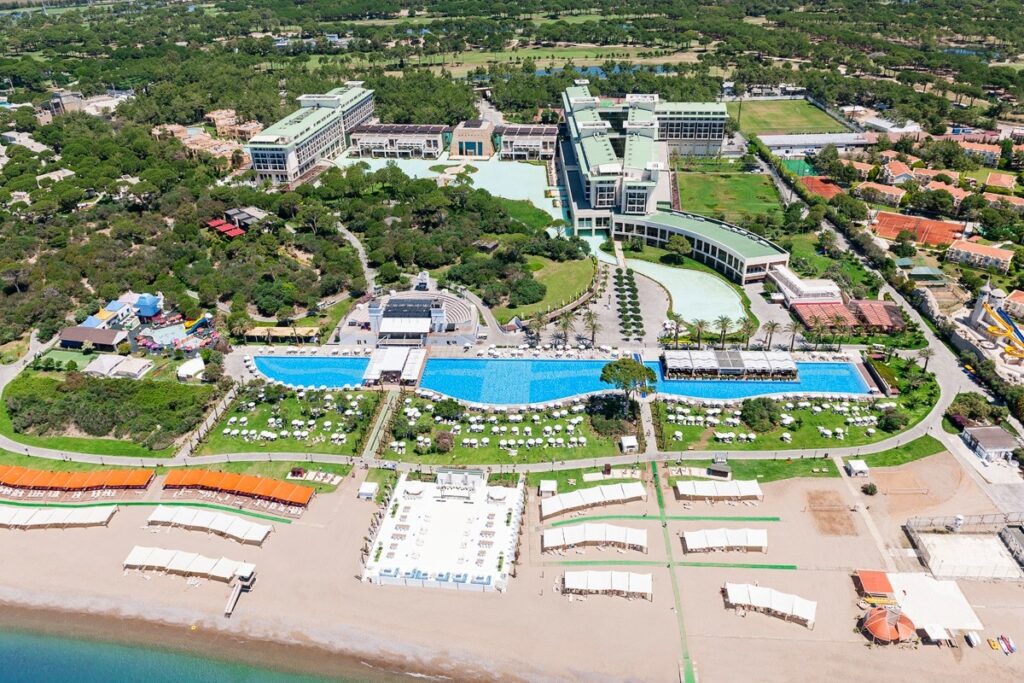 Why this hotel: The Mediterranean shore is where Rixos Premium Belek is situated. Belek has natural beauty thanks to its endless sandy beaches and breathtaking surroundings. Due to its closeness to the Taurus Mountains, parks, and archaeological sites, Rixos Premium Belek is situated in the midst of numerous historical, cultural, and natural attractions. With its sea that hosts every hue of blue, fascinating nature, expansive beach, chefs and delicacies that create a gastronomic culture, sparkling entertainment, game culture that transforms learning into discovery, sports culture that transforms movement into motivation, and extraordinary rituals, Rixos Premium Belek is not only a luxurious vacation but a one-of-a-kind holiday culture for you and your loved ones.
It features spa, hammam, and massage parlors where you may enjoy and revitalize to the best. Remember to include this luxurious and excellent hotel in your family vacation if you want to participate in all these things and more.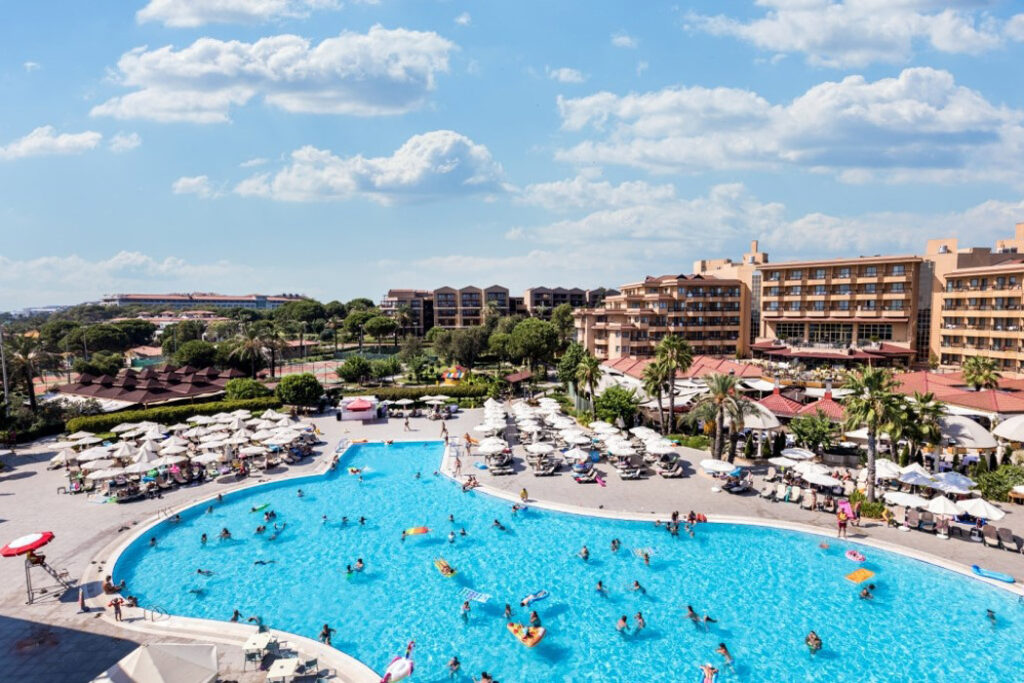 Why this hotel: Aquaworld Belek is a haven for everyone searching for a cutting-edge, enjoyable, and peaceful vacation, thanks to its Mediterranean shore. Aquaworld Belek is a facility created for you to have a unique and serene vacation, thanks to its all-inclusive concept.
Have you ever been to a hotel with 11 swimming pools? Prepare to be mesmerized by this hotel, then! Themed activities are undoubtedly the most crucial component of a great beach vacation. With its pools and seven significant water slides, Aquaworld Belek goes one step further and surpasses its rivals.
In addition, a specialist restaurant where you can taste the most skilled hands will provide a range of delicacies. You may look forward to nighttime entertainment, kids' groups, a spa, enjoy beach activities, and more. So hurry up to take advantage of Aquaworld Belek's fantastic vacation experience before it's too late!