Fethiye is considered one of the best place to enjoy the beach life for your holiday. Indeed, there are numerous very popular bays and beaches in Fethiye with crystal water and flawless sand. You can also find some pebble beaches still very enjoyable.
Travelers come from far away to be able to see how amazing these warm beaches are. Let's introduce you the top beaches not to miss during your holiday in Fethiye.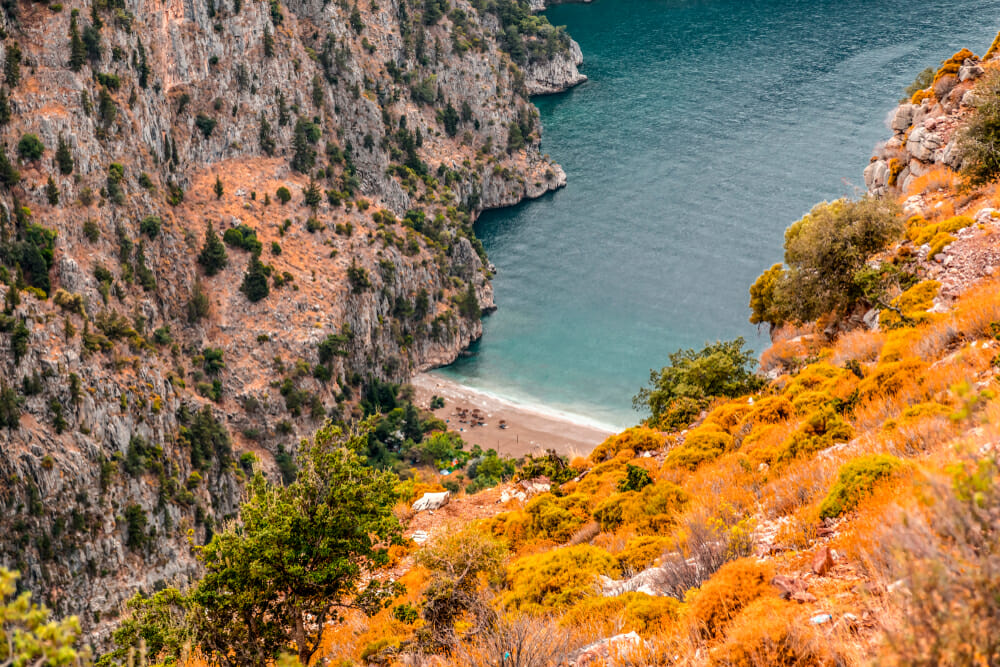 Kabak Koyu is one of the most well-known of Fethiye's several gorgeous bays. This bay, located in Faralya Village, is one of the few locations that has remained untouched for a long time.
It is also a bay that has been declared as a first-degree protected area. Although the path is a little rough, the scenery at the finale is well worth it. Still, the access to this beach by car is difficult and dangerous. If you drive, be careful and go slow. If you are looking for a lift, take a dolmus at Oludeniz beach from 7AM to 7PM.
Kabak Koyu features a pebbly beach and a wavy sea. The water is crystal clear and deep blue. There are no sunbeds available for hire at the bay; however, an umbrella may be rented.
Also, you may camp on the 200-meter-long beach or stay in bungalow cottages at the same time. 
2. Belcekiz Beach in Ölüdeniz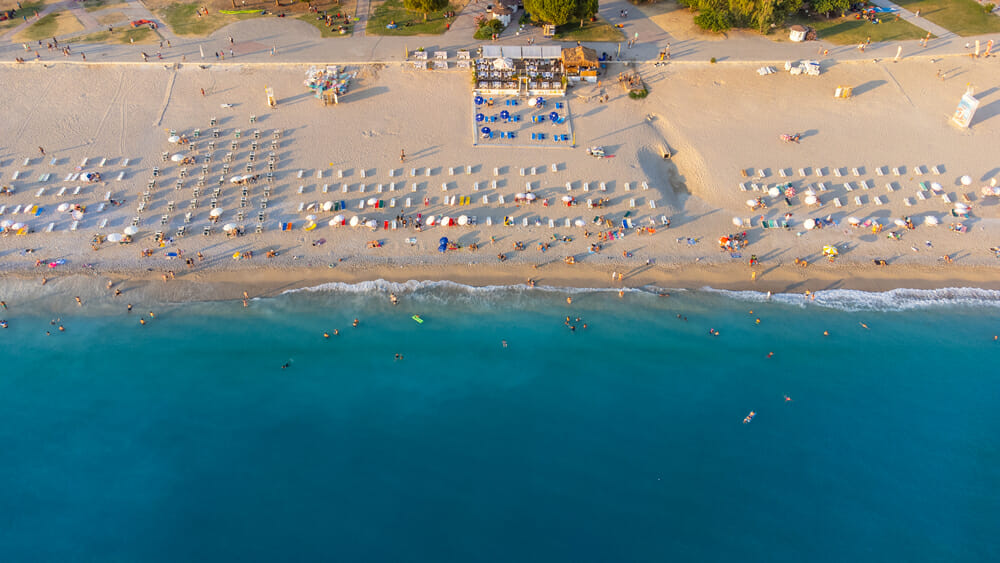 The busiest beach near Ölüdeniz is Belcekız Beach. This beach's sea, which is free because it is a public beach, is extremely gorgeous. It's around three kilometers long. Moreover, there are landing spots for paragliding in the area due to the waves. Don't forget your water shoes as it is a pubble beach.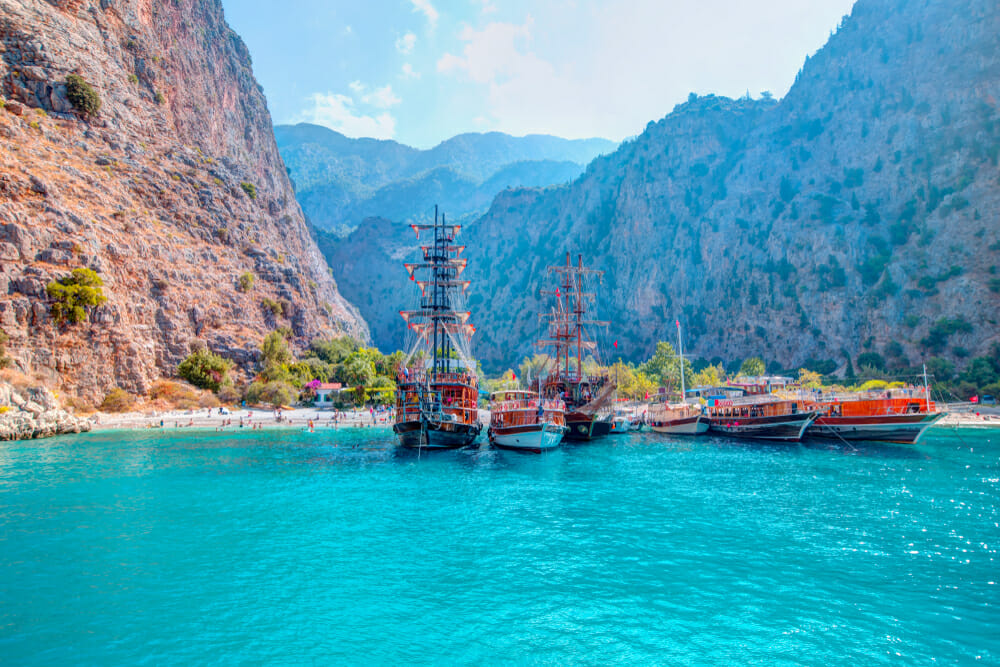 Butterfly Valley, classified as a first-degree natural resource in 1995, is one of the most beautiful swimming spots in Fethiye.
The Butterfly Valley, which boasts a 300-meter-long beach, will welcome you with a crystal-clear sea. However, it is useful to be careful as the sea deepens quickly and the water is a little cold.
Overthere, you will find few local shops, some bungalows, a butterfly farm and a path that takes you to a waterfall. You will also see plenty of yacht full of tourists coming and going. Indeed, the Butterfly Valley is in every route of boat tours as it is the unmissable bay of Fethiye.
The access is only by sea. Take a seat in one of the small boats taking off from Belcekiz / Oludeniz Beach. The ride is 20 min and should be paid with cash.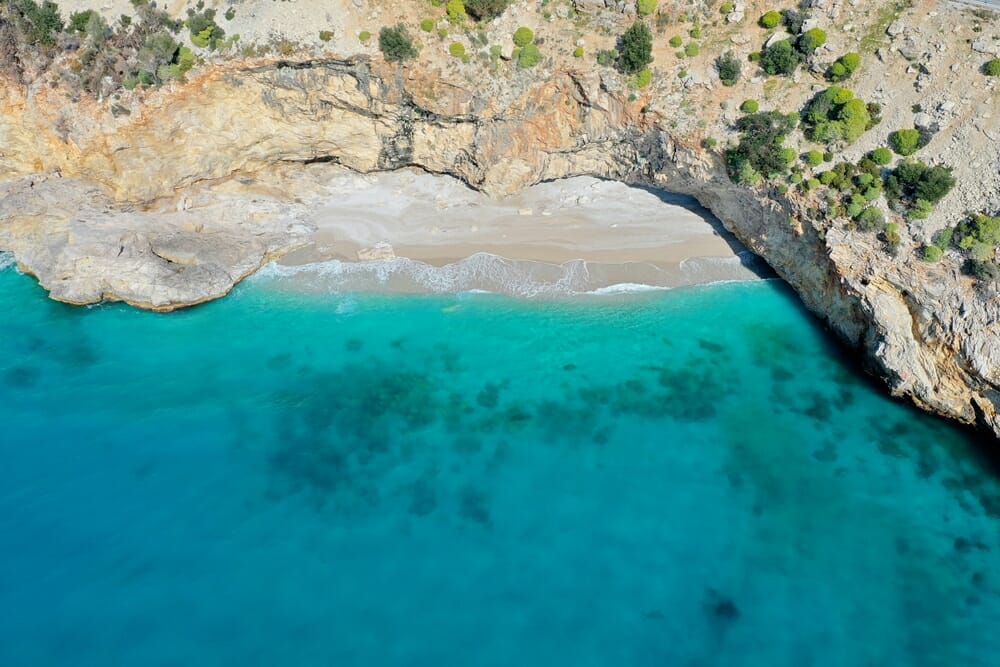 Kıdrak Bay Beach is located in Kıdrak Nature Park, 15 kilometers from Fethiye center and 2 kilometers from Ölüdeniz Beach.
With its stunning blue and beauty, the sea of Kıdrak Bay is captivating thanks to its outstanding clarity and exquisite hues of blue. However, it is a good idea to carry sea shoes because the sea is stony.
Acces to Kidrak Bay by is possible by car, you just have to follow the road that takes you to Oludeniz. It will be around 2 kms after Oludeniz. You can also take a bus from Fethiye city center.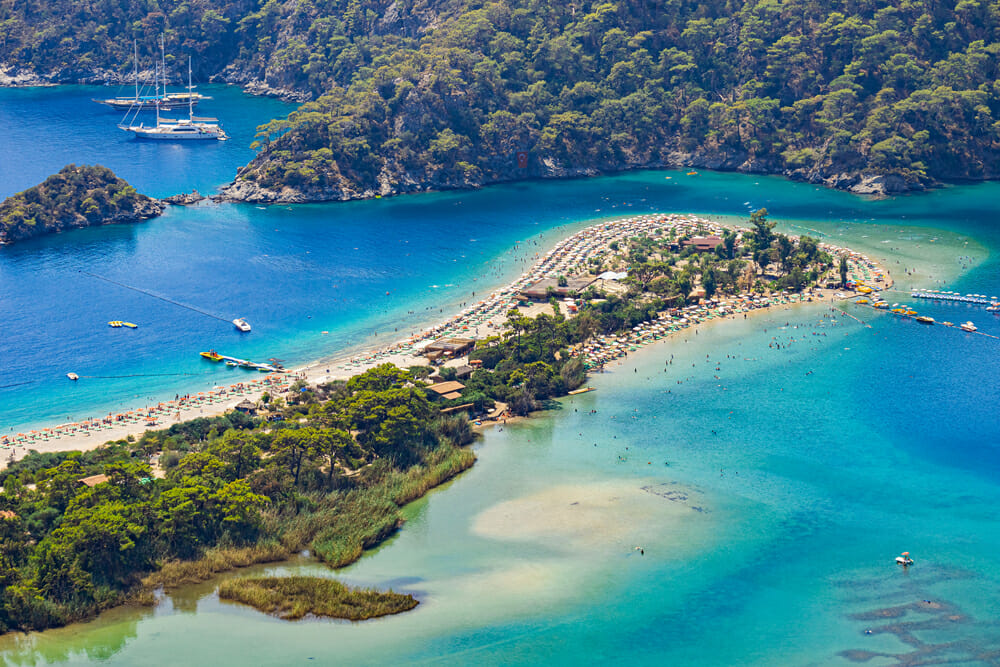 Wow you say? Yeah, you are right. The breathtaking Kumburnu Public Beach, located in Ölüdeniz Nature Park, has been awarded a blue flag for the past 15 years. This beach is located 15 kilometers from Fethiye's center and is a continuation of Belcekiz Beach. It attracts a lot of tourists each year and can be a little bit crowded during high season.
The turquoise sea is also a warm one that does not keep you cold. Further, Kumburnu Public Beach is a popular choice for families with children.
You can easily access Kumburnu beach by car by following the Oludeniz signs. Otherwise, just take a bus from Fethiye city center.
Akmaz beach is a small, secluded shoreline located in Fethiye, Turkey's Yanklar district. It is approximately 20 kilomètres from the centre of Fethiye and is accessible by boat or car.
The beach is named after the small river that flows into the sea at one end of the beach. The beach is made up of fine pebbles and sand, and the water is sandy, clear and calm.
Pine trees surround the shoreline, providing shade and protection from the sun. Additionally, entry is free, there is a small restaurant, bar, shower, bathroom on the beach, and you can picnic with your own food. Due to the length and size of the beach, we recommend that you bring your own food. Akmaz Beach's environment is relatively clean. The beach is less crowded than other beaches in Fethiye.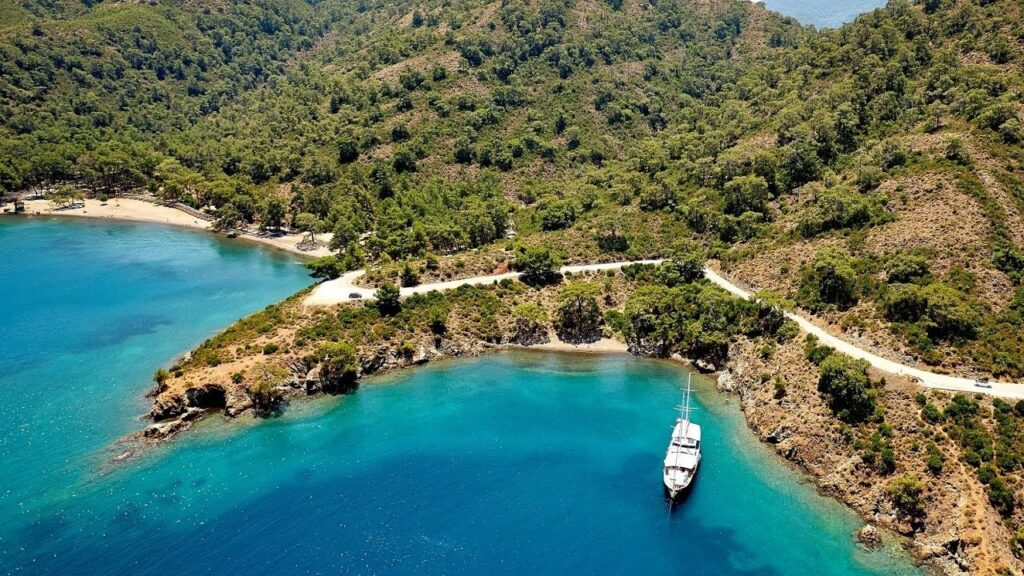 Gazi Bay is a fairly tiny bay in the Keciler neighbourhood of Fethiye. The entrance to Gazi Bay is free, and you can park your car along the roadside and walk 100 metres along a path to reach it. Gazi Bay has no facilities or social facilities, but you can still have a picnic without a fire. 
At sunrise, you can see a beautiful view from a beautiful bay. A lovely bay full of colorful, curious fish that swim all around you when you get in the water. Gazi Bay's beach area is not very big. Gazi Bay has no sand on the beach or in the water. It is mainly made up of stones, so you might need to wear sea shoes or slippers. Gazi Bay is also a good place for families with kids to go, but it's best for kids to wear slippers or sea shoes.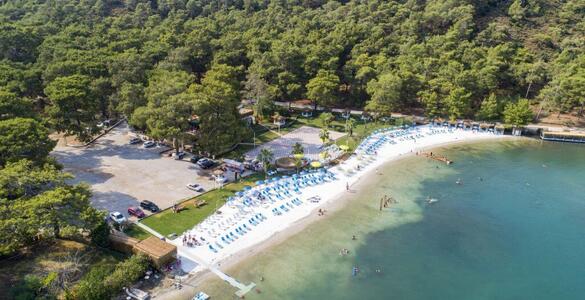 Aksazlar Bay, a part of the Oyuktepe Bays, is located 9 km from the Fethiye District Headquarters in Muğla province. Under the pine trees, Green and Blue merge to form one of the most beautiful bays in the Aegean. Aksazlar is popular for its bay, beach, and camping.
After paying the entrance fee, you can use the sunbeds and umbrellas inside this private business.
Daily campers visit Aksazlar Kamping, which has a refrigerator, washing machine, showers, and toilets in the common areas. 
This bay is 9 km from Fethiye district centre between Oludeniz and Fethiye. This bay on the Fethiye peninsula is accessible by car from the coast.
Minibuses from Fethiye District Town or boat cruises from the port availability it. 
9. Büyük Samanlık and Küçük Samanlık Beaches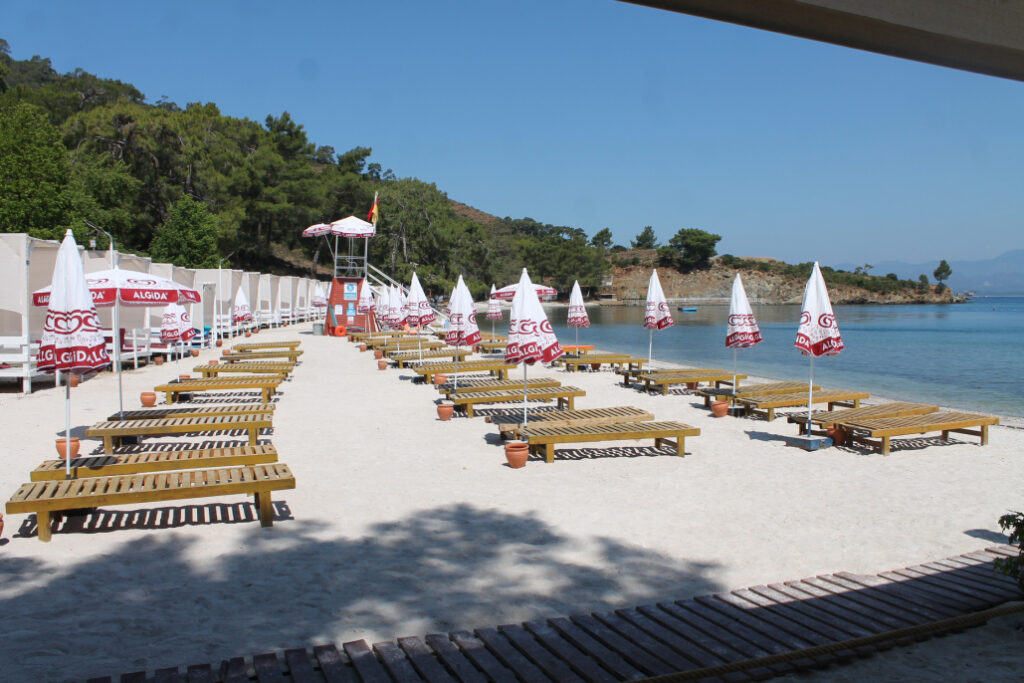 Büyük Samanlık and Küçük Samanlık beaches in Fethiye, also parts of Oyuktepe Bays, are located in Karagözler neighborhood. There is a fee to enter, but sunbeds, umbrellas, and lodges are available for affordable prices.
The pebble-stone seashore is suitable for children and families, with toilets, showers, prayer rooms, and change cabins. The rocky sea floor is beautiful, with a shallow depth of 2 mètres in the first 10 mètres.
Küçük Samanlık Beach is about 1 km to the right of Büyük Samanlık Beach. The Beach offers a shallow sea for families with children. It features a restaurant, café, restrooms, showers, and changing cabins. Sunbeds and umbrellas are available for rent, but admission is required. Table and chair rentals are also available. The pebbly beach is comfortable but not ideal for swimming.
You can easily access Kumburnu beach by car by following the Karagözler signs. Otherwise, just take a bus from Fethiye city center.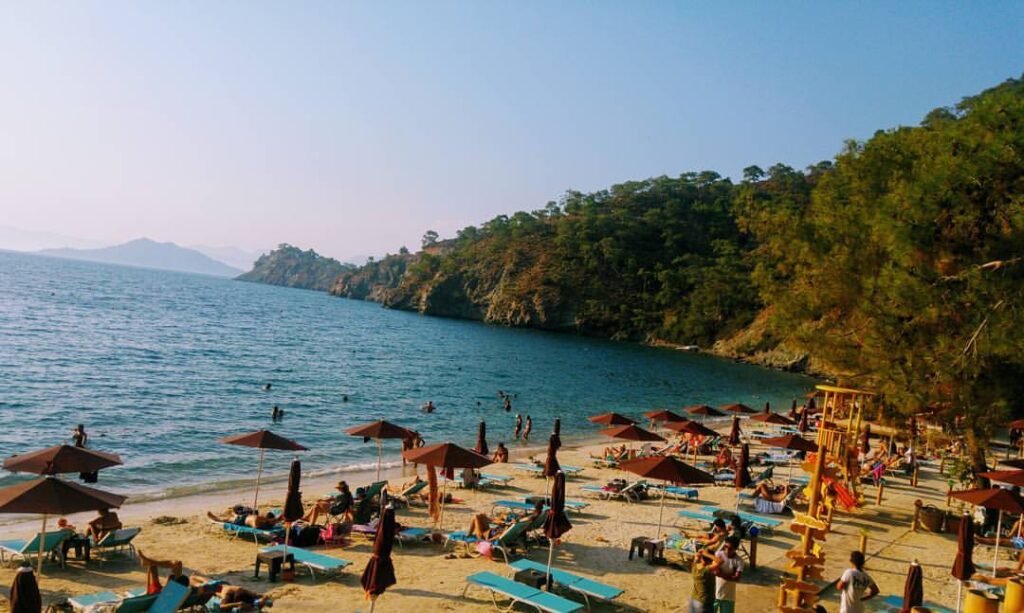 Boncuklu Bay is in the Keciler area of the Fethiye 9 km far from centre of Fethiye. Boncuklu Bay is a very clean bay with two parts: one that costs money and one that doesn't. If you want to use the part of Boncuklu Bay that is free, you have to park your car on the side of the road. Those who want to use the beach facilities in the paid part of Boncuklu Bay can do so.
The free part of Boncuklu Bay doesn't have any bathrooms, showers, or changing rooms. The beach area of Boncuklu Bay has both stones and sand, and the water is clean. Families with kids can also go to Boncuklu Bay, however you can choose whether to pay for something or not.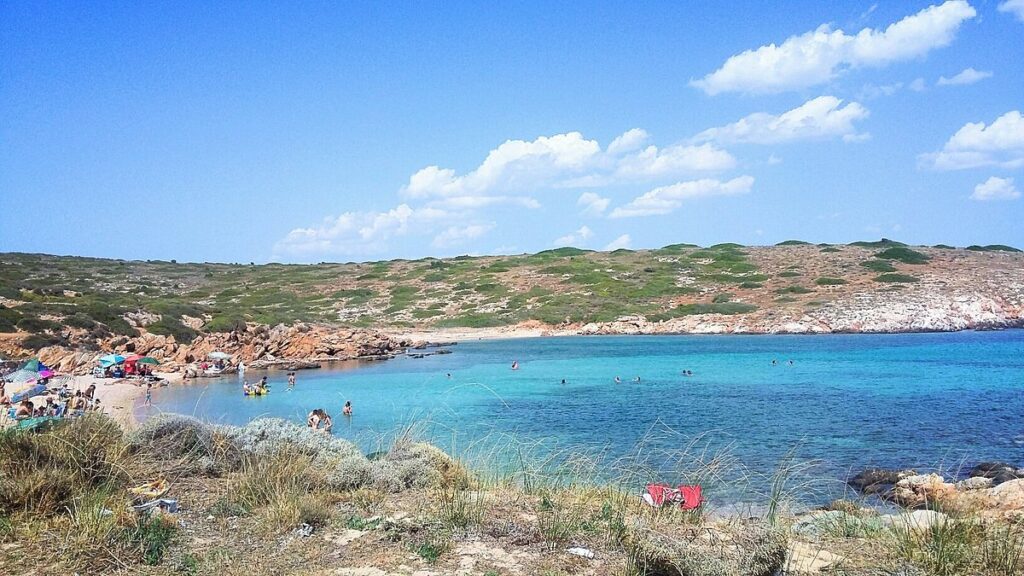 Akvaryum Bay (Aquarium Bay) in Fethiye, Turkey, is a beautiful cove with crystal-clear turquoise waters and a rich underwater ecosystem. It is a popular destination for swimming, snorkeling, and diving. The bay is surrounded by rocky cliffs that are home to a variety of fish species, including parrotfish, angelfish, and octopus.
To get to Akvaryum Bay from Fethiye center, you can take a dolmuş (minibus) from the Fethiye bus station. The dolmuş will take you to the village of Kayaköy, where you can then transfer to another dolmuş to Akvaryum Bay. The total journey time is around 45 minutes.
Once you arrive at Akvaryum Bay, you can spend your day swimming, snorkeling, or diving. There are also several restaurants and cafes in the area where you can enjoy a meal or drink.
Map of the Beaches in Fethiye