Turkey has always been a very popular summer destination for European and American holidaymakers who want to enjoy the sun, a good hotel and sandy beaches with turquoise water … for a more reasonable price than other Mediterranean countries such as Italy or Greece.
If you also want to enjoy a summer vacation in Turkey but are a little lost, I understand you! The west coast of Turkey, also known as the Turkish riviera, is rich in beaches and popular cities, and it can be difficult to make a choice when preparing for your summer.
Whether you book your trip alone, or via an "all inclusive" holiday package, which will cost you a little more, you will have a wide choice of destinations, each as wonderful as the other.
In this article, I want to help you choose the right city, to make a vacation that suits you. Indeed, the possibilities of activities are diverse according to the cities, and you will find below the details of each one in order to make the best choice.
Do not hesitate to give your opinion in the comments and consult the travel guides of each of the cities for more details.
Izmir is not really a summer vacation destination in Turkey. It is the third biggest city in Turkey, located on the west coast and considered as the most European city of the country. How ever, you can't really go to the beach and swim in Izmir. You can discover this amazing city in 2 days, preferably in a 5-Star hotel, and then move on to other destinations that have sandy beaches and fun water activities more in the south. After discovering Izmir, if you don't have a lot of time, you can also book a resort hotel near Izmir (less than 2 hours drive) for beach time.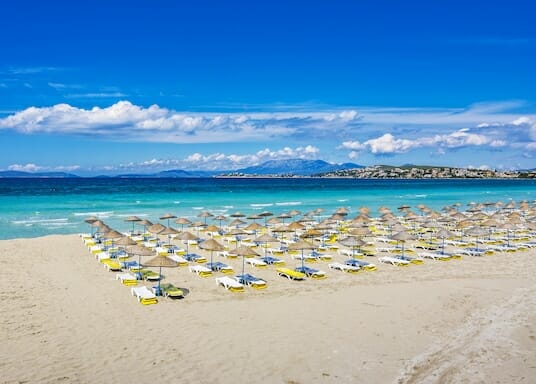 The Cesme Peninsula is located less than 50 kms from the center of Izmir, and 90 kms for the tip of it. It is a very quiet peninsula and rich in nature. To the north and south of it, you will find many beaches and secret coves ideal for swimming and sipping cocktails. The peninsula is rather favored by well-off locals from Turkey, but is attracting more and more foreign travelers, especially couples, solo travelers (including women) and groups of friends who want to chill and have fun. Families who know the area appreciate renting a villa in the area to spend a holiday with their children or simply book in "all inclusive" resorts hotels that are quite affordable compared to Antalya or Bodrum.
The 2 popular cities on the peninsula that are preferred for booking a hotel are :
Cesme Center, an old fishing village that offers a marina and a modest market.
Alacati, a charming seaside town, very lively in the evening with its large market, full of boutique hotels and a very lively nightlife with dozens of bars and clubs.
From these two cities, you can take a taxi and reach the nearby beaches or coves, but to move freely around the peninsula, renting a car is still more convenient.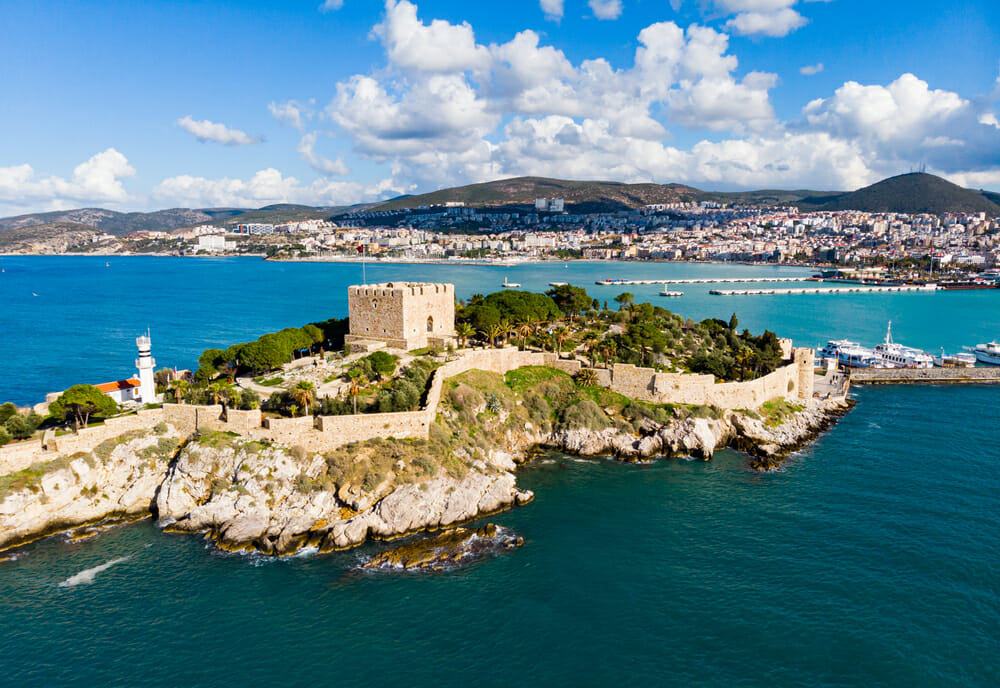 Kusadasi is a rather small and intimate summer town compared to other towns in Turkey. It is a lovely place preferred by families who want to enjoy nice beaches, a calm atmosphere and fun water parks. The beach town also offers many historical ruins to visit around, including Ephesus and Aphrodisias.  Its Pigeon island is the main attraction and a nice place to admire the horizon and the yachts sailing.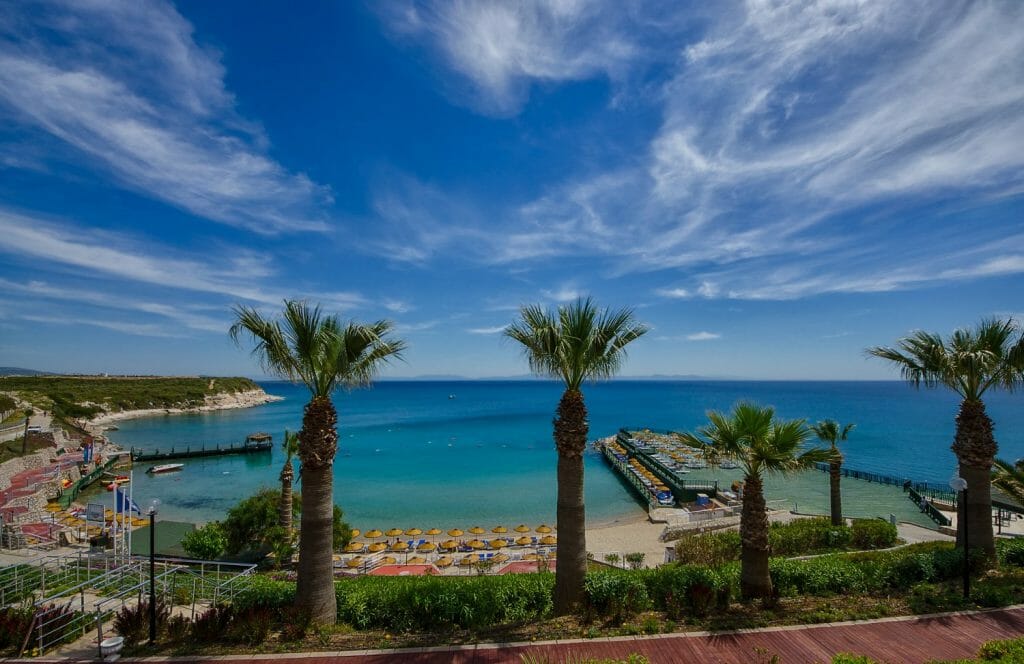 Didim is considered one of the cheapest beach towns of the Turkish Riviera. Resort hotels and luxury hotels are rare, affordable average hotels are plenty. The town is still in the process of expending and the local activities are pretty limited. Didim is preferred by locals and Turkish diaspora that have summer houses over there. You still can find very nice hotels close to beautiful beaches around Didim that offer qualitative services and visit the Dydima ancient ruins if you are looking for cultural activities.
Special mention to the nightlife is Didim that provides very entertaining nights in bars and Medusa club that invites famous DJs all summer long.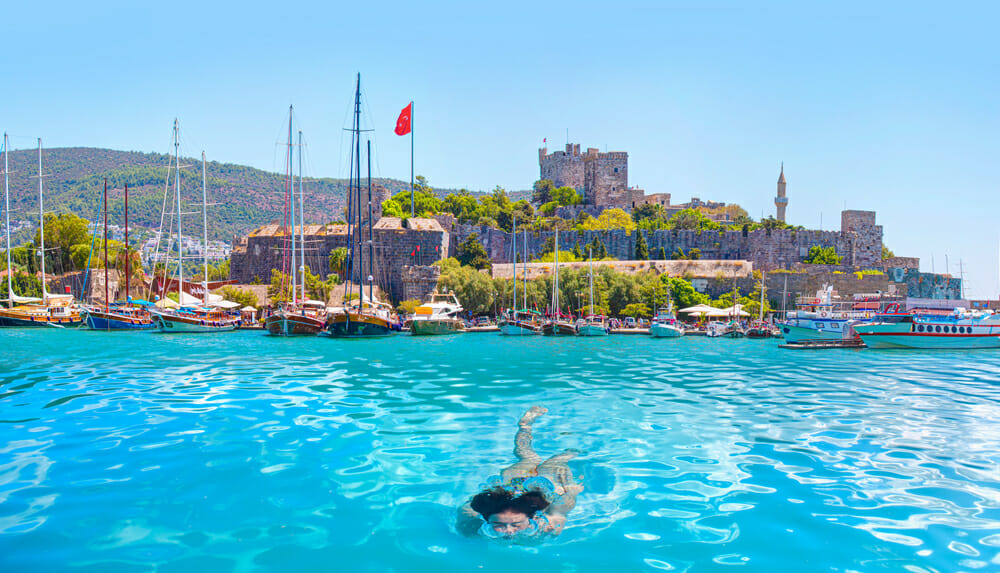 Bodrum is one of the most popular beach resort towns of Turkey. It is located in an amazing peninsula with the same name, filled with a dozen of other beach towns definitely worth visiting. Each beach town of the peninsula offers amazing beaches and very confortable hotels and resort hotels. You will enjoy amazing landscapes, cristal blue water, fancy marinas, very trendy shops and delicious restaurants. Bodrum also offers a very active nightlife with famous big clubs and constant concerts. The beach town of Bodrum can welcome any kind of vacationer. With its only-adult hotels for couples, huge resort hotels for families, very charming boutique hotels for solo travelers or friend groups and very luxury hotels for travelers who has a very confortable budget, Bodrum fits everybody.
Access to different beach towns on the peninsula are easy with the public mini-buses or taxis available. However, the peninsula's different locations, beaches and bays are definitely more pleasant and easy to visit if you have your own car.
The downside of Bodrum is probably that it is quite crowded, especially from April to November. As it has become the favorite spot of well-off Turkish people to stay in since the pandemic, Bodrum prices are very high, which doesn't prevent the place to be very crowded.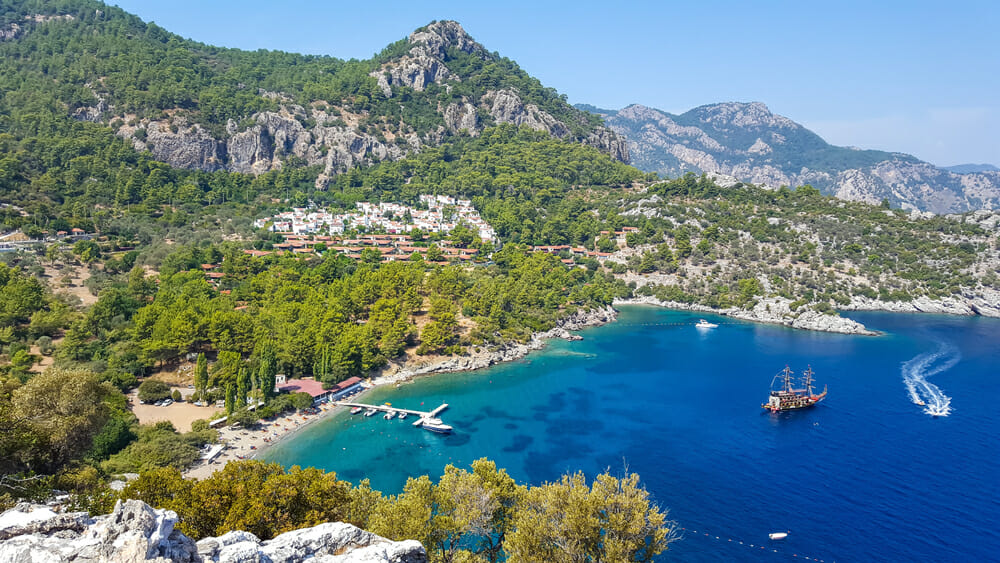 Marmaris is another very popular beach town of Turkey worth visiting. Marmaris is well-known in Turkey for being the paradise for nature lovers, however, it is becoming more and more a commercial beach town, with a lot of touristic activities and a loud nightlife. Marmaris suits tourists who are looking for average priced vacation and very nice landscapes but also fun water activities. As Marmaris is a very safe and diverse location, we recommend Marmaris for groups of friends, couples, solo travelers and families. The marina offers a lot of attractions and diversified restaurants that will make everybody happy.
The best advantage of Marmaris is that the surroundings are gorgeous and worth making a tour. Many islands, bays and beaches like the wonderful Sedir Island are reachable by car and other towns like Datça or Selimye which are wonderful places to spend at least a day, if not more.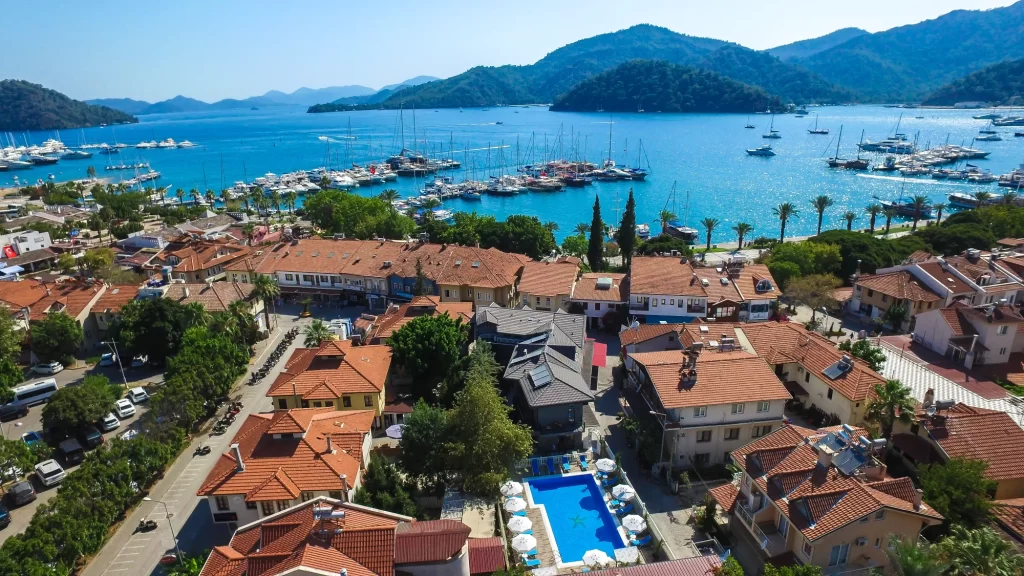 Göcek is a very special place on the Turkish Riviera. This small beach town just above Fethiye with 6 different marinas that host the most luxurious yachts of the mediterranean region. These breathtaking landscapes are the perfect setting for boat trips, water sports and sailing. Gocek also offers very luxurious resort hotels, charming boutique hotels, very nice villas or penthouses to rend and the finest restaurants of the region. Spending a vacation in Gocek is definitely a treat for people who like calmness, nature and luxurious features as well as a less commercial type of vacation. That is the case of very wealthy Turkish people who all spend their vacation here.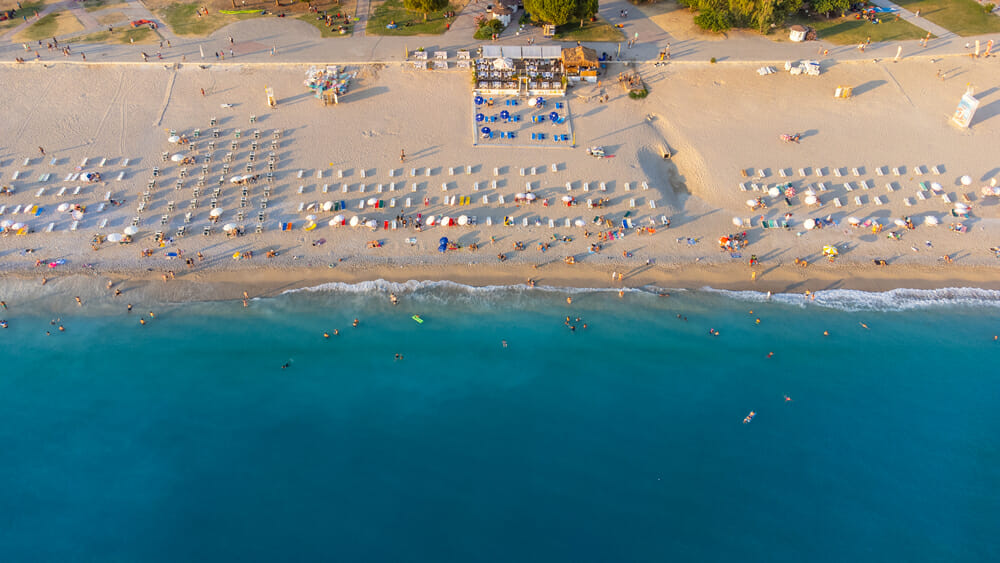 Often called "piece of paradise" by the locals, the city of Fethiye is one of the priceless jewels of Turkey. Turquoise blue beaches, fine sand, secret coves accessible only by boat, splendid hotels for all tastes, water sports and air and finally a very lively city center, Fethiye is really the perfect combo for any type of traveler.
Fethiye is a seaside resort that will delight vacationers who get up early and enjoy beautiful views, hiking, simple beaches, sports and most importantly relaxation. However, this city will not suit those who are looking for wild evenings and very good restaurants during their vacation. Regarding transport, public mini-buses are very convenient and take you from one place to another. However, renting a car will be more comfortable to discover the sumptuous surroundings. Be careful, the roads can be winding at times, especially on the Faralya side.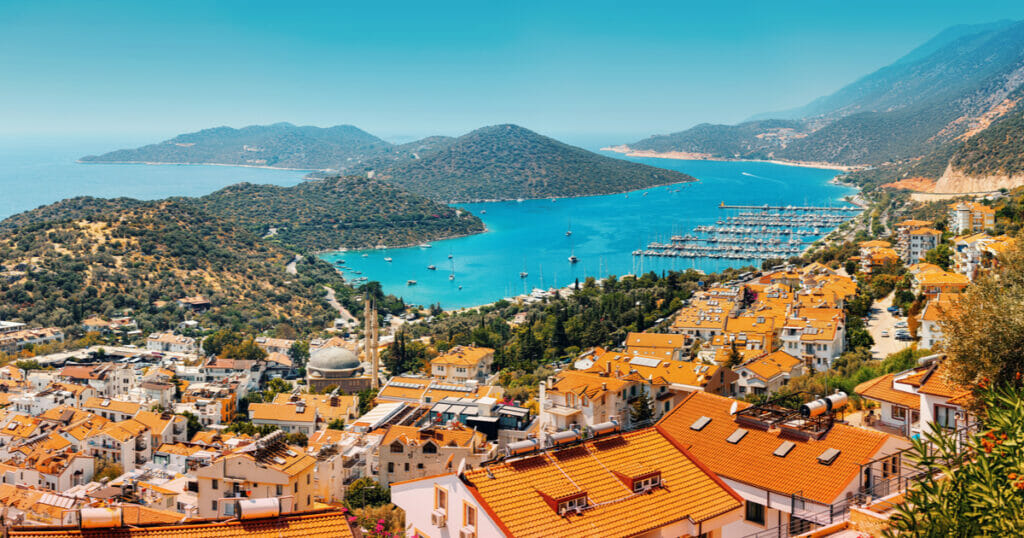 Not far from Fethiye, we find Kas, the most charming and quiet seaside town on the Turkish riviera. Kas is a very popular destination with Turks who appreciate the calm, the Mediterranean lifestyle, the good restaurants, the clean and warm sea, as well as the nature as far as the eye can see. Kas offers very good services, both in terms of hotel comfort, for most boutique hotels, and restaurants where you can eat local fish and seafood for very reasonable prices.
The advantage of Kas is that this city is located at a strategic point on the coast, close to the most beautiful beaches of Kas, close to Kekova Island, Fethiye and even Olympos, a great site to visit.
However, you should know that Kas is not really the place to party. Indeed, in the evening, after 22h, the city becomes very quiet.
Check our complete travel guide of Kas for more information
Antalya is the most touristic city in Turkey, ahead of Istanbul. The region welcomes more than 10 million vacationers every year, including many European and Russian tourists. When we say Antalya, it is usually referring to the city and its old quarter, its popular Konyaalti and Lara beaches and its very popular commercial areas.
But Antalya is also to a region, which includes many other seaside towns. Indeed, Antalya is surrounded by many cities such as Kemer, Belek, Side, Alanya … All these areas have their own specificities and correspond to a particular type of holiday. There are many areas with water hotels, ideal for children. There are also giant resort hotels, with thousands of rooms and a lively nightlife.
Despite the many ancient ruins scattered around the Antalya region, most vacationers who go to Antalya almost never leave their hotel. Indeed, the hotel being all inclusive, and offering activities, food and drinks all day, some consider it unnecessary to go out. If you are in summer (July-August) it is actually better not to leave the hotel during the day, because the temperatures can reach 42 ° C/107. 6 F°. In a pinch, it can be interesting to go out for sports activities such as hiking, paragliding, climbing or rafting (yes, Antalya offers all the sports you can imagine) and visit a waterfall.
All in all, Antalya is a beautiful place, hyper tourist, modern and very suitable for summer holidays, as well as winter holidays. Everything is set up for you to spend a dream holiday there and the region offers you a precious nature and a rich history to discover.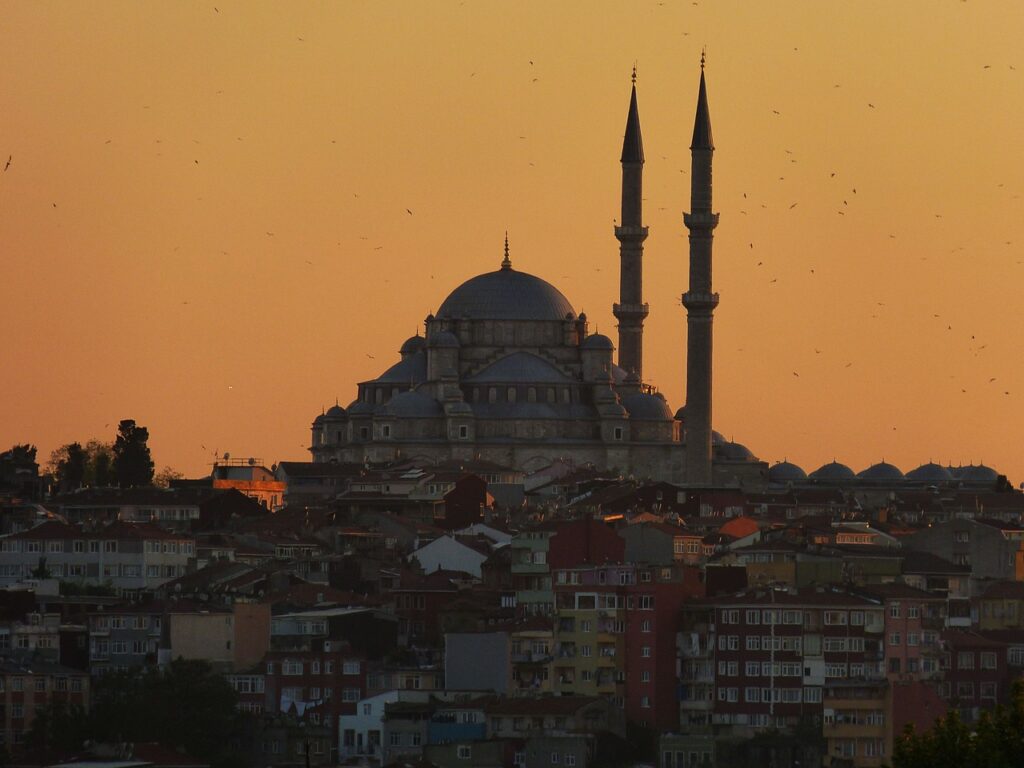 Istanbul is not a summer beach town, although you can find a lot of nice beaches few kilometres from the city center. The best thing is that on a trip to Istanbul, you can combine sightseeing the City of Two Continents with a beach vacation.
After exploring Istanbul's fascinating mix of Occident and Orient and admiring sights like Hagia Sophia, Topkapi Palace and the Bosphorus, you can relax and unwind on the beach. From lively beach clubs to picturesque coves and lively beaches, there is a good selection of destinations less than a two-hour drive from Istanbul where you can enjoy summer vibes and a relaxing beach day.
Among the most popular beaches near Istanbul are definitely the beaches of the Prince's Islands, which are located in the middle of nature, foremost Büyükada and Heybeliada. Other popular destinations are Caddebostan and Florya. Just outside Istanbul, the popular Black Sea coastal resorts of Kilyos, Şile and Ağva await sun worshippers. But Yalova and Rive also offer wonderful beach clubs.
In Istanbul and its surroundings, it is always advisable to prefer the beach clubs to the free public beaches (halk plaji) whenever possible. Although you pay a daily fee here, the beach clubs, which are usually open from June to September, promise a much more pleasant atmosphere as well as clean beaches.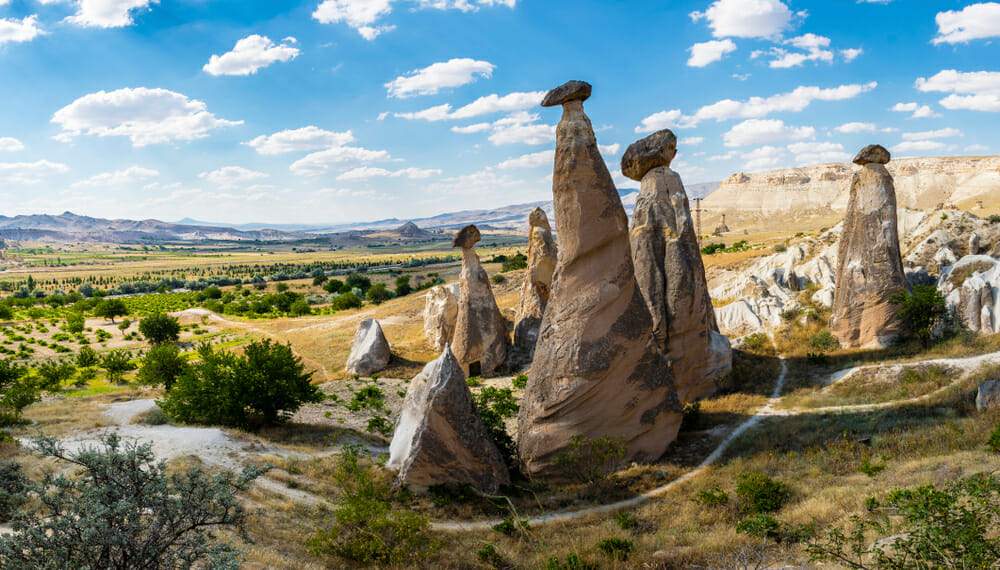 Cappadocia is one of the most mystical places to visit in Turkey. It's not your typical summer vacation spot because it's in the middle of Turkey and can be quite hot, but it's worth the visit. This region of Turkey is best known for its otherworldly landscape, created by thousands of years of volcanic activity. The result is a landscape full of strange rock formations, fairy chimneys and cave dwellings.
The heat in Cappadocia can get quite intense during the summer months, but there are plenty of cool caves and underground cities to explore to escape the heat. The region is also home to a number of historic sites, including Ihlara Valley and the Goreme Open Air Museum.
There are many activities to keep you busy, from hiking or horseback riding through one of the area's stunning valleys to exploring churches and monasteries. The highlight though is hot air ballooning, providing travelers with a bird's eye view of the unique terrain. So if you're looking for an unusual but exceptional summer vacation spot, Cappadocia is well worth considering.
If you're looking for an unforgettable summer experience, Pamukkale is definitely one place you need to check out. The place is not a summer beach town, but it is most certainly one of the most interesting places to visit in Turkey.
Located 2 km from the town of Denizli in southwestern Turkey, Pamukkale is rightfully among the most popular destinations in the country, any time of the year! There are few places on earth as stunning as this UNESCO World Heritage Natural Site, with its turquoise pools and cascading white travertine terraces.
Instead of swimming in the sea and relaxing on the beach, here you can take a dip in the stunning thermal springs and enjoy some wellness. Pamukkale is home to some of the best hot springs in the country, so be sure to take advantage of them during your visit! These pools are made up of calcium carbonate minerals that have formed over time, creating these dreamlike white terraces and cliffs. In fact, the travertine pools have been used as a spa since the Roman times, and the water is said to have therapeutic properties.
In addition, there's plenty to do in Pamukkale; from soaking up the incredible views and exploring the ruins of the ancient city of Hierapolis to taking a ride in a hot air balloon or even tandem paragliding, there's something for everyone in this idyllic setting.
Other articles to read about travel and vacation in Turkey :