When visiting Izmir, you might wonder where are the good places to take a dip in the sea. Where are the sandy beaches in Izmir exactly? 
Izmir is indeed not the best place to swim, but it has thousands of options of amazing sandy beaches at 20 min drive from the center.
In this article, let us give you the ones we find the most amazing and close to the city center. Two of them are in Urla, and two others in Seferihisar, the closest beach towns to Izmir, accessible by car, bus or minibus. Our final pick is in Foça, a district of Izmir on the northwest part of the city.
1. Altınköy Beach in Urla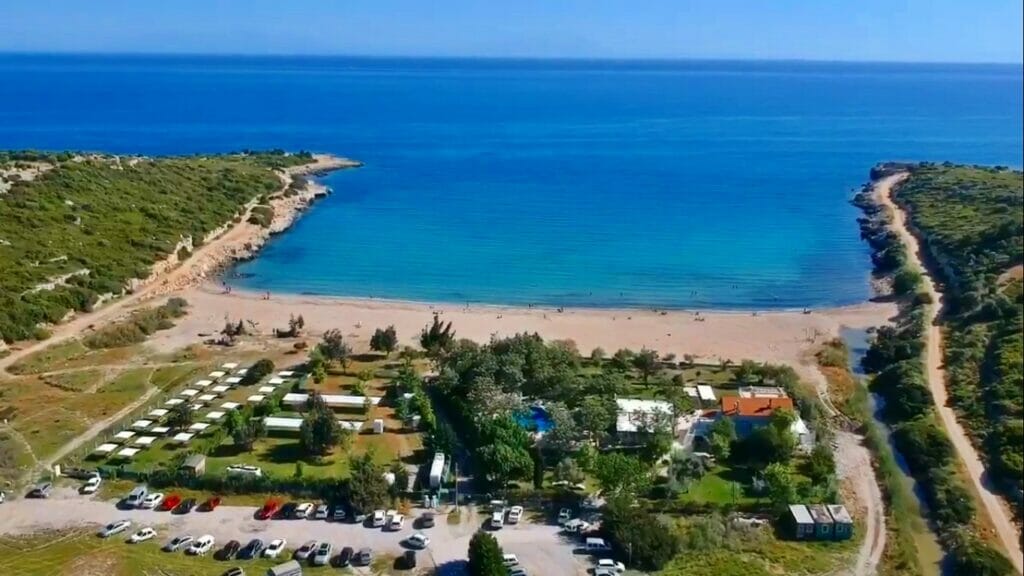 Urla, the district that draws the most tourists in Izmir, has numerous gorgeous beaches. Altnköy Beach, which operates as a clean business, is one of the most attractive spots to swim near Izmir. On the beach, there are also WC and showers. Altnköy Beach, with its pristine, Maldives-like water, is a sea that everyone wants to swim in.
With its golden sands, the 180-meter-long beach attracts a lot of attention. Also, the beach is suitable both for families, children, and young people. And it is 65 km from Izmir. For transportation, you can prefer your private vehicle or take the ESHOT buses from Izmir to Urla.
2. Melengeç Beach in Urla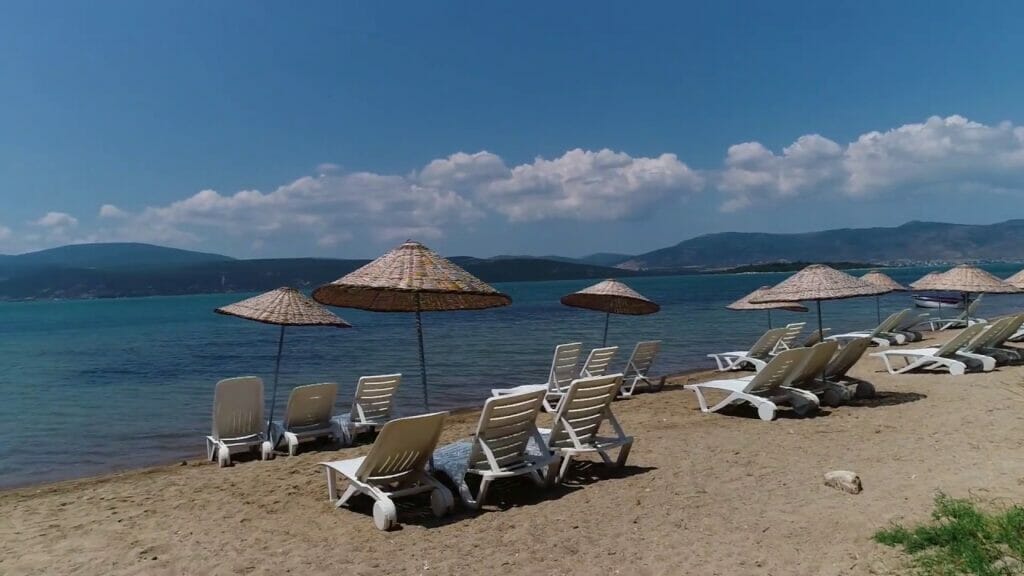 Located in Urla, Melengeç Beach is a lovely alternative for those seeking tranquility. It is located within the borders of Demircili Bay of Urla, and the beach is 56 km from the Izmir city center. Since transportation from Izmir to Urla is quite easy, you can choose ESHOT buses or travel with your own vehicle.
Melengeç Beach, which has managed to preserve its untouched nature, is among the most beautiful beaches of the Urla Peninsula. Besides its magnificent sea reminiscent of an aquarium, it has cool water. Thanks to its shallow water, it is also very suitable for families with children. Moreover, food and beverage, toilet and shower facilities are available at the beach.
3. Akkum Beach in Seferihisar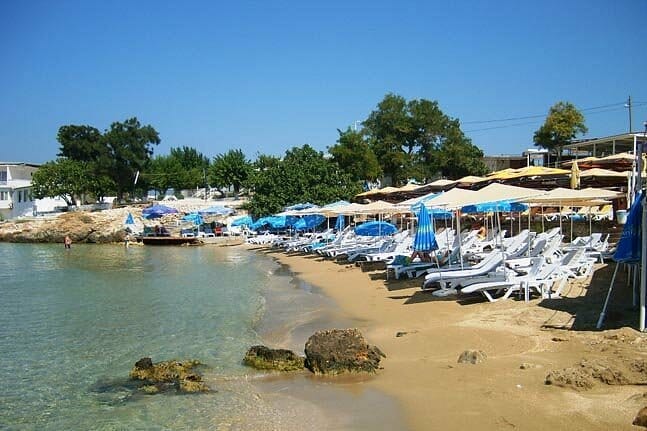 Akkum Beach, located 51.9 kilometres from Izmir city center, is easily accessible by public transportation or your own vehicle. Akkum Beach is a mixed sand and stone beach in Izmir's Seferihisar district. It has a very clean sea and is the most well-known of the region's beaches.
The beach, which is highly crowded in the summer, is also commonly visited for photography and scenery in the winter. If you want to stay near Akkum, there are bungalows and camping facilities around Akkum Beach.
4. Ekmeksiz Beach in Seferihisar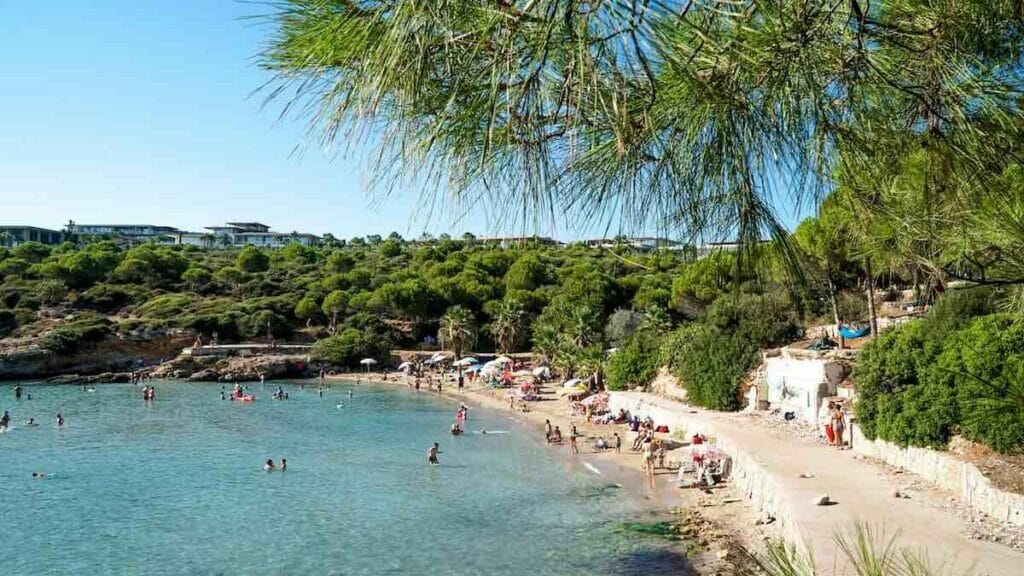 Ekmeksiz Beach is one of the hidden paradises of Seferihisar. The beach lies on the Teos side of the island. It is 54 kilometers from Izmir. There are also caravans, tents, and camping spots on the privately operated beach. There are facility services for basic needs. Further, you can easily reach the beach with your private car or by bus 768 via ESHOT.
On the other hand, the sea of Ekmeksiz Bay is cold. Both the beach and the sea are sandy. On certain days, it almost resembles the Maldives. It becomes shallower towards the middle. To sum up, it undoubtedly has a stunning sea.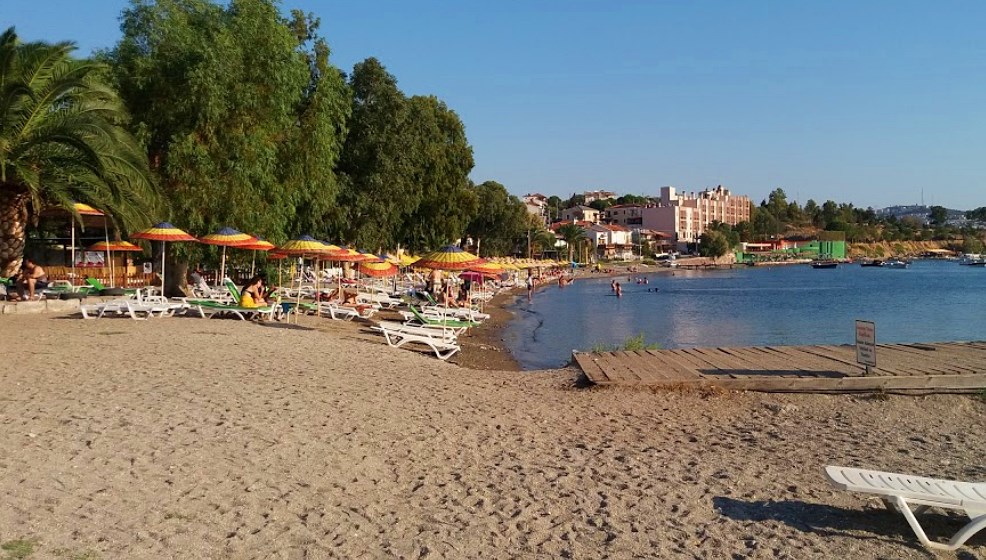 Voodoo Beach is a beach club in the beautiful seaside district of Foça, 64 kilometers from the city center of Izmir. Located at Mersinaki Bay, this blue flag beach has sand and pebbles. With its 150-meter strip of golden sand and recreational facilities, it's easy to spend a whole day lounging here. However, it can get very crowded, especially on the weekends in summer.
The beach club features a restaurant/ bar, sun loungers, toilets, shower facilities and plenty of activities like table soccer, kayaking and other water sports. With its relaxed atmosphere, it appeals especially to a laid-back and younger audience. Voddoo Beach Club is open from 10 a.m. to 8 p.m., and there is an entrance fee. Arrival is possible by own car. Free parking is available directly in front of the entrance.
Which sandy beach is your favorite close to Izmir? Let us know in the comments below!
Discover other beaches in the Turkish Riviera
Related articles to read: