Izmir is one of the best places to enjoy the 5-Star hotels in Turkey. They give amazing service and provide beautiful views of the sea. With a high-end service at an affordable price, you can give yourself a treat carelessly.
Enjoy a wonderful stay in Izmir in one of the best-rated luxurious 5-Star hotels from the list below.
1. Swissotel Grand Efes Izmir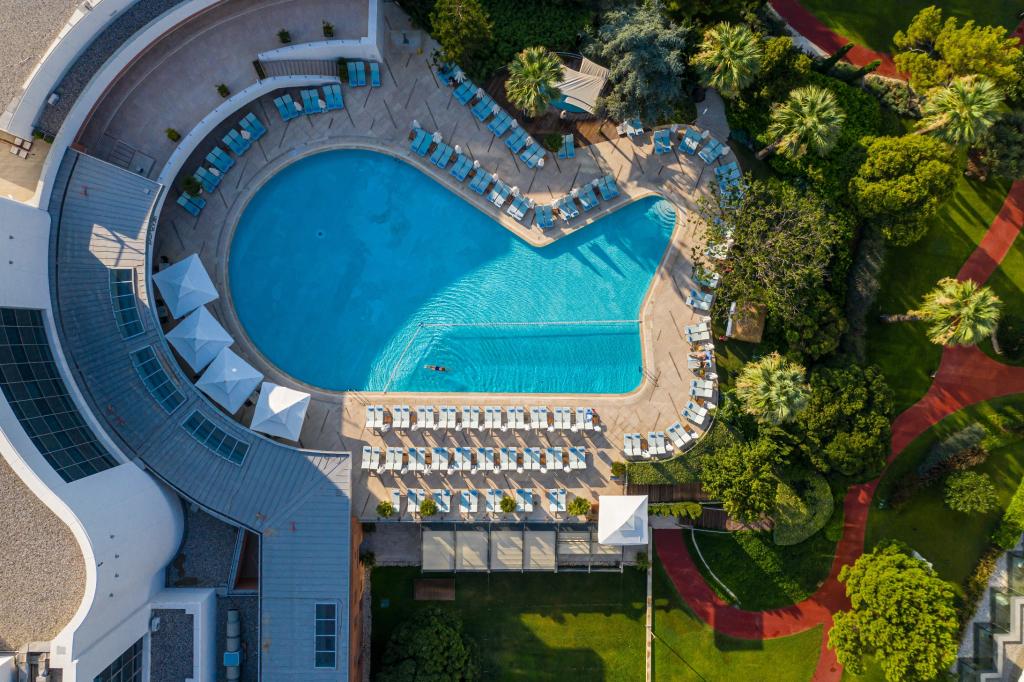 Swissôtel Hotels & Resorts is among the most luxurious hotels in Izmir as well as in many other cities in Turkey. Besides its unique and sophisticated designs, the hotel is quite near the city's business and shopping areas due to its central location. The hotel features 402 rooms, 55 of which are specifically designed suites with cutting-edge technology.
On the other hand, Pürovel Spa&Sport is one of the advantages of the hotel. Pürovel Spa&Sport center includes 14 treatment rooms, a Presidential Wellness Suite explicitly designed for couples, a hydrotherapy room, a solarium, relaxation areas, a Turkish Bath, a steam room, sauna, a jacuzzi, indoor and outdoor swimming pools, pilates studios, group fitness classes, and an outdoor tennis court with personal training.
See more Pictures & Book a room at the Swissotel Buyuk Efes on Booking.com
2. Kaya Izmir Thermal & Conventions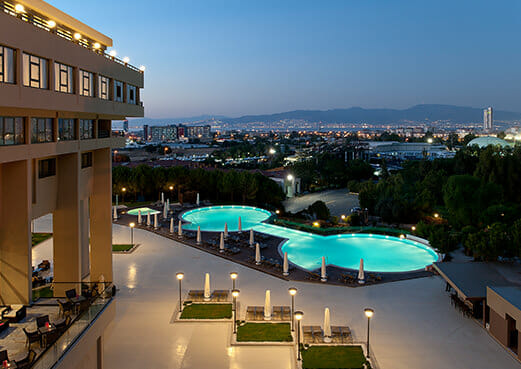 Kaya Izmir is a hotel surrounded by pine trees that offers its visitors a wonderful 5-star thermal and spa experience with views of the Gulf of Izmir. Kaya İzmir is also Turkey's most sophisticated spa and thermal therapy facility. It organizes events such as conferences, meetings, and weddings, as well as luxurious rooms with views of the sea and landscape.
With its physical treatment and rehabilitation center, Kaya Izmir provides its tourists with medical options. The hotel is located in Narlıdere, İzmir, and it has Turkish baths, saunas, shock showers, a fitness center, outdoor and indoor thermal pools, and many more facilities.
See more Pictures & Book a room at the Kaya Izmir Thermal on Booking.com
3. Renaissance Izmir Hotel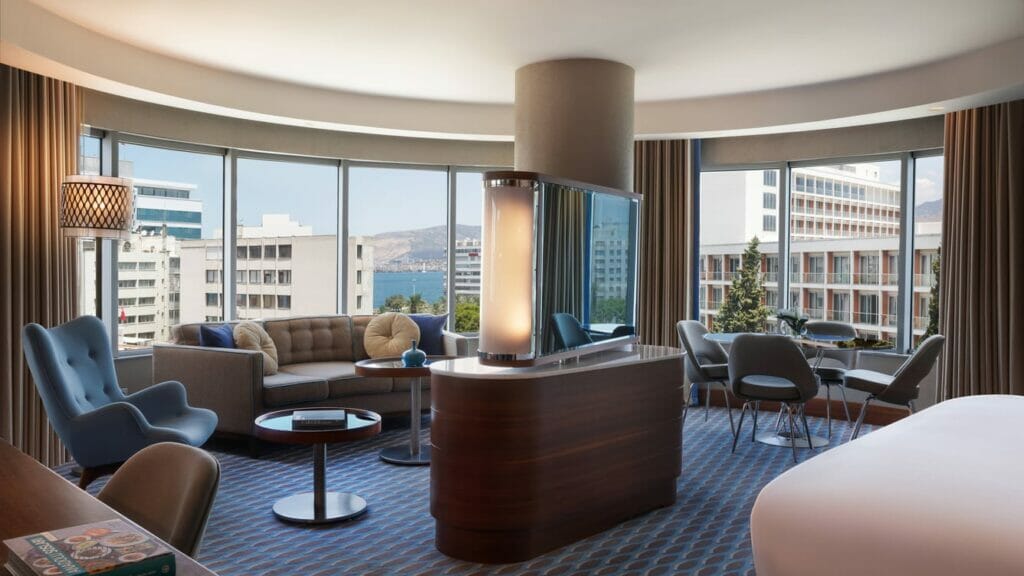 The Renaissance Izmir Hotel is one of the most luxurious hotels in Konak, Izmir. It is also at a highly convenient location, close to Agora Shopping Center and Adnan Menderes Airport. It distinguishes itself with beautifully furnished rooms and bathrooms, 24-hour room service, soft linen, and a variety of additional amenities. In addition to the view of Izmir Bay, you can enjoy the full-service hotel spa, a contemporary fitness facility which is open 24 hours a day, and plunge pool services.
With its successful cuisine, clean rooms and successful services, Renaissance Izmir Hotel maintains its place among the quality hotels in Izmir.
See more Pictures & Book a room at the Renaissance Izmir Hotel on Booking.com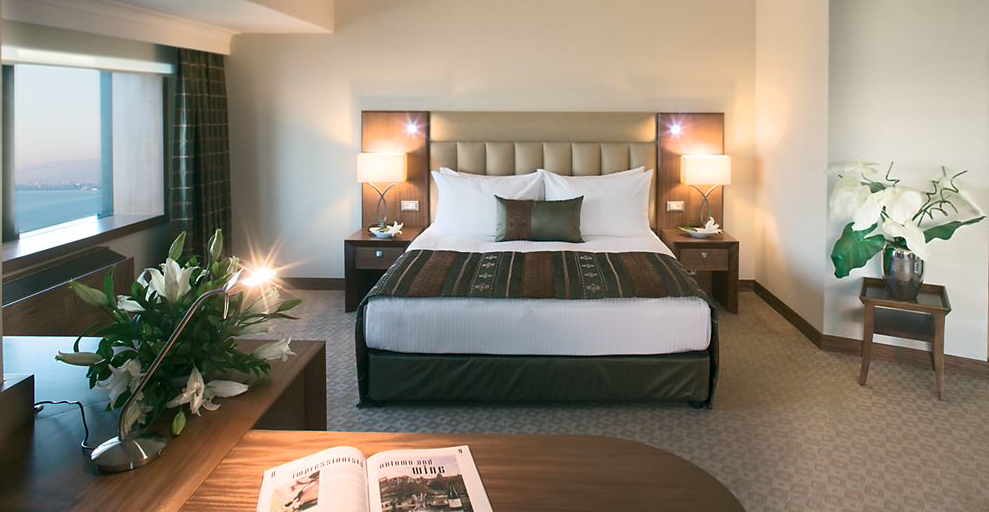 The 5-star Movenpick Hotel Izmir is located in the city center, enabling easy access to everywhere. In 2011 and 2014, World Travel Awards awarded the hotel "Turkey's Leading Business Hotel," and it is Green Globe certified. Further, if you wish to explore historical towns such as Ephesus, Pergamon, and others, the hotel will be a convenient starting point for you.
Movenpick Hotel Izmir is one of the hotels most commonly picked by business travelers, with a total of 185 modernly furnished rooms, including 36 executive rooms and 17 suites. Additionally, if you make your reservation through the website movenpick.com, the hotel will additionally provide you with the best rate guarantee and free Wi-Fi.
See more Pictures & Book a room at the Movenpick Hotel Izmir on Booking.com
5. Wyndham Grand Izmir Ozdilek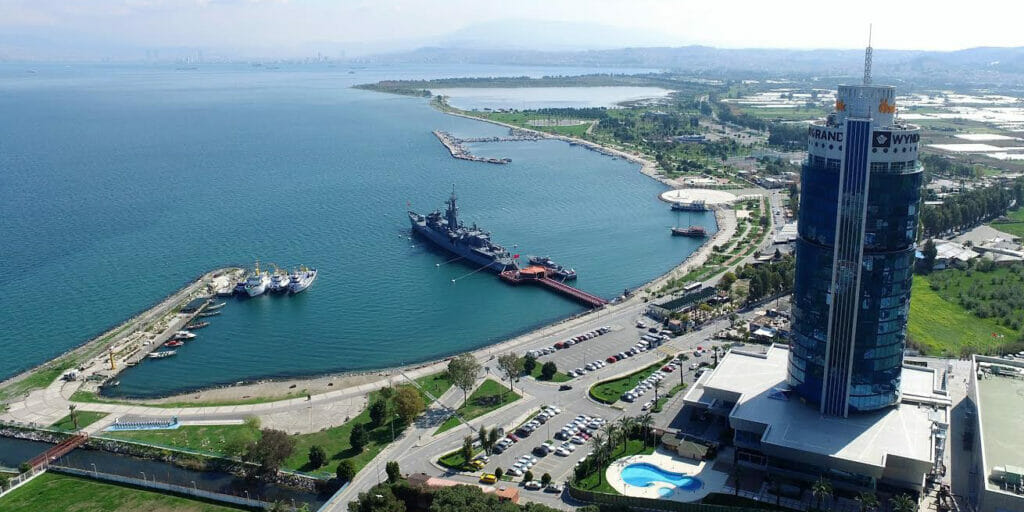 Wyndham Grand Izmir Ozdilek is among the successful five-star hotels of Izmir with its sea view rooms and an exclusive spa alternative. With views of the Aegean Sea from almost every room, the hotel provides a variety of activities through its Qualitas Spa service, which includes indoor and outdoor pools, a Turkish bath, a fitness center, and more.
In its seven restaurants that serve diverse cuisines, you may experience the flavors of Turkish or other world cuisines. The Wyndham Grand Izmir Ozdilek, located in the Balçova district of Izmir, also provides free WI-FI in each of its 219 rooms.
See more Pictures & Book a room at the Wyndham Grand Izmir Ozdilek on Booking.com
6. The Radisson Izmir Aliaga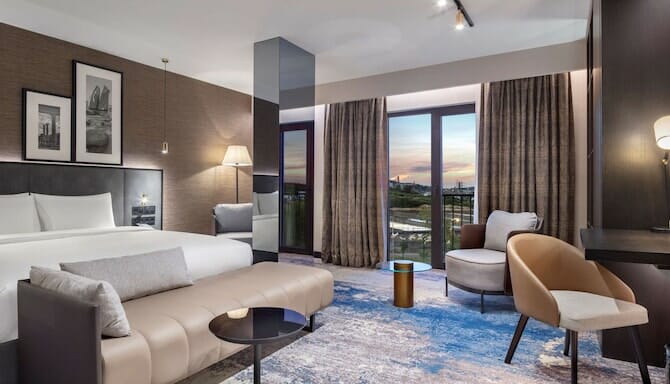 The Radisson Izmir Aliaga is located in the Aliaga neighborhood, which is at the entrance of Izmir and is considered the economic locomotive. The Radisson Izmir Aliaga provides 185 modernized rooms, including superior rooms and suites with free high-speed Wi-Fi, workspaces, and cable TV.
Radisson Izmir Aliaga, one of the hotels frequently visited during business meetings, offers both Turkish cuisines and tastes from other world cuisines in its restaurant. Moreover, the hotel has its own spa. If you prefer, you can also use the hotel's various facilities to have a full holiday.
Also, while in Izmir, make time to see the nearby attractions, such as the UNESCO World Heritage-listed ruins of Pergamum.
See more Pictures & Book a room at the Radisson Izmir Aliaga on Booking.com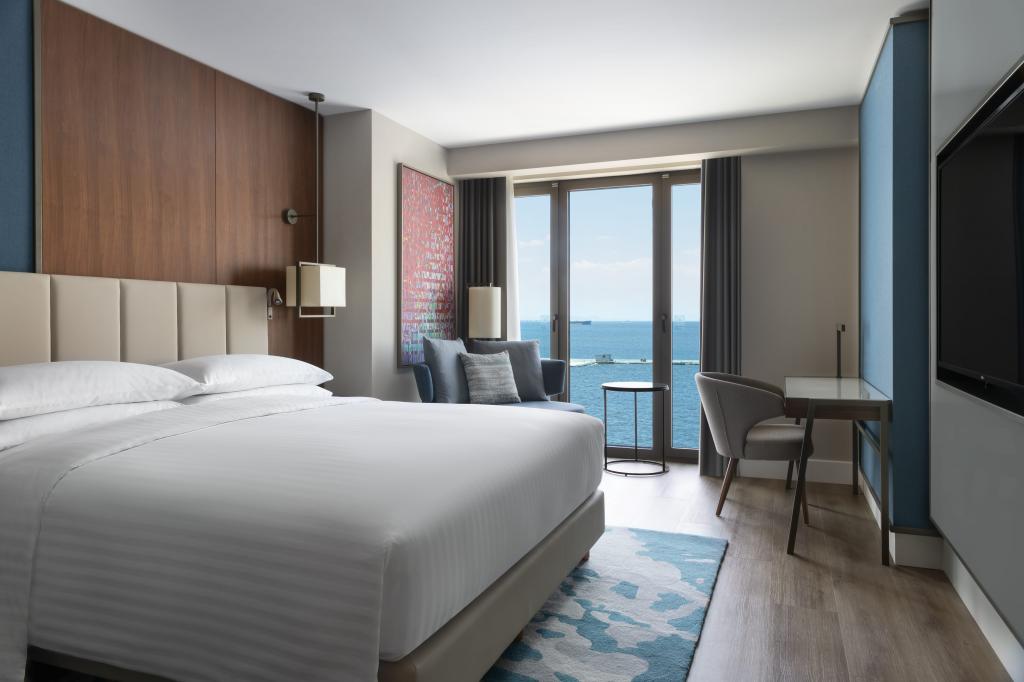 The Marriott Izmir is the city's first Marriott hotel. It is a short distance from the business area, as well as luxury shopping, lifestyle, and historical neighborhoods. With 149 stylishly furnished rooms, the hotel provides its customers with enjoyable leisure alternatives. It also features seven elegantly designed suites.
Another advantage of the hotel is that all guestrooms offer panoramic views of either the seaside or the lively city. Visitors may drink and eat anything they want, thanks to options such as an all-day dining restaurant, a lobby bar, and a rooftop bar. The hotel also provides free internet access, spa treatments, an indoor pool, an infinity pool, and a fitness salon.
See more Pictures & Book a room at the The Marriott Izmir on Booking.com
How did you like this selection of best 5 Star hotels in Izmir City? Which one are you going to stay in? Let us know in the comments below.
Read also these articles: