The region of Nevsehir is one of the most fun place of Turkey, with dozens of exciting activities to do.
During your trip, don't miss these best things to do in Cappadocia and enjoy the landscape, the fresh air, the adrenaline boost and the local warmness.
1. Cappadocia Balloon Tour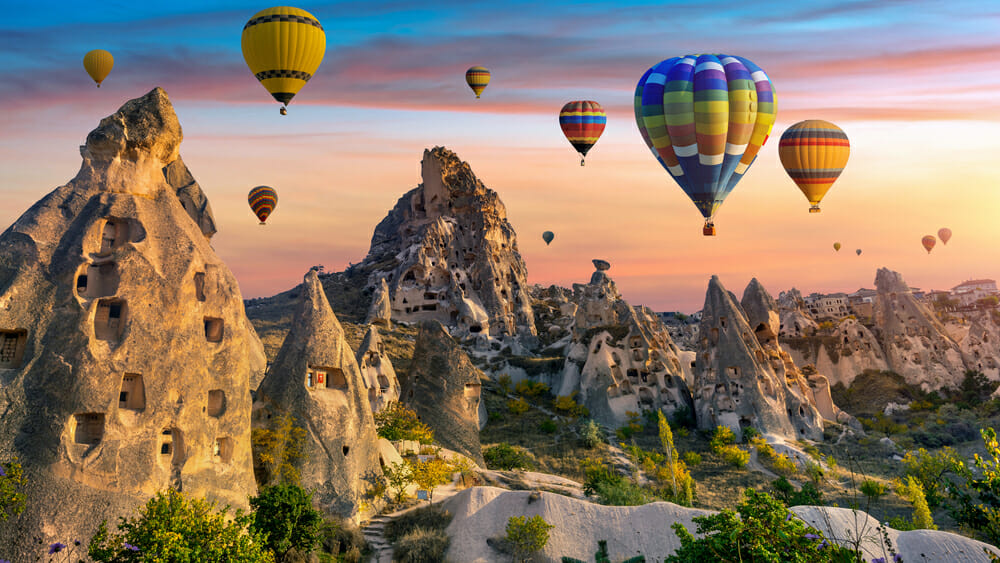 One of the most unforgettable things to do in Cappadocia is, without a doubt, flying over the fairy chimneys with a balloon at sunrise. The balloon tour, which you can take in any season of the year, is one of the first things many tourists do when they come to Cappadocia.
However, when you consider the effect of the wind, a clear and rainless summer day may make it more possible to do a balloon tour. In addition to the fact that balloons are regarded the safest aircraft, the tours are performed in the company of a professional team.
2. Moonlight Hiking in Rose Valley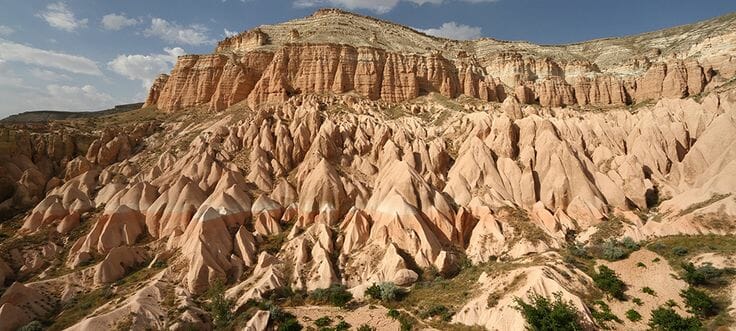 Walking in the enchanted valleys of Cappadocia in the evening under the full moonlight is definitely one of the activities to do here. If you happen to be in the Rose (Güllüdere) Valley in Göreme, we recommend you not to leave without stopping by. It will be an unforgettable memory to visit the valley, surrounded by valleys and fairy chimneys rising like stone minarets.
Moreover, if you wish to take a more comprehensive hiking tour, for the last three years, in Güllüdere Valley, there are Moonlight Cappadocia walking tours every month between April and October, on the night of the full moon, in collaboration with Uzunetap and Argos Culture and Art.
3. Visiting the Underground Cities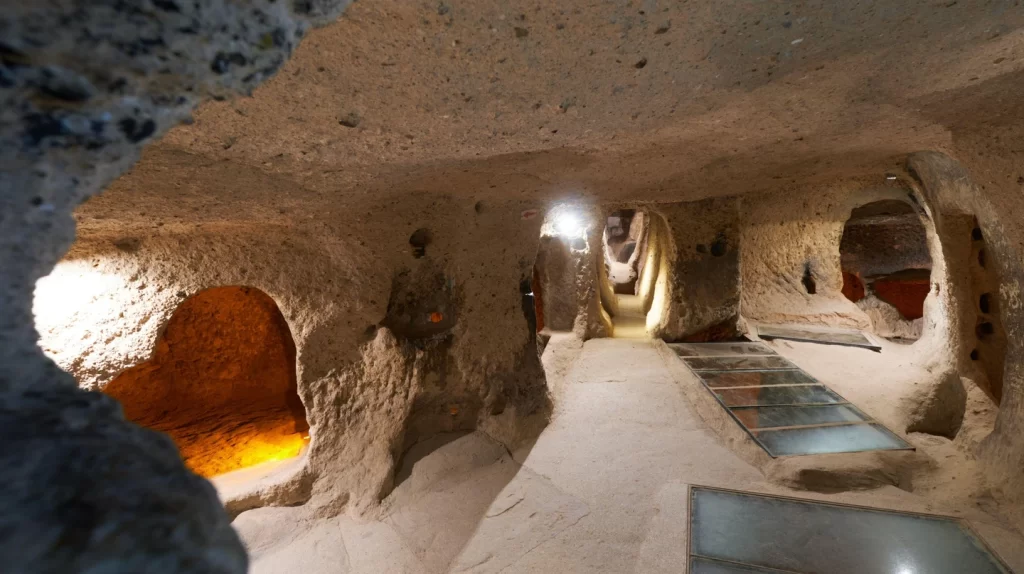 Cappadocia is a place that underground cities are predominantly located in Turkey. Therefore, here, there are numerous underground city options to visit. You can visit many carved rock hotels, caves, and dovecotes. Here are some underground cities you can visit:
Derinkuyu Underground City
Kaymaklı Underground City
Özlüce Underground City
Özkonak Underground City
Mazı Underground City
Tatlarin (Acıgöl) Underground City
Ağırnas Underground City
4. Discovering Selime Monastery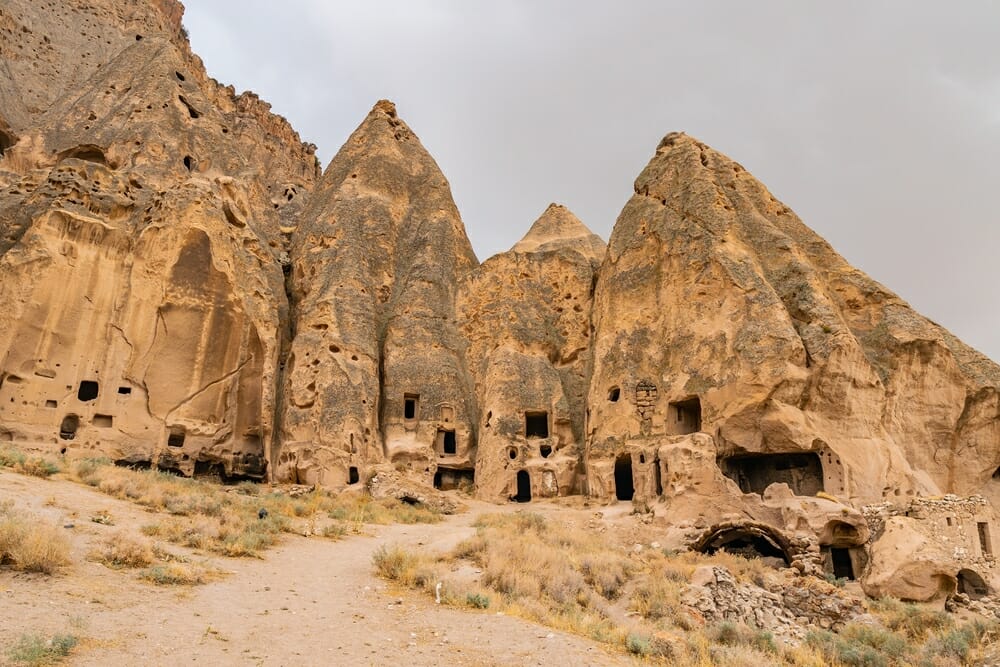 Selime Town is located at the peak of Ihlara Valley. When you leave the valley, you will be greeted by fairy chimneys and Selime Cathedral, Cappadocia's largest monastery.
The monastery, churches, caravan route and fairy chimneys are popular with tourists coming to Cappadocia. Further, we recommend that you visit Aşıklı Höyük, Cappadocia's earliest village settlement, which is 10,500 years old, as well as the ancient Demirci homes, which are 7 kilometers away.
5. Visiting Open-Air Museums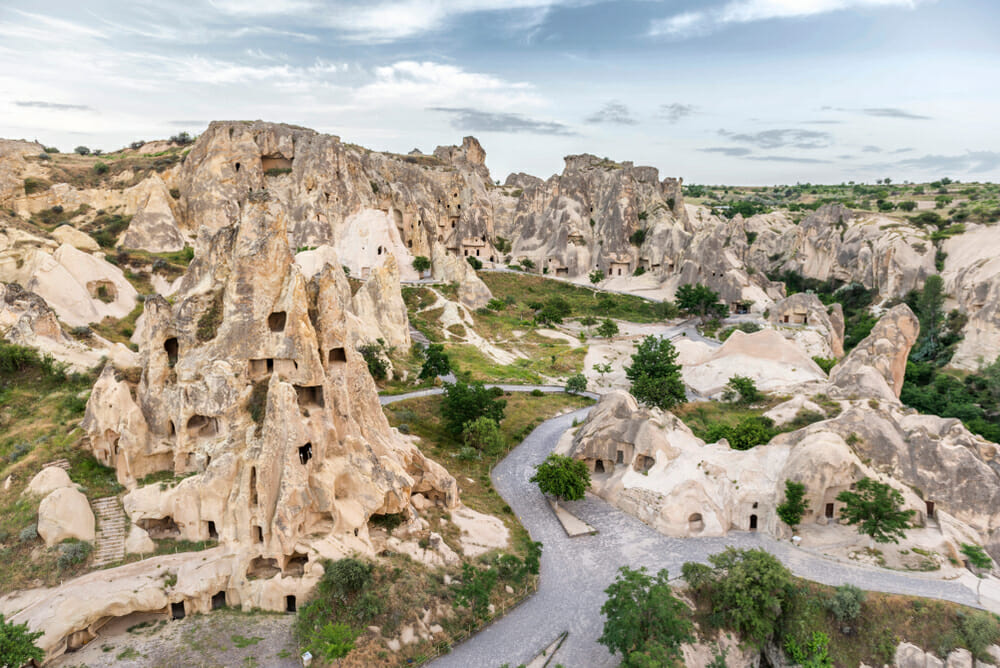 In Cappadocia, which has many open-air museums, Göreme Open Air Museum and Zelve Valley Open Air Museum are some of the must-sees.
Aside from these, museums such as Güray Museum and Chez Galip Saç Museum, both of which are run as private museums, should be seen as well.
In addition, the Chez Galip Saç Museum is a unique museum, ranking sixth in the Guinness Book of Records in the category of the world's strangest museums.
6. Kizilcukur / Red Valley in Cappadocia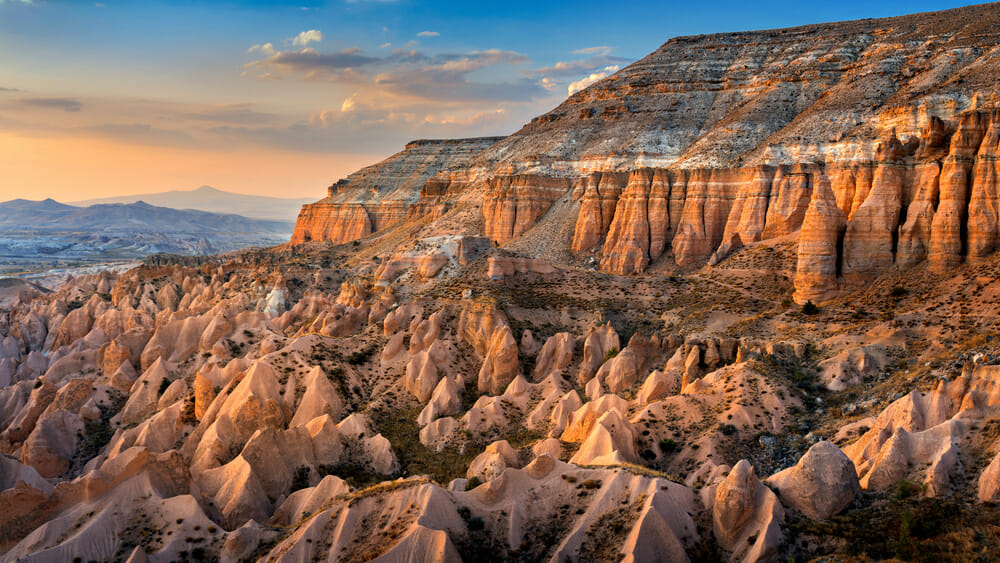 Red Valley (Kizilcukur) is a place that fascinates those who see it.  The valley is located on the Ortahisar side, quite near to Ürgüp. Red Valley, which has all of the typical Cappadocia characteristics, has red tuff rocks. Once the sky becomes red in the evenings, you may see a whole feast here throughout the sunset.
The Red Valley is one of Cappadocia's most romantic locations and host to thousands of tourists each year. Thus, it is a wonderful place to spend your most precious time with your loved ones. You can reach the valley by your private car, by renting a car or by minibus. The valley can only be visited on foot.
7. Take a Photo Break at Galerie Ikman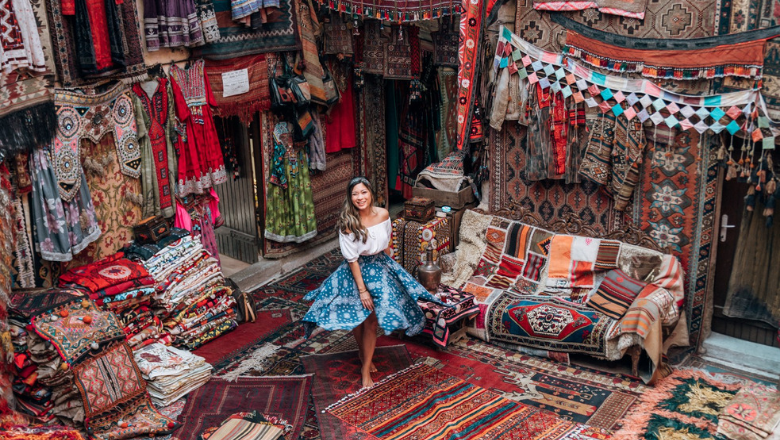 As we all know, carpets are an essential aspect of Turkish culture. Galerie Ikman, Cappadocia's most famous carpet shop, is an ethnic carpet-rug gallery in Göreme. Taking photos at this kilim shop has practically become a popular activity all around the world.
Of course, when you visit Galerie Ikman, you may buy some vintage Turkish carpets for your house, but the primary attraction is the photoshoot area. You will undoubtedly want to take a shot thanks to the antique feeling it gives when you encounter this place.
Galerie Ikman is open seven days a week, which is great if you're visiting Cappadocia on a schedule since you won't have to worry if it's going to be open.
8. Watching the Mapping Show Reflected on Fairy Chimneys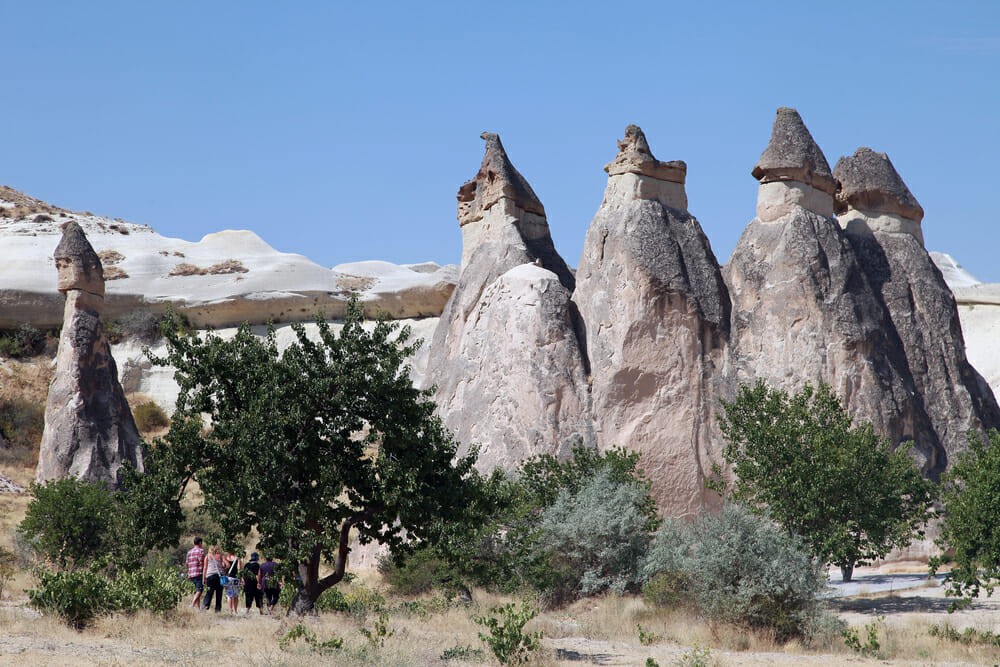 Another activity that we recommend is watching the Mapping Show by reflecting on fairy chimneys.
Zelve Mapping puts on a mapping show in Zelve Ruins that focuses on how the geological structure of the region was formed, the process it went through from its origin to the present, and the range of beliefs held by the civilizations that lived in these lands. There is no specific time slot for the event since it is expected to get dark. And the performance lasts around thirty minutes.
Uchisar Castle is one of the most iconic landmarks in Cappadocia. The "castle" is located on top of Uchisar hill and is actually a 60-meter rock formation, carved into the side of a mountain.
It offers stunning views of the surrounding area, which are especially beautiful at sunset. Inside the castle, you'll find a number of chambers and tunnels to explore. Be sure to keep an eye out for the numerous rock-cut churches and dwellings that can be found in the surrounding cliffs. Many tours include a stop at Uchisar Castle.
Book the most popular Cappadocia highlights tour with stop at Uchisar Castle here!
One of the best ways to explore Cappadocia is on horseback! There are plenty of stables offering guided tours, and it's a great way to see all the unique rock formations and landscapes. You can ride through valleys, trails, and even forests, all while taking in the magnificent views.
The horses are very well-trained, and the guides are experienced, so even if you're not a seasoned rider, you'll be in good hands. Just make sure to wear comfortable shoes and clothes, as you will be spending a few hours in the saddle!
Don't miss this adventure and book your horseback riding tour in Cappadocia now!
If you're looking for an unforgettable experience, add staying in a cave hotel to your list of things to do in Cappadocia. These unique accommodations are carved into the hillside and offer spectacular views of the landscape.
Many of the hotels have been in operation for centuries, and some have rooftops with views of the hot air balloons rising in the morning or even private hot springs. You can find cave hotels located in Avanos, Uçhisar, Göreme, and Ürgüp in Cappadocia.
Cappadocia is famous for its handmade crafts, so make sure to shop around for some souvenirs before you leave. You can find everything from pottery to leather goods here, all made by local artisans. There are plenty of great shops throughout the area that sell unique items that make for perfect gifts.
You can also find stores selling local food items like honey and spices, locally-produced olive oil and wine, Turkish Delight, and handmade carpets. Whatever you're looking for, you're sure to find it in Cappadocia.
Cappadocia is famous for its delicious food, so make sure to try as much as you can while you're here. From Ottoman cuisine to traditional Turkish desserts, there is something for everyone here.
One of the most famous dishes of the region is testi kebabi, which consists of either meat, chicken or vegetables and is slowly cooked in a clay pot and served with rice and salad. Other Turkish dishes you should taste include manti, dolma and of course baklava.
14. Buy Some Ceramics in Avanos
Avanos is world famous for its pottery, which has been made in the same traditional way for centuries. Therefore, it is worth visiting the numerous workshops and studios in the small town.
The beautiful vases, bowls, plates and teapots also make great unique souvenirs for your loved ones. If you decide to make a purchase, remember to haggle! You can also watch the artisans at work here or even try your hand at being a potter yourself.