Cappadocia is a region that is home to several Central Anatolian dishes. Here, you may try delicious Turkish food while enjoying the atmosphere. Here is a list of what you can eat and where you can eat when you come to Cappadocia:
1. Lil'a Restaurant in Üçhisar
Located in Uçhisar, Lil'a Restaurant is one of the most luxurious restaurants in Cappadocia. There are many different tastes worth tasting on their menu, and the atmosphere and presentations are also successful.
The restaurant's most popular dishes are beef kuşgömü, duck with fig sauce and lamb shank, but since it is a place that likes to stay up to date, the menu may change. Ideal for romantic evenings and special occasions, this stylish restaurant is one of the places you should visit in Uçhisar.
2. Seki Restaurant in Argos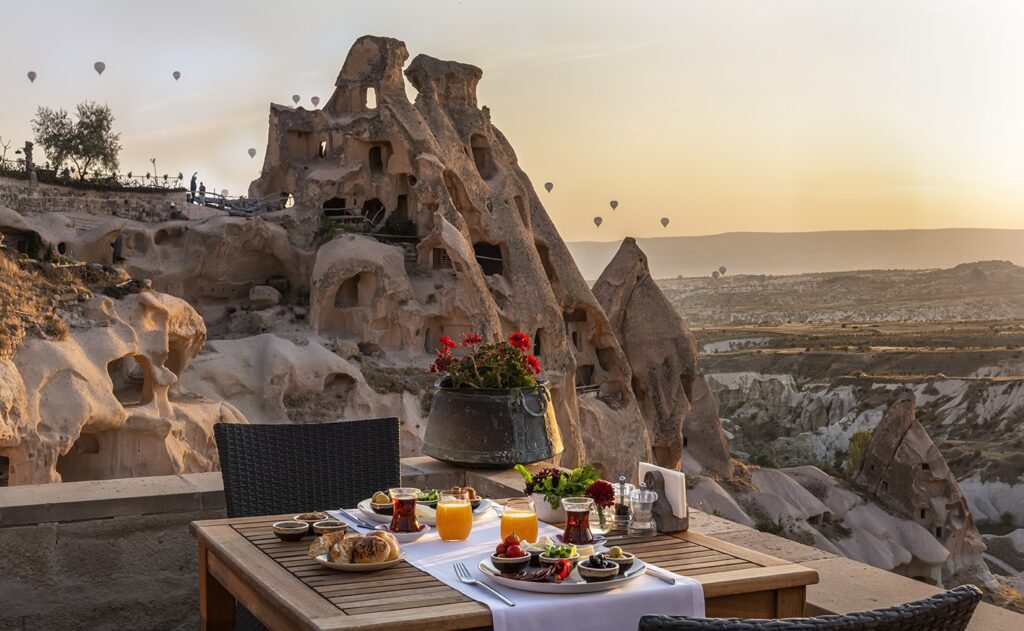 We recommend Seki Restaurant in Argos in Cappadocia Hotel if you are seeking places to have breakfast or places to spend a romantic dinner in Cappadocia. Argos in Cappadocia owns Seki Restaurant, which is located in the mountains. This restaurant has been awarded the "Award of Excellence" five times by the Wine Spectator Awards. 
Seki, located on the world's oldest monastery site, serves its customers a refined menu with a variety of Turkish flavours. It combines the essentials of Anatolian cuisine on its menu and provides its customers with a diverse menu ranging from vegan meals to kebabs.
3. Topdeck Cave Restaurant in Göreme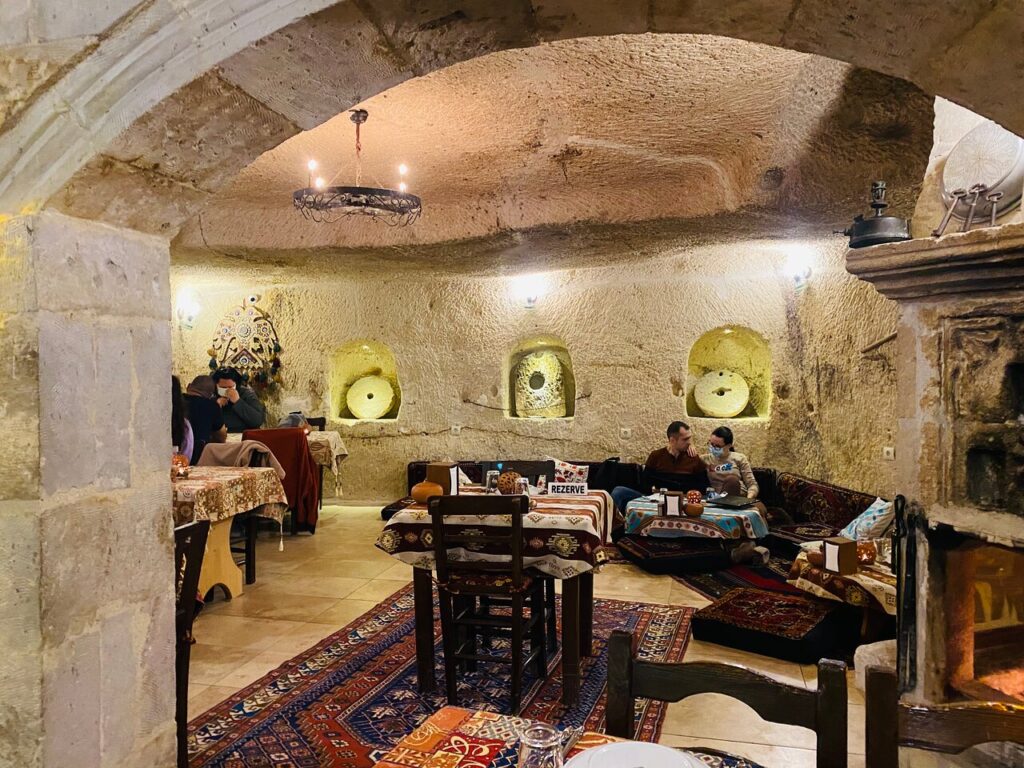 With a very minimal and warm environment, Topdeck Cave Restaurant is in Göreme, one of Cappadocia's most central locations. The restaurant, which resembles a carved cave, features Cappadocia's cultural texture traces. Further, this authentic restaurant offers two forms of service: floor table and table service. You may try both local and international cuisines here.
4. Saklı Konak Restaurant in Üçhisar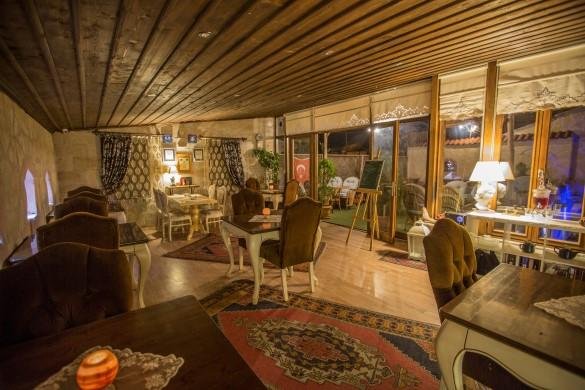 Saklı Konak Restaurant is a popular choice for people looking to experience local dishes unique to the region in Cappadocia. As the name suggests, this restaurant, located in Uçhisar, serves in a mansion. Saklı Konak Restaurant offers the most authentic and exquisite Turkish food, including Testi Kebab, kuru fasulye (stewed bean), and seasonal salad. Furthermore, completely local methods are used in cooking techniques.
5. Old Greek House Restaurant in Mustafapasa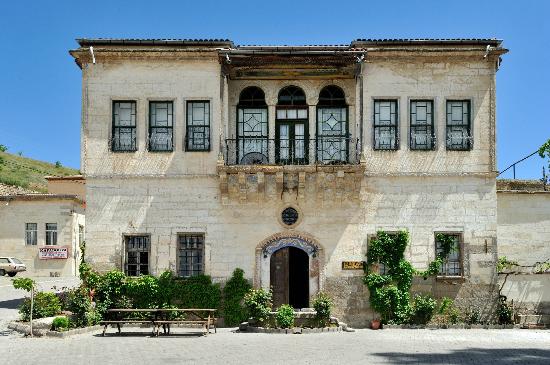 Located in the village of Mustafapasa, the Old Greek House Restaurant is an old Greek Mansion. Therefore, it serves examples of Turkish and Greek cuisines and provides a complete feast to its customers, particularly with its soups, hot home-cooked dinners, and exquisite hand-made baklavas. If you want to have a special dinner in this magical place, don't forget to add the Old Greek Restaurant to your list!
6. Uranos Sarıkaya Restaurant in Avanos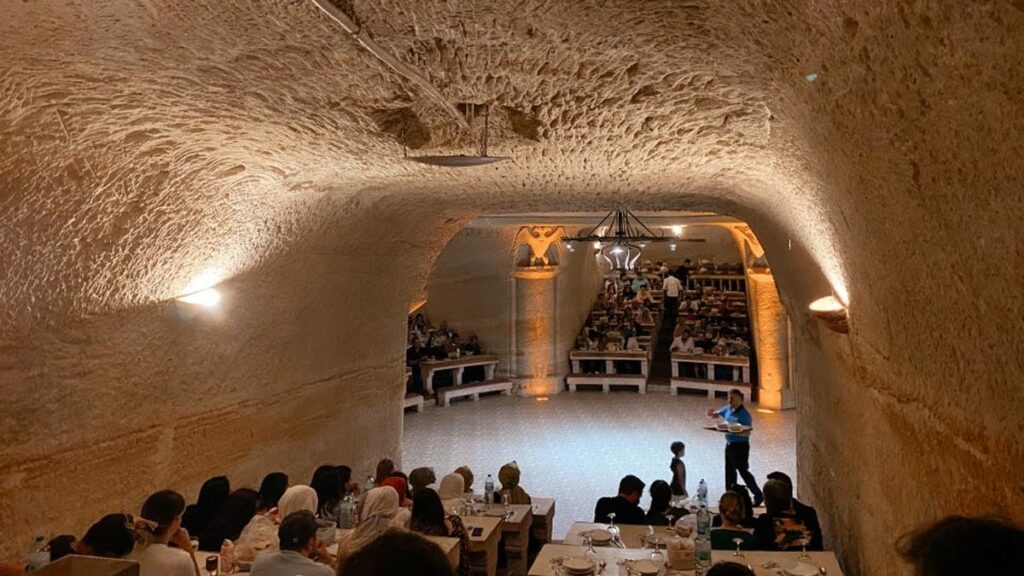 If you are looking for an exceptional restaurant in Avanos, Uranos Sarıkaya Restaurant is the place for you. This restaurant is located in a cave, which you reach after passing a long corridor decorated with impressive art. The unique ambience with its imposing interior and stone tables promises an incomparable experience.
Since the restaurant is located in Avanos, the renowned village for pottery, the famous local dish Testi Kebabi is served here in a clay pot made in Avanos. Be sure to try Baklava for dessert. In the evening, the restaurant hosts Turkish night shows with dinner.
7. Dibek Restaurant in Göreme Center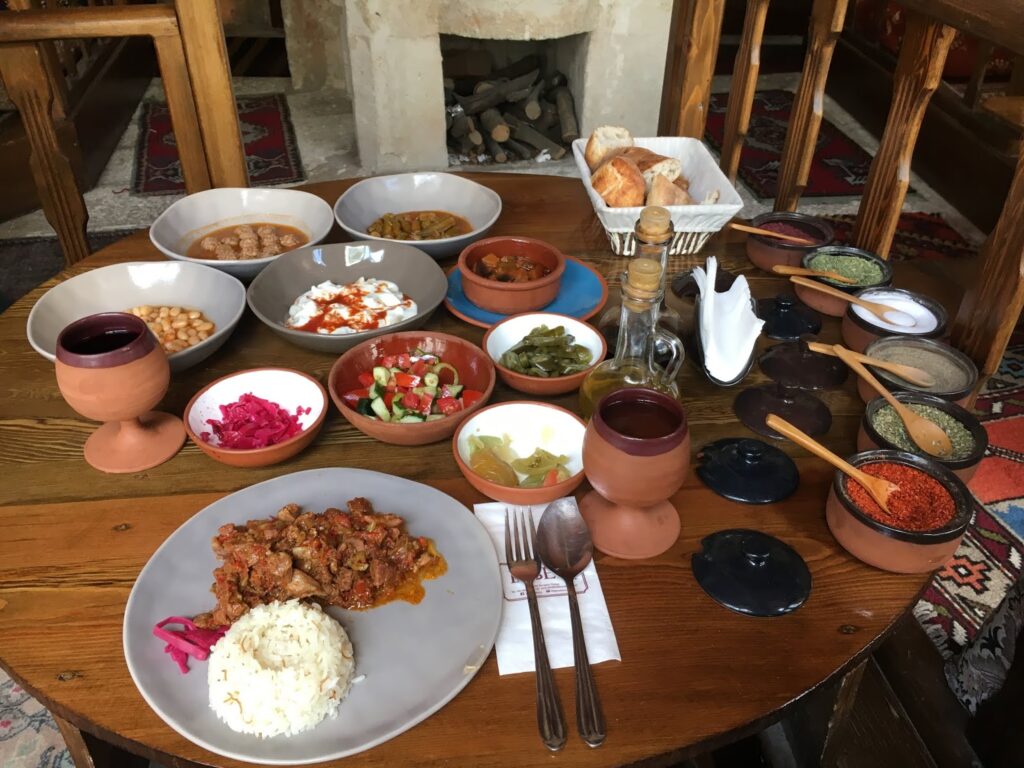 If you are looking for an authentic culinary experience in Cappadocia, you should visit Dibek. The restaurant, housed in one of the first houses built in Goreme, is one of the locals' favorites. The menu features traditional Turkish home cooking, and the décor is also Anatolian in style, with oriental rugs, wooden benches and Ottoman seat cushions.
Dibek is considered one of the top locations to try Testi Kebab, one of the classics of the region. However, it is advisable to call ahead and let them know you want to eat testi kebabi when making your reservation.
8. Millocal Restaurant Kapadokya in Üçhisar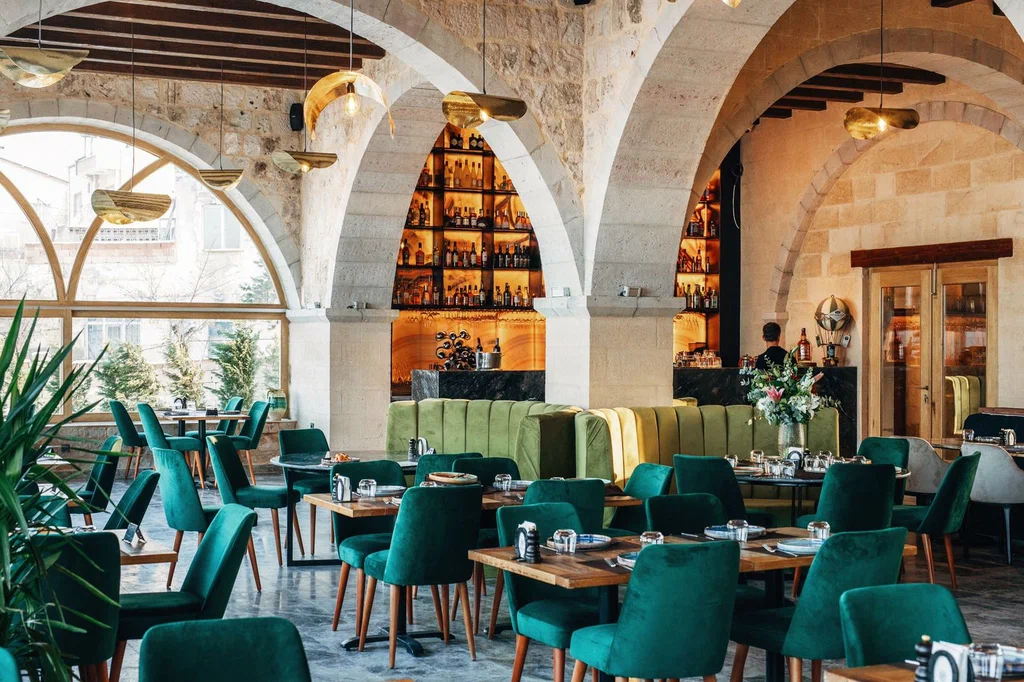 With its large glass windows, Millocal Restaurant Kapadokya offers its guests an incomparable view of the beautiful landscape of Cappadocia, which only gets more beautiful at sunset.  The stylish restaurant is located in the Millstone Hotel near the Uchisar Castle.
You can find a good selection of wines here, as well as typical dishes of Anatolian cuisine. The prices here are comparatively higher than in other restaurants in the region. The ambience is cozy and intimate, and a bar and outdoor area to linger complete the offer.
9. Viewpoint Cafe and Restaurant in Göreme Center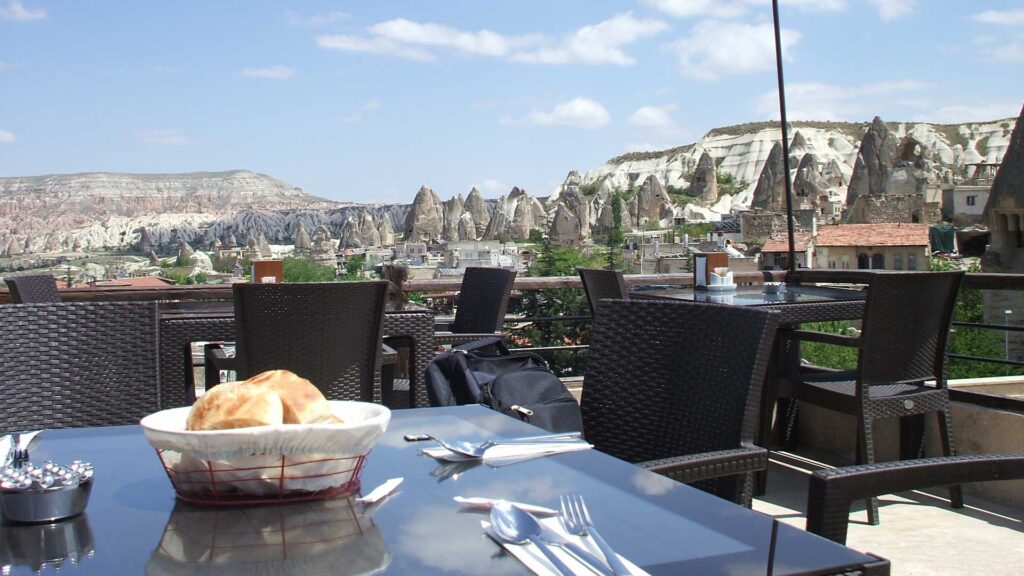 Viewpoint Cafe and Restaurant attracts with its magnificent view of the stunning valleys of Cappadocia. The popular restaurant, consisting of three different levels, is located in the center of Göreme and therefore easily accessible. The menu includes traditional Turkish dishes, a vast selection of wine and beer, as well as shish.
Prices are average and the atmosphere is very nice, with typical Turkish decoration. The large rooftop overlooking the whole city invites you to have a drink and enjoy the view. It is recommended to make a reservation in advance.
10. Fat Boys Restaurant in Göreme Center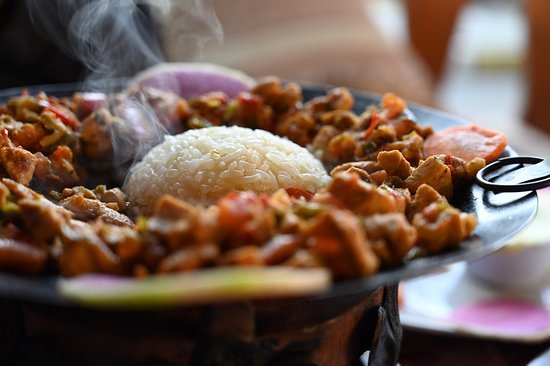 Another popular restaurant in the center of Göreme is Fat Boys. Whether you are in the mood for a burger or a kebab, you will find it here. Fat Boys Restaurant has an extensive menu that includes both international cuisine and popular Turkish dishes. In addition, you can also find a good selection of wines, cocktails and as well as shishas.
Depending on your preference, you can either choose an indoor seating area or, if the weather is nice, an outdoor seating area. The prices are moderate. The atmosphere is relaxed and the decoration is very traditional Turkish.