Pamukkale is one of the most visited places in Turkey, but where is Pamukkale in Turkey exactly? How to access it and which airport is the nearest to it? Find answers to these questions in the article below.
Where is Pamukkale in Turkey?
Pamukkale is a town located in west side of Turkey, near another bigger town called Denizli. It is not a beach town but provides options for swimming.
If you want to visit Pamukkale, it is possible to reach it by various vehicles from different locations. You can go to Pamukkale by bus, plane, or with your personal car.
The distance between Denizli and Pamukkale is approximately 19 km in total. Therefore, reaching Denizli first will make it easier to go to Pamukkale.
Go to Pamukkale by Plane: Which Airport?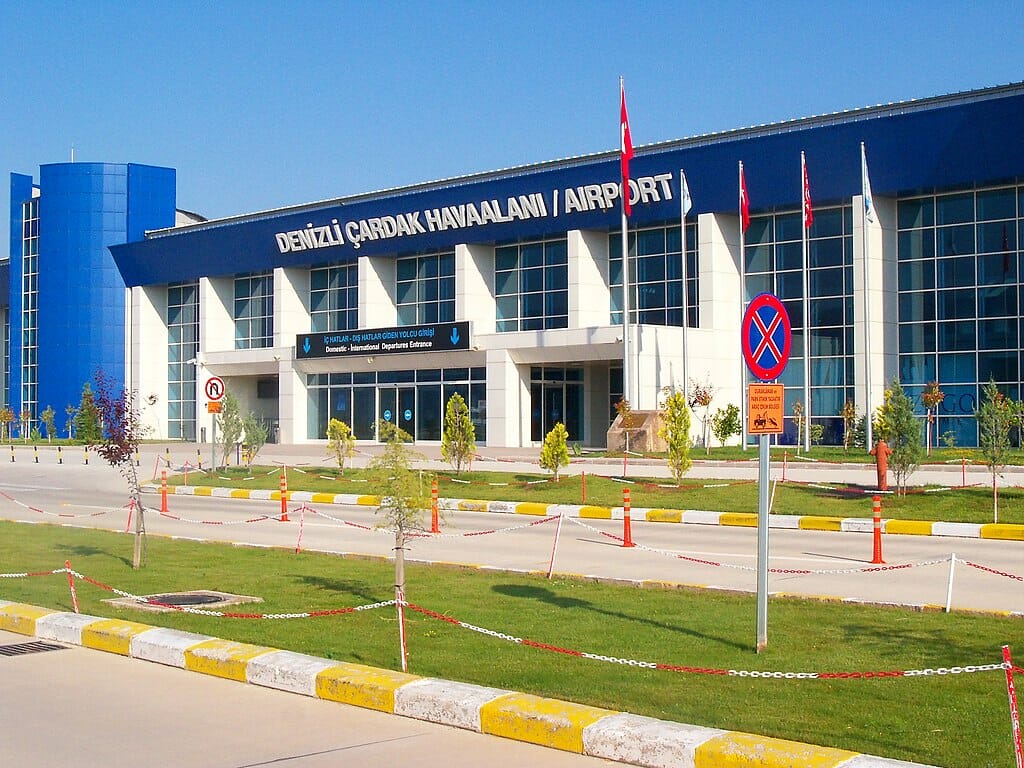 First of all, know that the closest airport to Pamukkale is the airport of Denizli, called Denizli Çardak Airport. Since there is no direct flight to Pamukkale, your only chance is to reach Denizli Airport first, and then take a shuttle, a private transfer or a car to Pamukkale. 
From Istanbul: You can fly to Denizli from Istanbul airports very easily as the flights are quite frequent. The flight to Denizli airport via Istanbul airports lasts approximately 1 hour.
From Izmir: Since there is no direct flight from Izmir to Denizli, your flight to Izmir/Istanbul and then Istanbul/Denizli may vary between 3 and 4 hours, depending on your traveling company. We don't recommend this option. To go to Pamukkale from Izmir, prefer taking the bus.
From Antalya or Bodrum: If you want to travel by plane from other touristic centers like Antalya and Bodrum, you will first have to go to Istanbul to get a direct flight to Denizli. Again, the most logical way to go to Pamukkale from these destinations is by bus, as it is from Izmir too.
Transfers from the Denizli Airport
Afterwards, you may reach Pamukkale by bus, minibus, or taxi after a half-hour ride. You may get to the Pamukkale center by boarding one of the Denizli/Pamukkale mini-busses (Dolmus) that leave every 20 minutes from the Denizli bus station.
Let's see what are the other options to reach Pamukkale.
Go to Pamukkale by Bus: How and Where?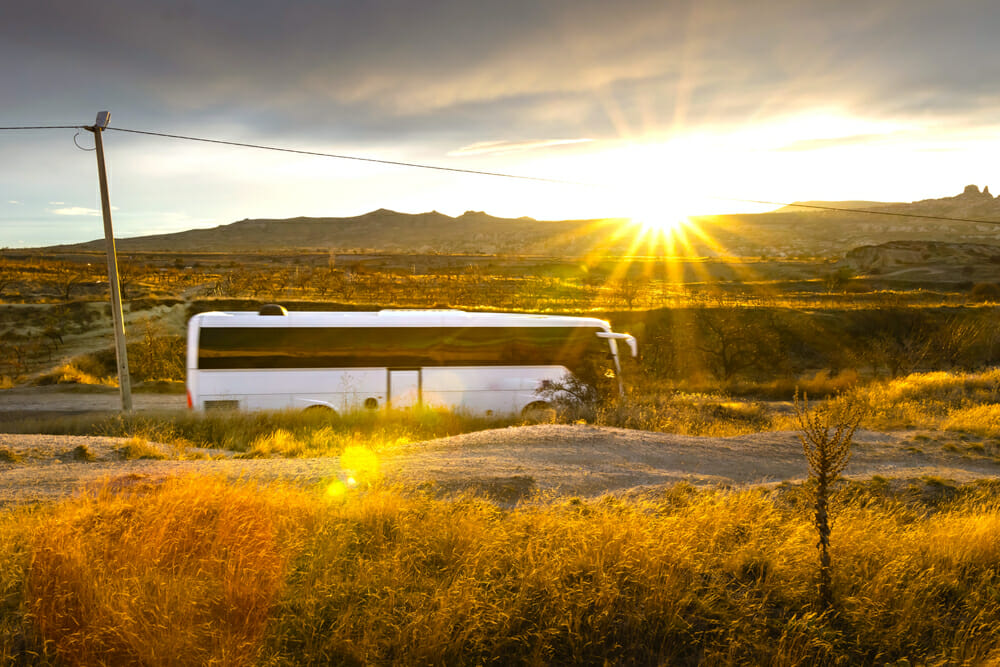 When you consider going by bus, it is possible to go to Denizli from almost anywhere. Many bus companies such as Pamukkale, Kamilkoç, Özkaymak, Metro, Has Turizm, Uludağ, Kent Turizm, Yeni Adana etc are operating in Denizli.
The journey by bus from Izmir to Pamukkale lasts around 4 hours. To go to Denizli by bus from Antalya and Bodrum, you need to travel approximately 5 hours.
Prices vary from one city to another. Keep in mind that the sooner you will book your ticket, the cheaper it will be. However, if it's a last minute decision, be reassured. You will be able to find bus tickets at almost any hour of any day, unless it's a national holiday in Turkey, which is a time when all the locals are also traveling quite a lot.
Go to Pamukkale by Rental Car: Routes
If you travel by car, you may reach Denizli and Pamukkale through the highways of İzmit, Adapazarı, Bursa, Ankara, Kütahya, and Afyon. 
From Istanbul: The distance between Istanbul and Pamukkale by car is 572 km on the O-5 and 598 km on the D650. Pamukkale may be reached by car after a journey of around 9 hours.
From Izmir: You can use the Aydın highway for the İzmir-Pamukkale journey, which will take 3,5 hours.
From Antalya: If you intend to go through Antalya, you should know that this route will take approximately 4 hours and 243 km. You may get to the city center from the Denizli entrance by taking the Antalya highway and then continuing to Pamukkale, which is about 20 kilometers away.
From Bodrum: The total distance to go via Bodrum by car is 258 km, and your journey can take between 4 and 5 hours.
Book a tour to Pamukkale from any Turkish city
Some companies have special packages that will allow you to go to Pamukkale and enjoy its beautiful nature without worring about the transportation side.
These companies have departures from Istanbul, Izmir, Kusadasi, Bodrum or even Antalya. Here is a selection of the most popular ones that we recommend you.
Other articles about Pamukkale:
Also read our complete travel guides:
These three very popular beach towns are the closest ones to Pamukkale.