Welcome to the wonderful world of Pamukkale, a white world very popular for its terraces and thermal pools. On this page, we will give you all the tips to visit Pamukkale, specially the highlights of the place. Let's go!
Pamukkale Terraces & Thermal Pools
Pamukkale consists of the terraces and travertines formed by the carbonate minerals left over from the Kent Thermal Springs and flowing waters. The thermal waters and minerals in these waters are what give the Pamukkale Travertines their color. These thermal waters rise to the surface and interact with oxygen. As a result, certain minerals in the water evaporate, leaving just calcium carbonate. Travertines are created as this material collapses and hardens over time.
Furthermore, the water temperatures in the region where the travertines are found range from 33 and 100 degrees. In total, there are 17 hot water springs. These natural structures, which resemble a white paradise, are also valued for their healing properties.
The ancient Greek city of Hierapolis may be viewed from Denizli's hills on the opposite side of the valley. Hierapolis means the "Holy City." The ruins of this ancient city may still be seen today. Some of the ruins date back over 2,200 years. The old city consists of various parts, including a theater, a huge bath complex, and a cathedral. There is also an archaeological museum on the site.
Besides these, the main structures of the city are the Bath-Basilica, Latrina, Theatre, Plutonium, Apollon Temple, Water Canals and Nymphaeums, Churches (St. Philip Martyrium, St. Philip Church..), and Great Bath Complex.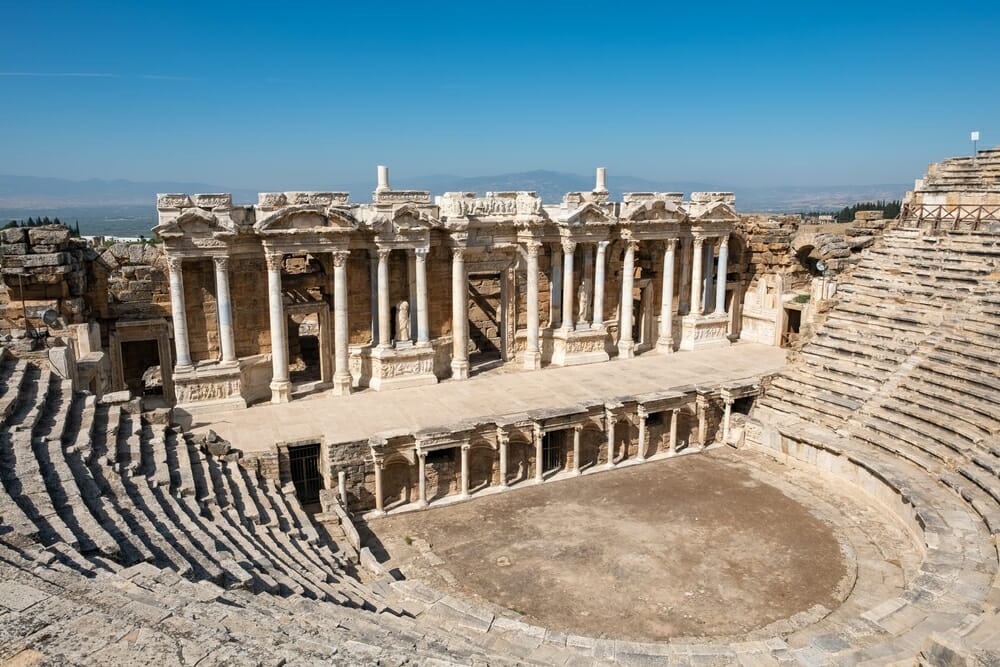 Hierapolis, aka Pamukkale, Ruins Museum, is located in the Ancient City of Hierapolis in an area of 14.000 m2. It is a complex of structures that includes the Ancient Roman Bath, Gymnasium, and library. Since admission to the museum is free, just enjoy the beauty of ancient history.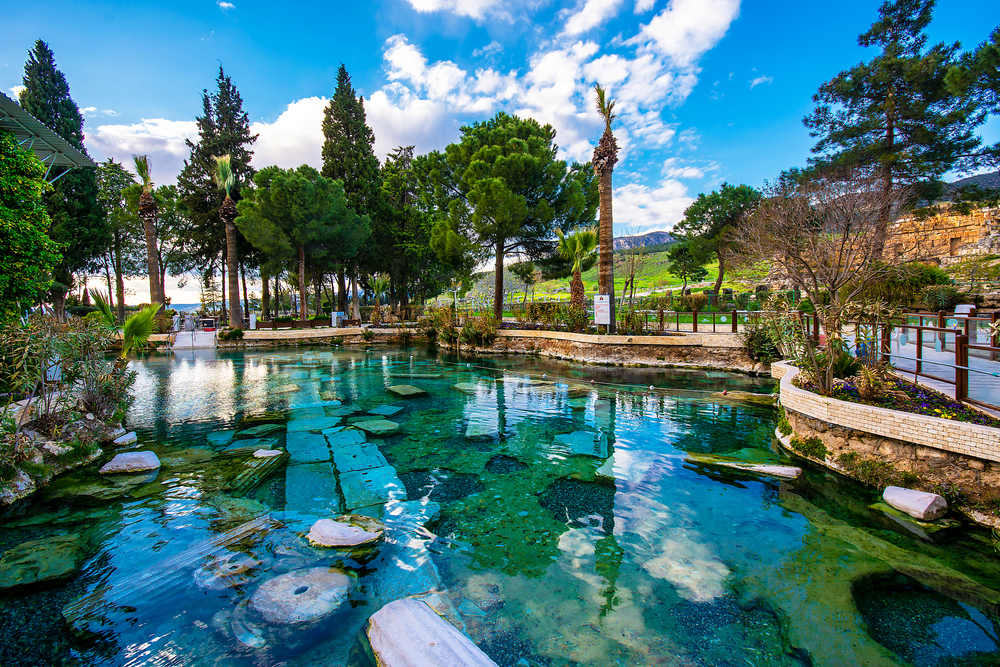 Cleopatra's Pool is located in the Hierapolis complex, above the Pamukkale Thermal Pools' travertine terraces. If you wish to swim, this thermal pool is among the best alternatives.
Cleopatra's Pool is located in the Hierapolis complex above the travertine terraces of the Pamukkale Thermal Pools. If you want to swim, Cleopatra's Pool will be one of the best options for you. Cleopatra's Pool, which allows you to swim while seeing Roman's historical and ancient monuments, was said to be a gift from Marc Anthony to Cleopatra.
Tickets to Pamukkale Hot Springs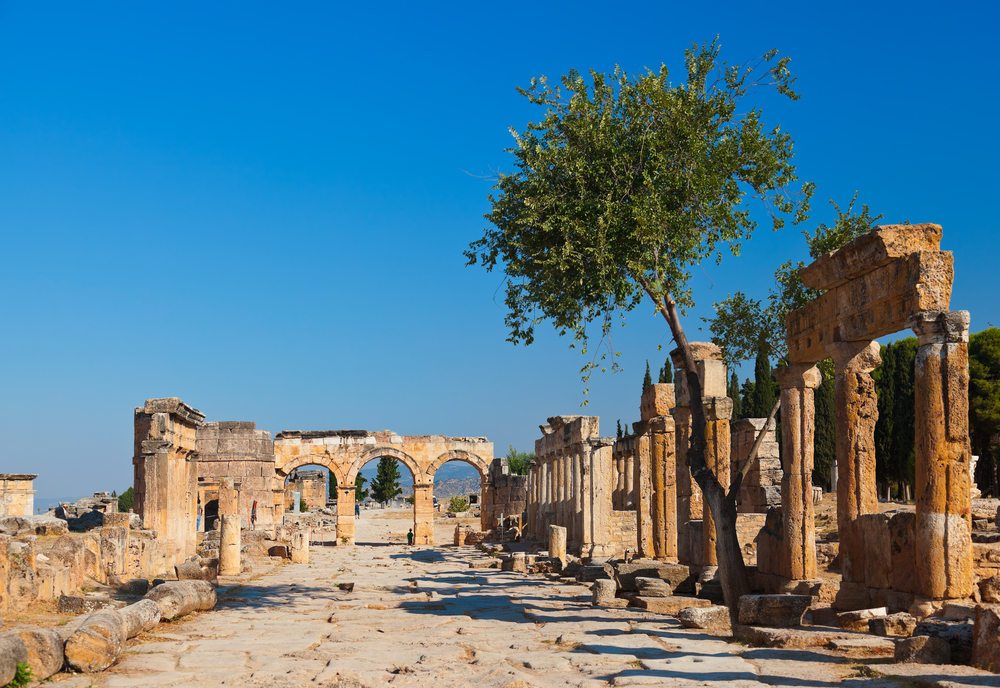 Pamukkale Travertines and Hierapolis Ancient City both charge entrance fee. You can see the travertines, the old city, and the museum all with a single ticket. The admission price is 110 TL; however, it is free if you have a Müzekart. Therefore, getting a Müzekart will make your trip much more affordable and enjoyable when you go to Pamukkale.
On the other hand, if you want to swim in the Antique Pool, you must pay an additional charge because the Müzekart is not accepted here. The website is accessible 24 hours a day, seven days a week. It's a good idea to check muze.gov.tr (external link) for the most up-to-date hours.
How to prepare for Pamukkale Hot Springs?
Before you go to Pamukkale, of course, you will need indispensable items in your bag.
Don't forget to take a hat, sunscreen, and sunglasses with you due to the hot weather in the summer months!
If you are considering swimming in the thermal pool, be sure to bring your bikini and other beach items such as towels.
Additionally, it would be useful to bring enough cash Turkish lira with you, as some places in Pamukkale cannot make payments other than cash.
Benefits of Pamukkale's Thermal Pools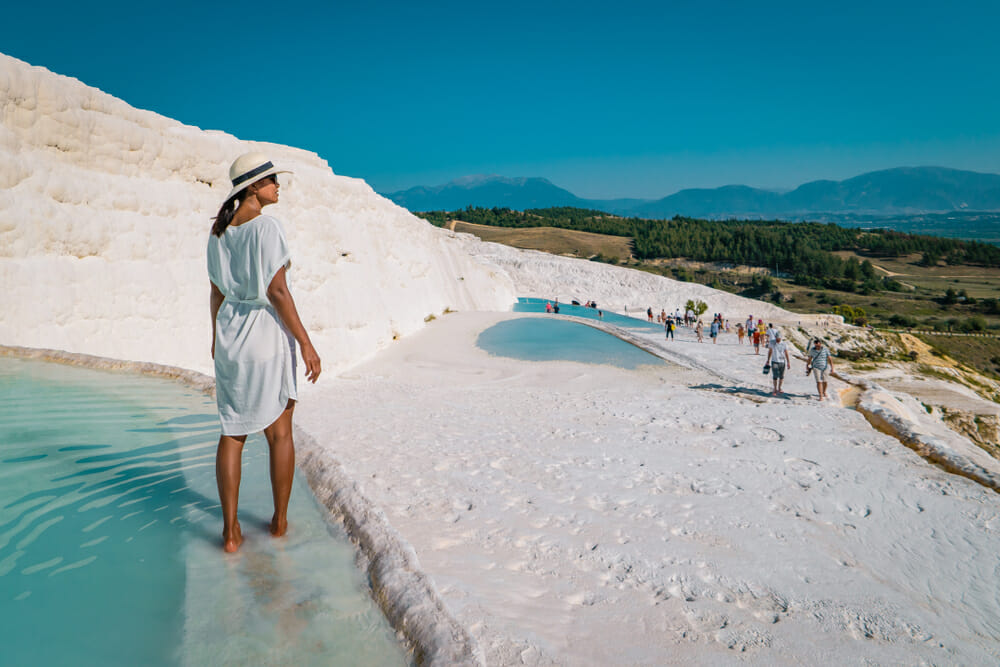 The waters of Pamukkale are suggested to treat cardiovascular illnesses, blood pressure, rheumatism, rickets, paralysis, skin, eye, nervous system, and vascular disorders, vascular inflammation, and reyno disease by following a doctor's inspection. When drunk warm, it is also used to treat stomach spasms, diuretic, inflammation, and kidney stone. Consequently, the water of Pamukkale Ancient City is healing in all respects.