Kas is a small summer town that offers amazing things to do during your holidays.
Let's discover what you can do in Kas. Visiting greek islands, hiking, swimming in amazing beaches… The choice is vast. Here are our recommandations.
1. Visit Kastellorizo - Meis Island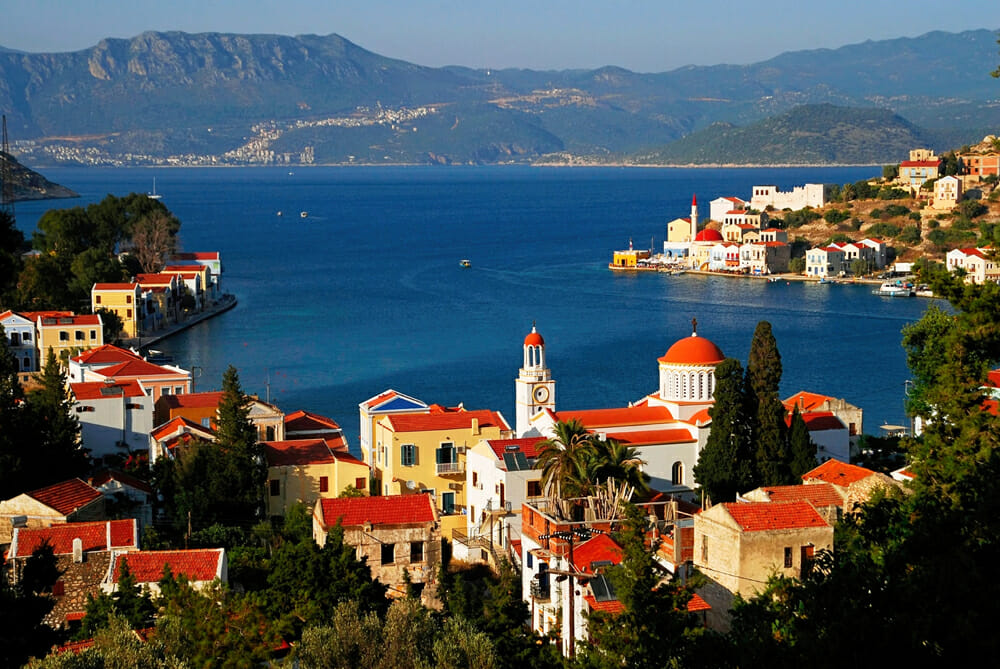 As we mentioned at the beginning of our article, Meis Island is a Greek island you can easily visit when you come to Kas.
From Kas to Meis, there are two transportation agencies to choose from. Depending on demand, they provide big boat transportation from Kas port once a week in the winter and every day in the summer. Boats leave at 10:00 a.m. and return at 4:00 p.m.
During the summer, due to the long lines for passports, your arrival on the island can take up to 11 to 12 hours. It takes 25 minutes to get there. The round-trip transportation charge between Kas and Meis is 25 euros.
The churches, museums, castles, and blue caves on this island, where approximately 400 people live, are the places you must visit when you visit Kas.
2. Hike on the Lycian Way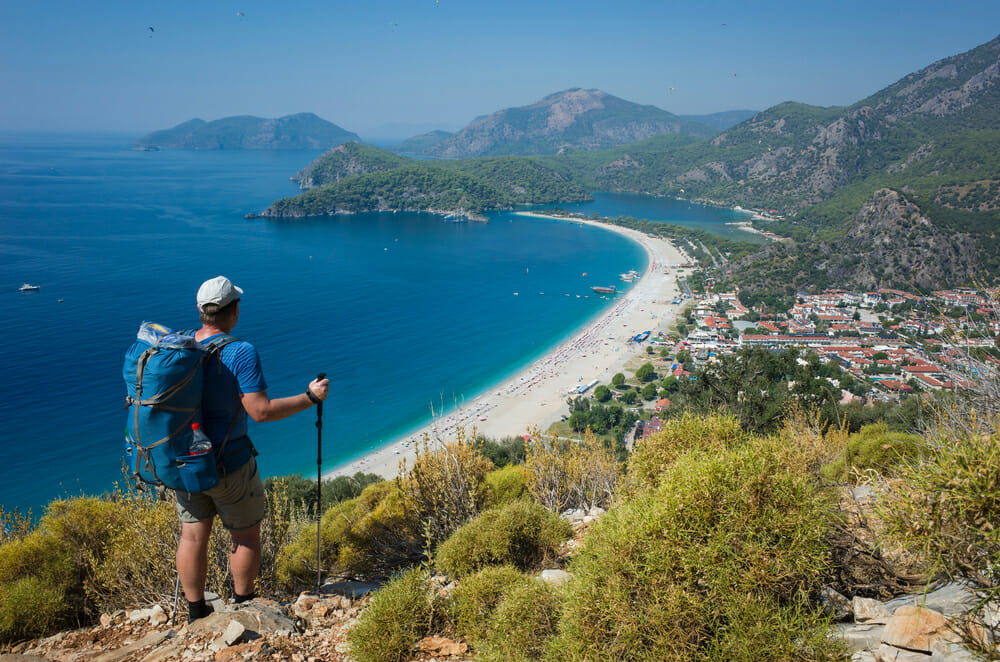 When you visit Kas, we recommend taking a walk along the Lycian Way. The route begins in Fethiye and finishes near Antalya, with an average of three thousand people walking it each year.
It is one of Turkey's earliest long-distance hiking routes, as well as one of the world's top ten long-distance hiking routes. March-April and October-November are the ideal months to walk the Lycian Way in terms of weather.
Through tour companies that organize Lycian Way trips in Kas, you can both go trekking and view ancient Lycian ruins.
Tour Arranging Website: https://www.mavikas.com.tr/turlar/fethiyeden-kasa-likya-yolu-yuruyusu/
3. See the Antiphellos Ancient City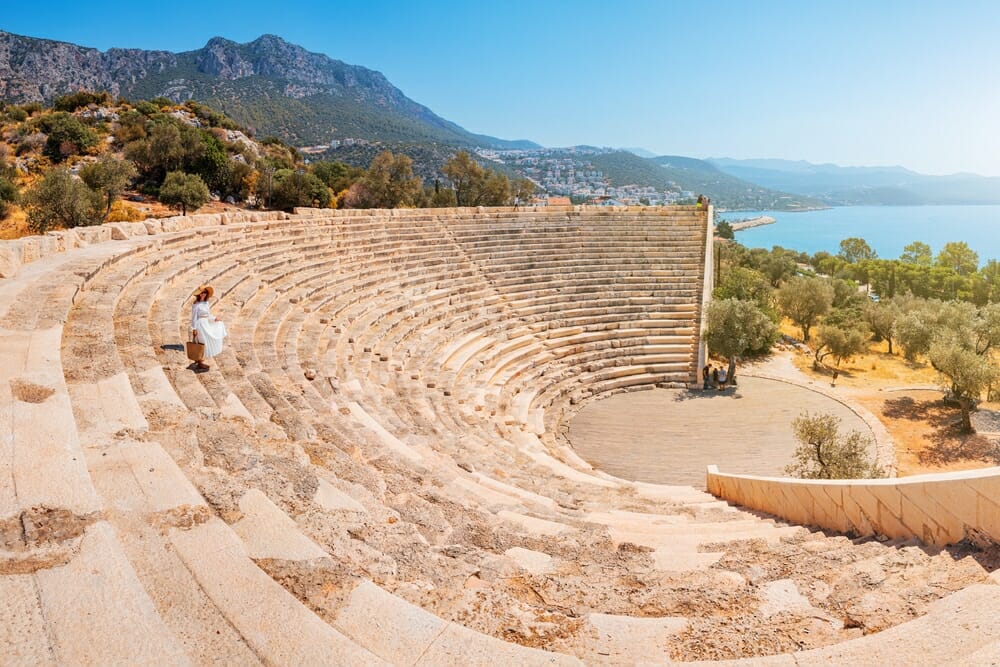 Antiphellos Ancient City is one of the must-see attractions in central Kas.
Kas Antique Theater, standing upright with a capacity of 4000 people, is one of the sites you should visit with its Lycian sarcophagi and mausoleums.
The ancient theater is unique in that it is Anatolia's only theater that faces the sea. In 2008, the theater, which dates from the Hellenistic period, was restored. The theater is also a fantastic place to watch the sunset, and entry is free.
4. Bays and Beaches of Kas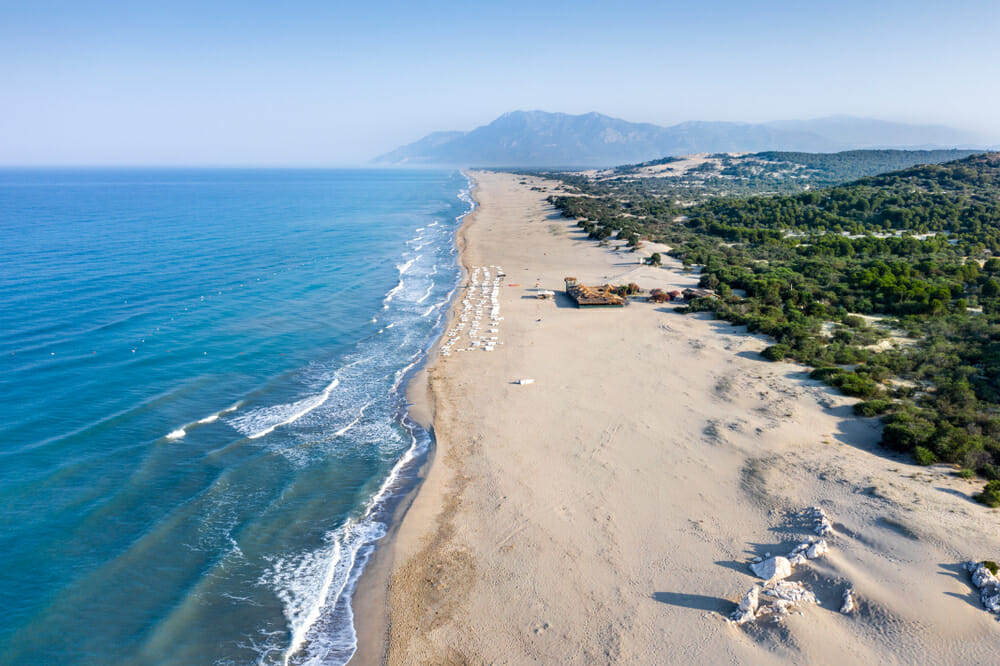 With Kekova, Kaputaş Beach, Kalkan, Patara Beach, and many more bays and beaches, Kas is a location that sea lovers will adore.
Kaputaş Beach is one of the most preferred beaches in Kas. Thanks to its turquoise sea and clean environment that allows you to be in touch with nature, the beaches of Kas are popular, including both locals and tourists.
5. Boat Trip to Kekova Sunken City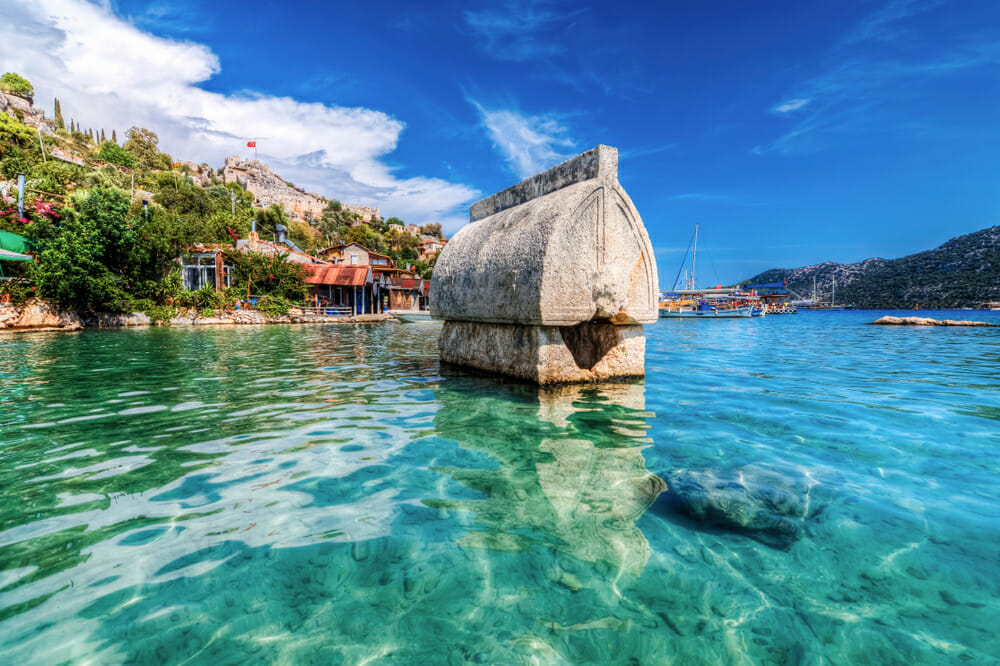 The island of Kekova, the settlements of Kaleköy and Üçağız, and the four ancient towns of Simena, Aperlae, Dolchiste, and Teimioussa compensate the 260-square-kilometer Kekova region.
Kekova Island is the largest island in the Mediterranean that belongs to Turkey. This place, which has traces of the past with its rich history, also makes it possible to do various activities.
In 1990, the Turkish Ministry of Environment and Forests declared it as a protected area. As a result, swimming and boating are not permitted in this area.
However, you may explore the city as well as the nearby blue cave and Kaleköy by taking one of the tours day trips. The canoe voyage is the most fun journey you can have when you visit here. Additionally, canoe trip fees can vary between 40 and 50 euros.
If you're looking to get away from the hustle and bustle of city life, then a day trip to Myra is the perfect way to do it! Myra is an ancient city that was once home to the Lycian civilization, and it's full of fascinating ruins that are well worth exploring.
Myra is most famous for the Church of St Nicholas, dedicated to Saint Nicholas, the bishop of Myra, also known as "Santa Claus". Other highlights include Lycian rock tombs and Roman theater. The most convenient way to visit the site is by organized tours.
Book the most popular day trip to Myra from Kas city here!
7. Tour the Harbor & City Center
The city center of Kaş sits on the site where the ancient town of Antiphellos once stood. It is located in front of the harbor and delights with its cobblestone streets and charming architecture.
The Kas harbor is a great place to walk around, relax, and take in the incredible views. There are also plenty of shops and restaurants lining the harbor, so you can find something to eat or drink while you enjoy the view.
8. Boat Trip along the Coast
One of the best things to do in Kas is to take a boat ride along the coast. The Mediterranean Sea is crystal clear and teeming with colorful marine life. You will sail past the rocky coastline and the most beautiful bays and islands of Kas. With several swimming breaks in the turquoise waters, a relaxing day can be spent on the water.
There are many companies offering this service, and it is a great way to see the city from the water. The boat ride is a great and fun activity for families or groups of friends.
9. Visit Xanthos and Letoon​
If you're into history, be sure to visit the UNESCO World Heritage Sites of Xanthos and Letoon. These well-preserved archaeological sites of an ancient Lycian settlement are some of the best in the country and offer a fascinating glimpse into Turkey's past.
While Xanthos was once the capital of the Lycian League, the sanctuary of Letoon was three temples, dedicated to Leto, Apollo and Artemis. You can explore these ancient ruins, including many Lycian monuments, sarcophagi and an ancient theater. Organized day trips usually include the nearby side Patara Beach or/and Saklikent Canyon.
Book the most popular day trip to Xanthos and Letoon from Kas here!
10. Snorkeling & Scuba Diving
Thanks to its interesting dive sites and rich underwater world, Kaş is an excellent place for snorkeling and diving. The wrecks of several sunken ships lie offshore, making for some exciting diving opportunities.
You can choose between more than 30 different dive sites in Kas. All of them are located within a 30-minute radius from the coast. A favorite is the wreck of a Douglas C-47 Skytrain near the Kaş Lighthouse.
Book your underwater adventure in Kas here!